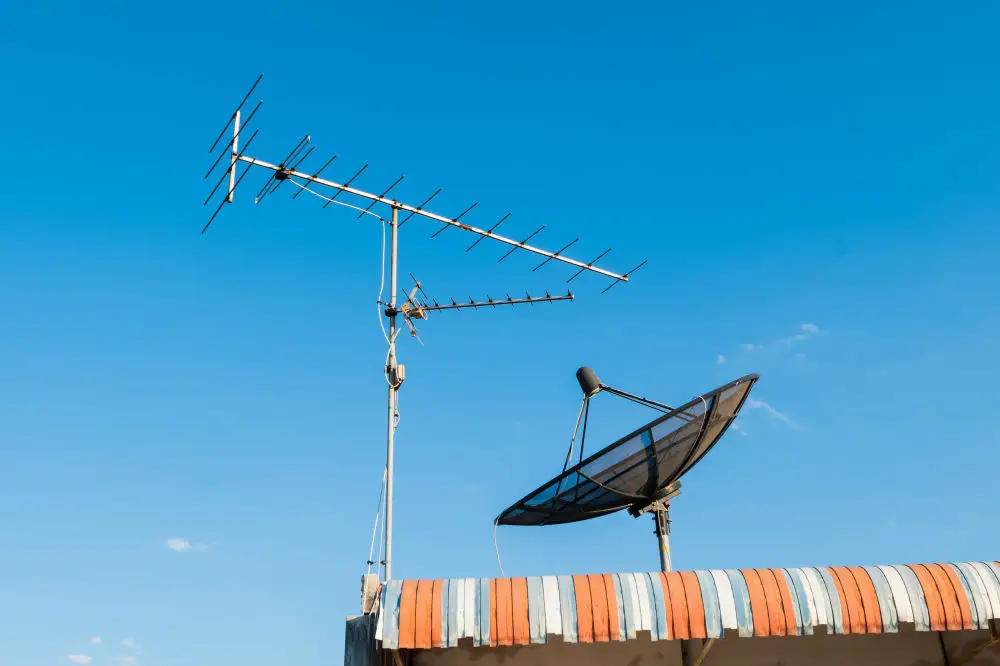 The 1byone 75-Mile Outdoor antenna has a reputation for reliability and durable quality.
I find that its installation and high resistance to tough weather are its main benefits, and it has a positive reception among customers.
One thing you'll notice is its all-round capabilities and affordability. After you've set it up and started testing it, you'll find it offers a modern picture of up to HD quality and picks up a wide range of UFH and VHF frequencies.
Manufactured by 1byone, this antenna is backed by a company with reputable customer service and a long warranty period.
Main Features
Size Dimensions
Looking at it, you might notice its array of elements that elegantly unfold outwards from the central axis, like a net.
The antenna is meant to "catch" a variety of frequencies and minimize owner efforts to point it precisely in the direction of a tower.
Some customers have reported simply aiming the antenna between towers to obtain perfect reception from both.
However, keep in mind this applies to situations where the towers are less 90 degrees apart.
Parts to Purchase Separately
Fully assembled, I find the antenna to be rather large compared with some of the others I've reviewed here, but it's lightweight for its size.
In fact, it's meant to be rapidly deployed with minimal hassle. One reason for its affordability, however, is that it doesn't come with a mast, a preamplifier, or a coaxial cable.
This gives me the impression it's not "opinionated" about the way you should install and configure it.
The fact it doesn't come with a coaxial may be a blessing in disguise, though.
Cables that are supplied by manufacturers tend to be of lower quality than ones you can purchase separately.
In fact, many customers experiencing reception problems may not have tried to test their antennas with their own cables.
Regarding the lack of a preamplifier, since this 75-Mile Outdoor/Roof HDTV Antenna has long-range reception, in many cases an amp won't be necessary.
This is especially true if your location is less than 30 miles from the towers.
However you can purchase one separately if your case demands it.
Examples include situations where:
Transmission towers are farther than 30 miles away
Your coaxial cable is longer than 50 feet
You'll be using a splitter to feed several televisions
Assembly and Installation
This antenna comes (mostly) preassembled. It features parts that you simply unfold until they click in place.
Other parts you attach and then either snap into place or tighten down with hand-screwed wingnuts.
The entire assembly is essentially tool free and is advertised as taking between 10-15 minutes.
The antenna also comes with wingnut-tightened U-bolts for mounting the antenna on a mast.
If you intend on using an antenna mast, this needs to be purchased separately.
1byone recommends the Adjustable Attic/Outdoor TV Antenna Mounting Pole, for example.
The antenna doesn't come with a coaxial cable so you should buy an RG6-type cable of the proper length to reach your set-top box or television.
If you plan on mounting the antenna on your roof, you should strongly consider grounding it with a grounding block or lightning arrester.
If you already have a mast for a satellite dish, you can also mount the antenna on the mast so long as its pole diameter isn't larger than 45 mm (because of the antenna's U clamps).
I should also mention that some have installed this antenna in their attics with no complaints regarding reception.
Keep in mind that if you do this, your roof shouldn't be made of metal — otherwise you might end up putting it on your roof after all. In this case you'd need to mount it at least one meter (over 3.3 feet) above the roof.
Channel and Frequency Types
This 75-Mile Outdoor/Roof HDTV Antenna can pick up OTA broadcasts in full HD (1080p), as well as 3D channels.
It's also Ultra HD 4K ready and receives both UHF (channels 21-69) and VHF (channels 5-12).
Getting Reception
Once set up, you point the long, extruding axis of the antenna towards the transmission towers (it's a line of sight antenna after all).
The antenna is rated for receiving transmissions from towers 75 miles away.
As already stated, you normally wouldn't need a preamp for towers closer than 30 miles, but if you're having reception issues you might consider purchasing one like the LNA-200 Boost XT from Winegard.
It's essential to always consult websites like tvfool.com or DTV.com/maps before you buy an antenna in order to understand where the nearest transmission towers are in relation to your location.
If the towers are more than 90 degrees apart, you might consider buying a multi- or omnidirectional antenna instead of a unidirectional one like this 1byone.
Alternatively, you might consider purchasing an additional 1byone to point to the other tower.
You could, for example, mount both antennas on the same mast, pointing in different directions, and connect them both with a signal combiner like the Winegard CC-7870 Antenna Coupler.
Connecting Several TVs
If you want to connect more than one TV to your antenna then you'll need a splitter.
You would also need to purchase an additional coaxial cable to run from the splitter to the television or set-top box as described in this article.
Conclusion
The 1byone 75-Mile Outdoor and Roof HDTV Antenna promises a quick and easy installation and set-up.
Given the preassembled parts and tools-free assembly, it's likely to live up to this promise.
Overall I like the reliability and sturdy design of the antenna, and suspect it's one of those antennas you'll take out of the box, quickly set up, and discover to your satisfaction that it just works.
As is always the case with 1byone antennas, the warranty is for two years.
The company also has a stellar reputation for customer service.
Specs
Design
| | |
| --- | --- |
| | |
| Coaxial cable length (feet) | |
| | |
| | |
Reception
| | |
| --- | --- |
| | |
| | 3D, Full HD (1080p), Ultra HD 4K |
| | |