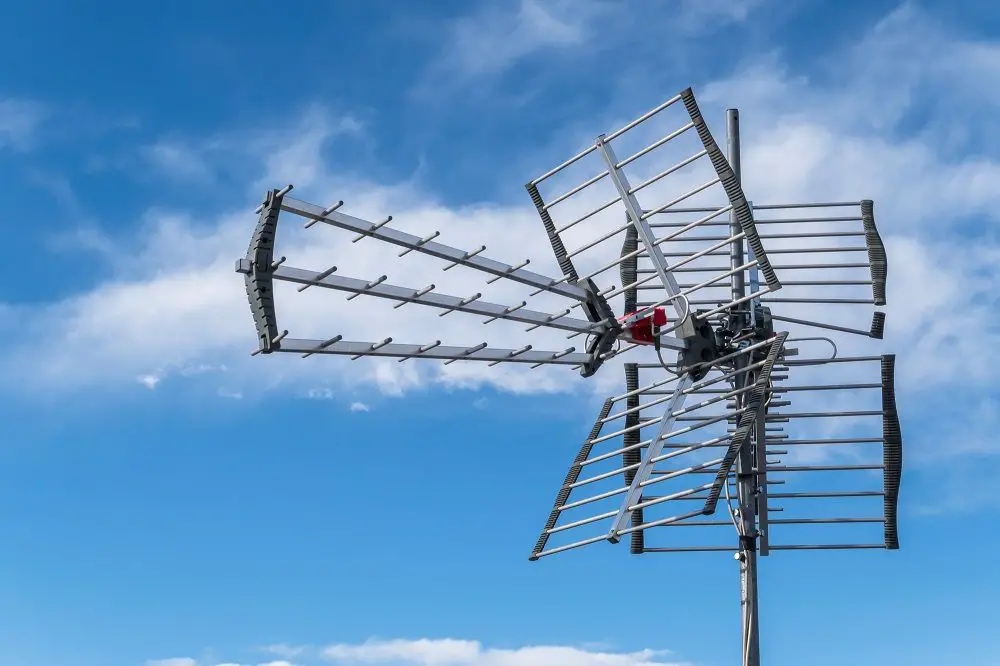 *As an Amazon Associate we may earn from qualifying purchases when you buy through links on our site.
If you're looking for a compact, multidirectional antenna, then you should consider the Antennas Direct ClearStream 2V.
Its distinctive loop design and manageable size make it both aesthetic and easy to set up and mount in a variety of places around your home.
The antenna ships with a 20-inch long adjustable J-mount for easy mounting on a surface like your roof or on the side of a wall (it also comes with a mast clamp and U-bolt for mounting on other types of poles or masts).
Besides UHF frequencies, the Antennas Direct ClearStream 2V also picks up VHF channels thanks to the VHF dipole that you attach during assembly — this dipole is the horizontal black bar at the top of the antenna (for information on UHF and VHF broadcast channels, see Frequency and Channel Types below).
Features and Benefits
This TV antenna offers a nominal range of 60 miles. Keep in mind that frequency ranges stated by antenna manufacturers are theoretical figures only and that your actual reception range may differ due to the amount of signal power at your location.
The ClearStream 2V antenna has reliable receptive capabilities due to its multidirectional design combined with the mesh wire behind the loops, which are signal-enhancing reflectors for focusing received signals and reducing multipath interference.
This gives it both a wide beam angle (70 degrees for UHF channels) and a rather high antenna gain of 10.2 dBi, making it worth considering if you live outside of urban areas.
Coaxial Cable
The antenna doesn't come with a coaxial cable for hooking up to your TV. But that's OK since you can buy one either online or at your local hardware store.
Make sure to get high-quality RG6 cable as it's generally better insulated from electromagnetic interference in comparison with older types (such as RG59).
The coax cable should be sufficiently long to go from your antenna to your TV or converter box, including bends and turns.
You may need to adjust the length of the coaxial using crimping tools such as GoodQbuy Coax Wire Tools.
Amplifying Your Signal
Another thing to note is that this type of design (i.e., multidirectional outdoor antenna) doesn't generally require a preamplifier as its antenna gain alone is usually sufficient to pick up faraway signals.
However, if after installing this TV antenna, you find that the number of channels you're getting isn't as high as you expected, you can install a preamplifier such as the Winegard LNA-200 on the antenna mast.
Preamplifiers boost received signals that are weakened by distance or interference and can increase the number of channels by 10-20%.
You shouldn't add a preamplifier if you live closer than a 10-mile range from transmission towers, though, as TV signal power is generally very strong and the amplification might just result in additional signal noise.
Frequency and Channel Types
The ClearStream 2V gets high VHF signals as well as UHF.
What's so important about RF channels? RF channels or "real channels" are allocations of spectrum used by TV stations. Each RF channel will contain one or more virtual channels (the channels we watch on our televisions).
You can find which RF channels your local stations are using by consulting the RabbitEars website.
Also, you want to check which RF channels that local stations are broadcasting before buying an antenna to ensure it'll pick up the right frequencies (your local PBS channel may be broadcasting on VHF, for instance).
This antenna receives full HD (1080p) picture quality for free programming on FOX, CBS, NBC, ABC, PBS, and more.
Installation
Setting up and mounting this antenna is made easy due to the preassembled parts and elements that snap into place. Installation difficulty depends on how and where you decide to install it and may require some DIY skills. However, many have reported that it is relatively easy to install.
Assembly
The antenna comes partly assembled; you'll need tools such as an adjustable wrench and screwdriver for attaching some elements.
You'll attach the signal reflector grid and VHF dipole to the antenna. The coaxial cable attaches easily to the antenna's F-connector.
Setting Up and Mounting
You can decide whether or not to use the included J-mount and if you don't, the antenna will attach to any pole up to 2 inches in diameter.
The location where you decide to set up the antenna will determine how many channels you receive. For best results, try to ensure the antenna has a clear line of sight to nearby transmission towers.
It may be necessary to move the antenna or reposition it to optimize reception.
You can also use a compass (or smartphone app compass) to orient it correctly. A carpenter's level is helpful to ensure the antenna mast is perfectly vertical (which helps get the best reception).
The ClearStream 2V additionally comes with sealing pads for mounting it with the included J-pole on a rooftop.
You can also set up the antenna indoors or in your attic, but remember that building materials (e.g., thick walls and radiant barriers) tend to interfere with TV signals.
However, people do indoor antenna installations all the time with success. If necessary, you may need to install a preamplifier to boost the strength of TV sales coming through walls.
Lastly, you should ground outdoor antennas to prevent static build-up during thunderstorms.
Receiving Signals
This is a directional antenna, so as already mentioned, you'll need to aim it in the direction of towers. It has a wide beam angle to maximize the number of towers you'll receive from a given direction.
It isn't omnidirectional, however (i.e., it doesn't have 360-degree reception), so even though you've found the proper orientation for getting most channels, there may be one or two (coming from stations in other directions) that you'd still like to get.
In such cases, you might consider purchasing a second directional antenna and pointing it towards the other stations, while combining the signals from both.
On the other hand, some customers decide to mount this antenna on top of a rotator for 360-degree reception.
How Many TVs Can I Attach to the ClearStream 2V?
If you have more than one TV in your household, you can hook this TV antenna up to both using a passive splitter device. Keep in mind, however, that the more televisions you hook up to it, the higher the chances of some signal loss.
If you connect only two or three TVs to the antenna, the amount of signal loss due to additional coaxial cable lengths and device connections shouldn't be great enough to lose a channel.
But if you find this to be the case, you can set up a distribution amplifier such as the Channel Master CM3414 before or after the splitter.
Pros
Sturdy and weather-resistant design
Ease of installation with preassembled parts
Detailed troubleshooting information on the manufacturer's website
Cons
Unidirectional antenna with focused reception, but if aiming for multiple towers then these should be less than 90 degrees apart
The Verdict
I find the ClearStream 2V's size and shape are its biggest plus, as this allows for convenient setup and installation either indoors or outdoors.
Despite its compact form, though, it packs quite a bit of reception power: this multidirectional antenna has a relatively wide beam angle and a long-range.
It's easy to put together and comes with waterproofed and durable parts, and it'll preserve your home's curb appeal.
If you need a signal booster, the preamplifier will need to be purchased separately.
You must also separately order the coaxial cable, but this may actually be a blessing since coaxial supplied with antennas are generally of lower quality than those which you purchase on your own.
ClearStream 2V Manual
When reviewing products, I sometimes look in the user manual for details. Here's a link to the ClearStream 2V installation manual.
Design
| | |
| --- | --- |
| Direction | Multidirectional |
| Coaxial cable length (feet) |   |
| Dimensions in inches (H x W x L) | 20.1 x 11.8 x 9.1 |
| Preamplifier |   |
| Our rating | 4 / 5 |
Reception
| | |
| --- | --- |
| Antenna range (miles) | 60 |
| Channels | Full HD (1080p) |
| Frequencies | VHF/UHF |
Help & Support
| | |
| --- | --- |
| Warranty | Lifetime limited |
| Email support |   |
| Phone support |   |
ClearStream Antenna FAQ
How Is a ClearStream Antenna Different from Other Antenna Types?
When an antenna is designed for a much narrower range of frequencies, you'll find that there are going to be significant improvements in the overall performance of the antenna.
When you choose a ClearStream antenna, you'll find that they're specifically for core DTV channels. They're also going to be less prone to interference so you can get the best signal reception.
Does ClearStream Receive VHF?
This ClearStream antenna is one of the best rated when it comes to the 60-mile frequency category. It has dedicated UHF and VHF multidirectional elements that deliver range and reception, even in less ideal locations.
How Do You Aim Your ClearStream Antenna?
To aim your antenna, you want to face the front of it in the direction the channels are broadcast from. To do this, get your local station information from RabbitEars.info.
It'll tell you the compass orientation and direction needed to aim your ClearStream antenna. Aiming your antenna at TV transmission towers is necessary for good reception.
However, you may find that you need to test different antenna placements to see what'll work best for you.
Which is Higher, VHF, or UHF?
VHF stands for very high frequency – these signals occupy the lower end of the radio frequency spectrum.
Due to their longer wavelength, they can travel much further than UHF. However, VHF also can't penetrate solid materials very well. Modern digital television (DTV) broadcasts on UHF.
Does a Smart TV Need an Antenna for Local Channels?
When you use a Smart TV or use other Smart TV apps and features, it won't affect your ability to get local stations.
You'll generally need an internet connection in order for various Smart TV apps and features to work. You can also use an HDTV antenna to pull in local, over the air broadcast channels for free.
Does This ClearStream Antenna Need an Amplifier?
In many areas, the broadcast signals will be strong enough and won't require the use of any kind of amplifier. However, if you don't have a clear picture on some of your channels, you might then install a preamplifier with the antenna.
Indoor antennas are generally amplified to overcome interference factors in the home. However, if you have an outdoor antenna or have installed your antenna in an attic and have a cable run that exceeds 100 feet, then you may want to choose the ClearStream JUICE Preamplifier.
This preamplifier can help you overcome any challenges you may face due to coax cables over 100 feet, splitters, and weak signal strength. It can also be mounted outside because it has a weatherproof housing with an integrated low pass filter.
It can reject any interference there may be from cell and wireless data services for more effective reception.
Will This Antenna Function Properly When Installed in an Attic?
Users have reported that it will function when installed in an attic. It can still pick up local stations several miles away in UHF or VHF.
However, if you have a tile roof, it is suggested that you mount the antenna outside because these materials can affect the TV signal when mounted indoors.
Does the ClearStream 2V Antenna Come with Mounting Hardware?
With your purchase, you'll receive the TV antenna, a 20-inch mount, all-weather mounting hardware, and instructions. The coax cable is sold separately.