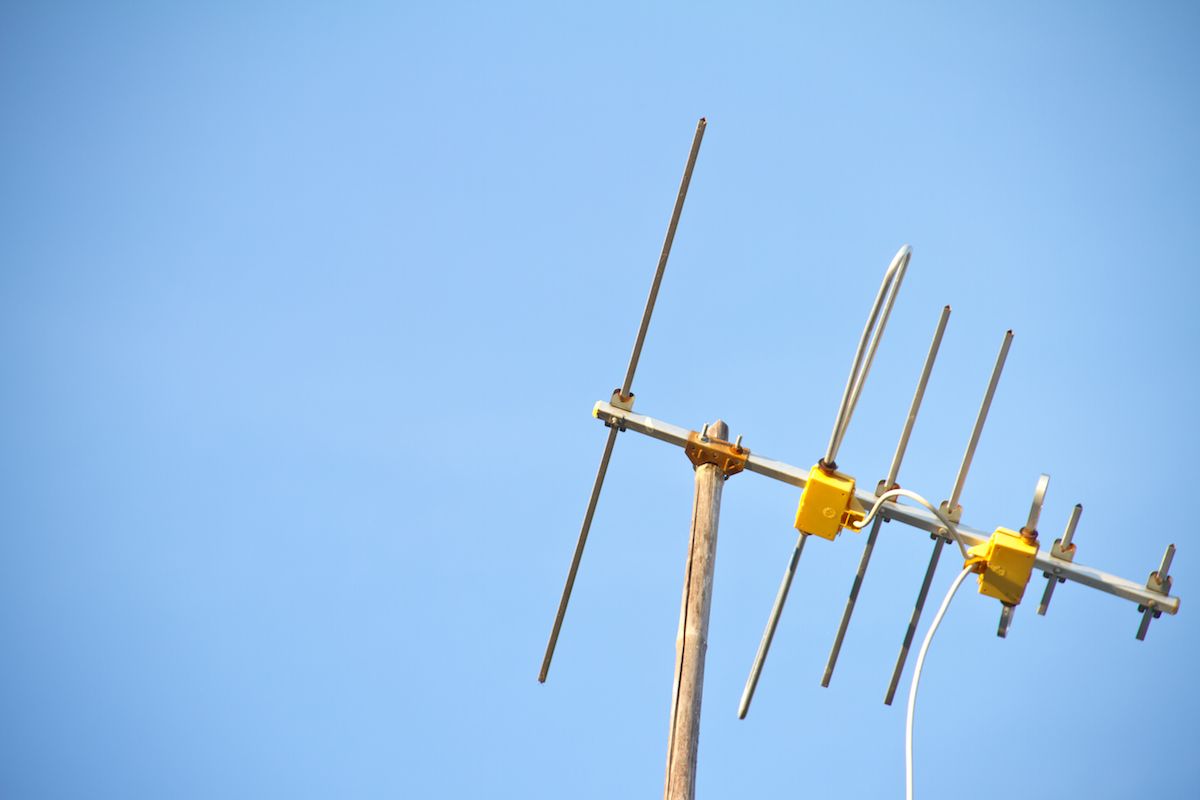 If you're looking for an outdoor, multidirectional antenna with high gain, that's relatively compact in relation to comparable antennas, I'd definitely check out the ClearStream 4 Indoor/Outdoor HDTV Antenna.
It's manufactured by Antennas Direct, a US company with a reputation for innovative designs and excellent customer service.
The antenna has a unique and patented loop design, which offers a wide beam angle and a broad reception of UHF frequencies. This 180-degree reception angle offers multidirectional reception and minimizes the need to orient it to separate towers.
Features
In terms of form and aesthetics, the ClearStream 4 certainly stands out among other antennas. Not only are its antenna loops distinctive, but its signal-enhancing reflectors (the mesh wire behind the loops) focuses antenna receptive power for increased range and also minimizes the effects of signal multipath interference.
The antenna offers a nominal 70-mile range, though the exact range in your situation may differ significantly from that stated on the box, simply because of different variables that could pose interference issues. Examples of such variables include (but aren't limited to):
Trees, landscape topographical features, etc., which are in the line-of-sight path to the towers
Local electromagnetic interference (e.g., nearby streetlights, electrical interference from household appliances in homes with older electrical wiring, etc.)
A metal roof or radiant barrier (the latter especially if installing it in the attic)
As is typical for many long-range antennas of this type, it's not amplified so doesn't come with a built-in preamplifier.
You'll need to purchase a 75-Ohm coaxial cable to connect the antenna to your TV separately. I'd get RG6-type cable, and make sure it's of the tri or quad shielded variety to protect against electromagnetic interference. Some good cable I recommend is Mediabridge Coaxial Cable.
The antenna gain of the ClearStream 4 is 12.25 dBi — or decibels relative to isotropic radiator, which as a consumer you can treat as plain old decibels. The beam angle is 43 degrees for the UHF frequency spectrum (470 – 700 MHz).
It also comes with a 75-Ohm transformer (Balun) to reduce impedance along the antenna to the coaxial cable. The company claims this transformer allows 98% of the available broadcast signal to reach the cable with minimal attenuation due to impedance mismatches on the antenna.
Frequency and Channel Types
The antenna picks up both UHF, and supports OTA broadcasts in up to full HD (1080p) picture quality.
Assembly and Installation
The ClearStream 4 doesn't come preassembled and so you'll need some tools to put it together.
You'll assemble the frame, the reflectors and loop elements together, both by hand and with a Phillips screwdriver and an adjustable wrench. Customers typically report an assembly time of around 20 minutes.
Next you'll mount it in the appropriate place in your home, and at only 6.85 pounds, this is considered a lightweight antenna and easy to move around.
Although the antenna comes with two U clamps, it doesn't come with a mast so this must be purchased separately. A variant of the ClearStream 4 is also sold together with a 20-inch J mount mast.
You should ensure that any mast used should be perfectly vertical. You can use a carpenter's level tool, or the level feature of software like the iPhone Measure app to accomplish this.
Many users report also successfully using it indoors, whether in a room or in the attic. Remember that due to interference — metal roofs, thick walls, home insulation, radiant barriers, etc. — you can lose up to 40-50% of your signal.
Also, don't forget to properly ground the antenna, using either a coaxial grounding block or lightning arrester (if you live in a lightning-prone area). See my guide on grounding antennas for more information.
With permission from Antennas Direct
Aiming the Antenna
The antenna is multidirectional but keep in mind the two panels are rigid and non-adjustable. You'll need to aim the front of it (the side with the metal loops) towards transmission towers. Nevertheless in many cases this antenna should allow reception from towers less than 180 degrees apart.
To find the nearest towers, you can use a website such as tvfool.com or DTV/maps. On tvfool.com, you can use the magnetic azimuth heading of the towers to aim the antenna with a compass or compass smartphone app.
Receiving Signals
If you're not satisfied with your channel reception you many consider re-orienting it or moving it to a different location in your home altogether (see my guide on how to boost TV antenna signal).
Some customers purchase a second antenna, such as the ClearStream 5 Indoor/Outdoor HDTV Antenna, and stack these together on the same pole. This latter antenna is mainly VHF (but also picks up UHF channels). If you stack antennas on the same mast, make sure to keep 2-4 feet vertical separation between them and use a signal combiner to merge signals from both antennas.
You can also install an antenna rotator to re-orient the antenna's aim.
Using a Preamplifier
In some situations you might consider purchasing a preamplifier separately, such as the Winegard LNA-200 Boost XT HDTV Preamplifier if:
Your antenna coaxial cable is more than 50 feet long
You're located farther than 20 miles away from transmission towers
You intend to purchase a splitter to run multiple TVs from the antenna (in this latter case you would need a distribution amplifier)
Preamplifiers should be installed as close to the antenna as possible, while distribution amplifiers should be installed right before the splitter.
Verdict
The unique loop design of the ClearStream 4 Indoor/Outdoor HDTV Antenna gives it a distinguished appearance among antennas.
Its size and light weight enables you to easily reposition it to get optimal signal, and its multidirectionality provides a wide reception angle for places where transmission towers are spread relatively far apart (but less than 180 degrees in relation to your location). 
The antenna comes minimally preassembled, so you'll need some tools and a certain amount of time to put it together before mounting it.
Antennas Direct has a reputation for quality and offers a lifetime limited warranty for the product. Also, you can return it in case it doesn't work properly.
Specs
Design
| | |
| --- | --- |
| | |
| Coaxial cable length (feet) | |
| Dimensions in inches (H x W x L) | |
| | |