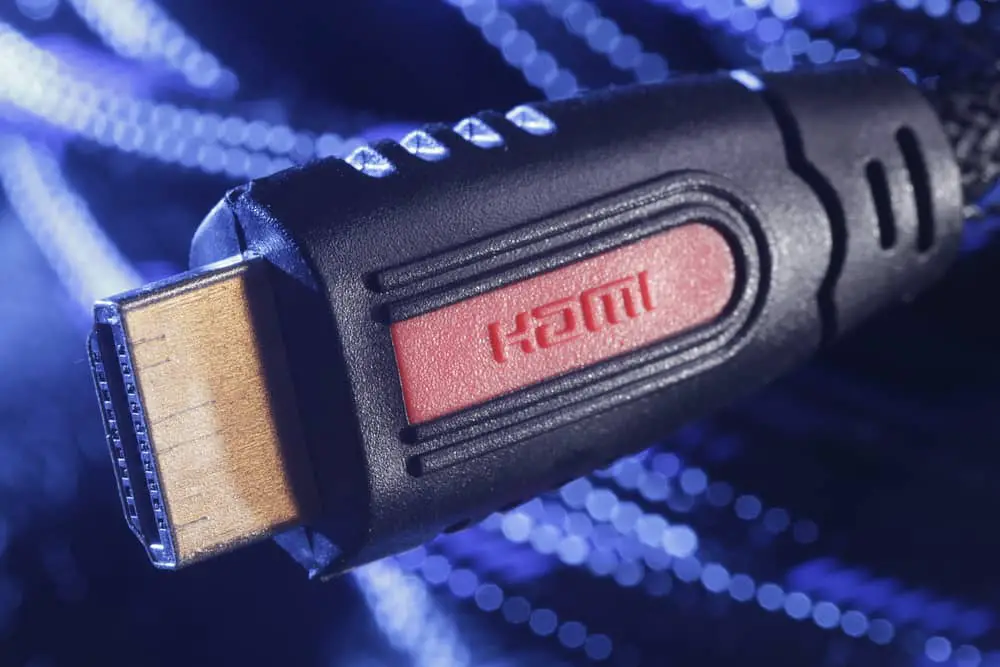 *As an Amazon Associate we may earn from qualifying purchases when you buy through links on our site.
Do terms such as "extender balun" and "distance limitation" draw a blank?
These are the kinds of terms relating to traditional copper HDMI cables instead of the best fiber optic HDMI cable.
Before fiber optic cables came out, one of the only options as far as connecting HDMI-compatible devices were conventional HDMI cables made out of copper. These had smaller copper lines inside.
While these used to work just fine, the main issue was the range limit, which was typically capped at around 65 feet.
The biggest problem was that even the cables designed for 65 feet still had issues past the 50 feet mark.
Therefore, anyone who wanted to work around this problem had to use an extender balun, which was problematic in its own right.
It's actually a good thing that fiber optic HDMI cables were invented. The best fiber optic HDMI cable doesn't have any of these issues and works even better than the best copper HDMI cables.
The Best Fiber Optic HDMI Cable
Whether you're looking to hook up your new Herman/Kardon soundbar to your TV or just want to get the best possible screening experience when you buy the new PS5, you'll need a top of the line fiber optic HDMI cable.
The problem isn't that there aren't enough options available; the problem is that there are too many.
Choosing the best one isn't just a matter of blindly buying the cheapest or the most expensive.
It's about looking at the specs and matching those to your specific needs. That being said, here are our top picks:
FURUI Fiber Optic HDMI Cable 2.0b HDR
Why You Should Consider this Cable
Long-distance transmission at 4K quality
Light and flexible
Low power consumption
Lifetime warranty
One of the best features of buying a fiber optic HDMI cable is the fact that it offers you a higher transmission range with better quality.
The FURUI Fiber Optic HDMI Cable 2.0b HDR can transmit at full 4K quality over long distances (50 feet).
Furthermore, it has high-performance capabilities of 32 uncompressed audio and video sync, as well as Chroma Subsampling.
As an active fiber optic 2.0b cable, this is a one-way transmission source that can be used to connect your Blu-ray gaming consoles.
It can also be used for display devices such as projectors. It doesn't need any external power source, making it a simplistic yet effective plug and play device.
It's a very thin cable that's flexible enough to accommodate a bending angle of up to 90 degrees.
Couple all that with the fact that it has low power consumption and comes with a lifetime warranty, and you have one of the best fiber optic HDMI cables on the market.
RUIPRO SNAOC20142030 30m Fiber 4K HDR HDMI Cable
Why You Should Consider this Cable
No signal delay
High-speed transmission
Free of Electromagnetic Interference (EMI)
No signal loss in high noise environments
The RUIPRO SNAOC20142030 30m Fiber 4K HDR HDMI Cable is thin and flexible, and highly effective even in high noise environments.
Designed to suffer no signal delays, this HDMI cable provides you with much higher speeds at better quality than conventional HDMI cables.
There are some features for which it stands out in a market inundated by HDMI cables.
For one thing, it offers the best A/V quality for HDMI 2.0b. At 18.2 Gbps, this means that you'll get the best quality picture without having to sacrifice speeds.
Another big issue that affects most HDMI cables is the distance over which they can successfully transmit high-quality data.
This particular option can transfer full 4K quality at 60HZ over 100 ft. This makes it one of the most reliable long-distance HDMI cables on this list.
Another huge plus is that it doesn't experience any signal loss even in a high-noise environment.
That's mostly thanks to the fact that it's free of electromagnetic interference (EMI). This means that you can pretty much use this cable anywhere without worrying about EMI.
DELONG 26121600 100ft/30m Fiber 4K HDR HDMI Cable
Why You Should Consider this Cable
Multiple capabilities which allow for connection of different devices
East plug and play requiring no external power source
5-year warranty
Lightweight
Yet another fiber optic HDMI cable offering excellent performance over long distances is the DELONG 26121600 100ft/30m Fiber 4K HDR HDMI Cable, which can transmit full 4K quality up to 100 feet.
It's thin and flexible enough to fit in most spaces, and because of that it's also well-hidden from sight.
One of the cable's best features is that it can be used on many different devices, from laptop to cameras, gaming consoles, and even Blu-ray players. It also easily connects to displays such as projectors, monitors, and 4K TVs.
As a plug and play cable, you don't need any external power source to use it. Couple all that with the fact you get a 5-year warranty, and you have an excellent fiber optic HDMI cable option.
The Best Fiber Optic HDMI Cable Buyer's Guide
There are several factors to consider for buying the best fiber optic cable for HDMI use.
Here are some of the most important considerations:
Optical fiber: The term "optical fiber" refers to the plastic or glass filament that guides the light wave along the cable's path. In this kind of HDMI cable, there's a photodetector at the end that acts as a receiver, which converts the audio-visual signal back to an electrical audio-visual signal that your devices can use. This technology allows you to connect the cable to your game console and see the images on your TV.
Transmission speed: Here, "speed" means bandwidth potential. High speed means that the cable has a high bandwidth potential and as such, the signal being transmitted through it is faster.
Proper shielding from EMI: Electromagnetic interference affects not only picture quality but also audio and reception in general. The best fiber optic HDMI cables don't suffer from this problem and can, therefore, all but guarantee great picture and audio quality.
There you have it, some of the best fiber optic HMDI cables on the market. All you have to do now is choose one within your price range and buy it to start enjoying excellent picture and audio quality on your 4K TV.