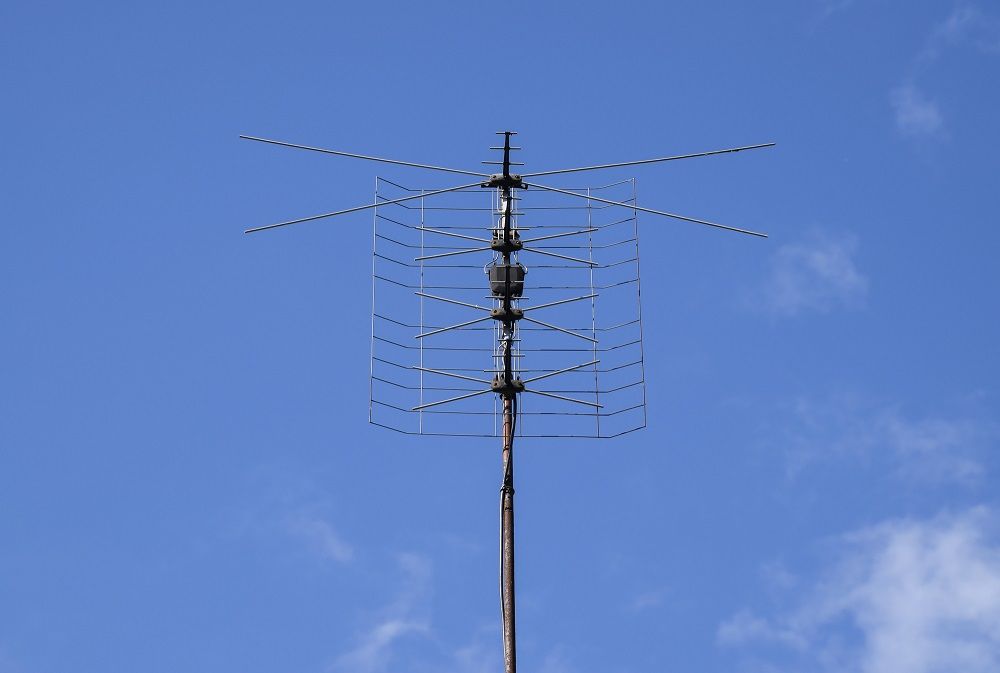 The Pingbingding WA-2900A Outdoor Antenna is known for its ease of installation and reliable  multidirectional reception. Designed with the customer in mind, it offers tools-free assembly and comes with items you'd normally purchase separately, such as coaxial cable and preamplifier.
It supports a crystal-clear picture in HD format from your local stations such as Fox, CBS, NBC, ABC, the Weather Channel, etc., and its durable and weatherproof aluminum and plastic frame offers reduced wind load.
The manufacturer also has a reputation for outstanding technical support. It comes with an installation guide and detailed troubleshooting instructions.
Features and Benefits
The WA-2900A comes with two large reflectors that help focus signal reception and increase the antenna's gain — for VHF the gain is 18-28 dB and for UHF it's 20-30 dB.
The manufacturer gives a nominal range of 150 miles for this antenna, however this is likely unachievable for the average homeowner as the curvature of the earth generally limits TV antenna signal reception to 60-80 miles. Greater ranges are possible but the antenna must be placed high in the air.
This antenna is ideal for owners who live in areas of fringe reception; its multidirectional characteristics allow it to receive signals from local stations that are spaced apart within an arc of up to 180 degrees with respect to your location.
Customers who want wider angles of reception often mount a second antenna and combine the signals from both. Or, they purchase a rotator and mount this antenna on top for 360-degree coverage.
Included in this package is 39 feet of RG6 coaxial cable, as well as an antenna J-mast that you can optionally use.
The antenna also comes with a preamplifier whose gain you can adjust according in order to optimize picture quality.
Frequency and Channel Types
Supporting a picture resolution of up to full HD (1080p), as well as Ultra 4K, it's capable of receiving high VHF (RF channels 7-13) along with the full spectrum of UHF (RF channels 14-51).
RF channels, otherwise known as real or broadcast channels, aren't normal TV channels, but are allocations of spectrum used by stations for broadcast programming. You can find out which RF channels your local stations are using by consulting the TVfool.com website.
Installing the Pingbingding Outdoor Antenna
Assembly
The antenna comes mostly preassembled, with an array of parts that you snap on and attach together using hand-tightened wing nuts.
The installation manual is quite detailed and even contains a link to an installation video.
After assembly you should test the antenna before mounting it in order to verify that everything's functioning. This includes plugging the coaxial into your TV and running a channel scan.
Installation
In mounting your antenna, you should find a spot offering the clearest line of sight to surrounding transmission towers. As already mentioned, the package comes with a J-mount for easy installation on your roof or on a wall.
As the antenna is directional, it should be aimed towards TV stations. You can run a channel scan and reorient it until you get optimal reception.
If the length of the supplied coaxial isn't sufficient, you can extend it with high-quality RG6 coaxial cable like MediaBridge Ultra Series tri-shielded coaxial, along with F-type connectors.
You may install this antenna in the attic but keep in mind that building materials and walls may introduce interference. Many attic installations do work however, so it may be worth trying.
Grounding the Antenna
Remember to ground both the coaxial cable and antenna mast, running copper wires from both to your house ground. This will help preserve your TV and other connected equipment during thunderstorms.
Connecting the Antenna to Several TVs
Using a splitter device, you can connect this antenna to more than one TV in your household. If you're considering connecting several TVs, make sure to install the splitter at the end of the coaxial cable. You can also call Pingbingding for technical support if you need help.
Summary
The Pingbingding WA-2900A Outdoor Antenna comes with everything you need for setting up and doesn't require experience or DIY talent.
This affordable wide-angle receptor is ideal for those living outside of urban areas and offers powerful VHF and UHF reception. It's one of the very few multidirectional antennas on the market that come with a preamplifier.
The company has a reputation for outstanding technical support in case you run into trouble, and includes an installation guide with detailed steps and parts list.
Specs
Design
| | |
| --- | --- |
| | |
| Coaxial cable length (feet) | |
| Dimensions in inches (H x W x L) | |
| | |