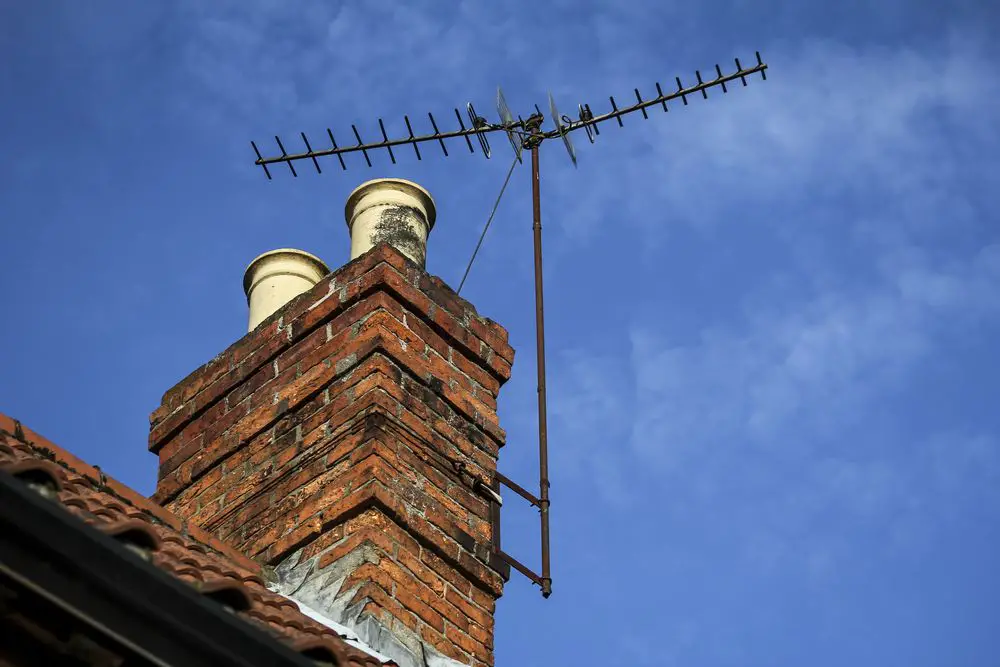 *As an Amazon Associate we may earn from qualifying purchases when you buy through links on our site.
Installing a chimney mount is one of the easiest and most convenient ways to secure your antenna to your roof. That is one of the main reasons why a reliable chimney antenna mount is popular with some homeowners.
However, installing your TV antenna on your roof, much like doing anything on your there, can be a tricky affair.
While you can do it yourself (the process itself is easy enough), if you feel like you aren't as sure of your own or others' safety, then you should call an antenna installation professional to do the job.
That being said, if you do decide to go ahead and install it yourself, here are some safety tips on how to install a chimney antenna mount:
Safe Chimney Antenna Mount Installation Tips
The safety considerations that go into installing a chimney antenna mount are very much the same safety considerations that would go into installing an outdoor antenna.
Before getting started, you should consider:
How handy you are with home DIY
The tools you'll need to install the mount successfully
The technical aspects that go into installing the specific chimney antenna mount you have
How easily and safely you can access the chimney
If you're confident with your answers to the above questions, then it's time to dive into how to install your chimney antenna mount safely.
Step 1: Read the Manual
This should be the very first thing you do. You have to be confident that once you get up there, you'll know exactly what you're doing and have sufficient focus to get the job done.
The thing about working on rooftops is that you can't afford to be absent minded or have your mind wander off. This might, unfortunately, lead to unknowing missteps, which could lead to accidents and falls.
Take the time to learn exactly what you need to do with the tools and parts before you get up there so that when you do, your mind doesn't wander around trying to solve this very foreseeable problem.
Step 2: Mind the Weather
If it's raining, snowing or very windy, you should put this off. Bad weather is one of the leading reasons for most accidents, let alone roof-based falls.
Natural elements such as rain make the roof slick, which will increase your chances of slipping and falling.
The same thing goes for snow, which is not only slick but also freezing, and without the right clothing could create additional health problems like hypothermia.
For obvious reasons, windy days aren't exactly the best either because you will be operating on high ground. This not only makes you prone to falls but opens you up to other hazards such as flying debris that could get into your eye or strike your body while you are up there.
The ideal time to install a chimney mount for an antenna is when the sun is out, it's calm, and it hasn't rained or snowed in a while, so the roof isn't slippery.
While you're up there, be sure to keep an eye out for other hazards that inherently come with rooftop antenna mounts such as hornets or wasp nests and overhanging branches.
One of the biggest hazards is overhanging power lines that could cause electrocutions and power outages. If you observe some precariously overhanging power lines, you should call off the job until the power company fixes them and says it's OK to work in that area.
Step 3: Plan the Installation
Depending on the chimney mount you buy, you might need to preassemble it before you get up there.
If you have done that already, then here are some useful tips on how to properly install a chimney antenna mount on your roof:
Strive to place the top strap as high up on the chimney as possible. Some chimneys have a projecting cap or crown; if you have one of these chimneys, then you should look to place this top strap directly under that crown.
While logic would suggest that you place the bottom strap as far down the chimney as possible, it's more advisable to place it just four feet below the top strap. This gives your mount a stable installation. If your chimney isn't long enough to allow for four feet, then strive to place the bottom strap as far down the chimney as possible.
There are two main types of chimney masts: those that must be 10 feet above your chimney and those that are less than 10 feet above your chimney.
If you have one that must be 10 feet above your chimney, then you need to ensure that the straps can be at least 30 inches apart, with the top one being as high up the chimney as possible.
However, if you have a mast that is less than 10 feet above your chimney, then you should strive for the straps to be at least 24 inches apart.
What are the Advantages of Having a Chimney Mount?
You might be wondering why you have to go through all this to get a chimney-mounted antenna. What are the benefits anyway?
You get better signal: When it comes to TV antennas, the general rule of thumb is that "the higher it goes, the better your signal reception." Mounting an antenna on your chimney gives you better chances of getting clearer pictures and better sound.
Chimney mounts are easy to install: Provided you consider these safety precautions, chimney mounts are fairly easy to install.
Chimney mounts are adjustable: The chimney mount you buy might come in different sizes, but these sizes can be adjusted to fit your specific chimney.
Chimney mounts are multipurpose: The best chimney mounts are compatible with more than just your TV antenna, they work well with HAM antennas as well as some satellite dishes.
With these steps and instructions in mind, you're well prepared to safely install a chimney antenna mount on your roof and enjoy better TV signals.