It's like comparing apples and oranges.
On one side, you've got antennas that are sturdily built and designed for outdoors. But on the other are antennas meant for indoor use. Delicate and compact, these will pick up signals from your bookshelf.
But there's a third category, a few that are designed for both settings. Tough on the outside, they'll withstand wind and rain. Compact and aesthetic looking, you can fit them easily in your living spaces.
I'm talking about dual indoor/outdoor TV antennas. These have all the features of indoor antennas in that they offer a built-in signal booster and 360-degree reception, but they're also small enough for you to set up anywhere.
In fact, they'll go on the roof of your RV or on your balcony. And you probably won't need tools to set them up, as they come with mounting hardware you can assemble by hand.
These are but a few of the advantages, however. Read on to find out our top picks of the five best TV antennas that you can use indoors or outdoors.
| | | | | |
| --- | --- | --- | --- | --- |
| | | | 120 Mile Ultra Digital HDTV Antenna | 1byone Indoor/Outdoor Amplified Digital TV Antenna |
| | | | | |
| | | | | |
| | | | | |
| | | | | |
| | | | | |
| | | | | |
1byone New Concept Series Omnidirectional TV Antenna
Whether you decide to install this 1byone New Concept Series antenna on your RV, boat, or in the window of a guest room, it'll provide dependable, 360-degree reception. It comes with 20 feet of RG6 coaxial cable, as well as a stand and mount clamp for attaching to an antenna mast.
Its white color and small size (it only weighs about a pound) make it relatively unnoticeable is most settings. It's painted with an anti-UV coating and its shape offers reduced wind load to minimize drag. This latter point is essential as a shaking antenna can reduce your received signal.
---
They call this the UFO antenna and it certainly lives up to his name. Interestingly, it offers 360-degree reception both horizontally and vertically. The vertical reception comes in handy in situations where stations are broadcasting a vertical component in their signal. Vertical reception is beneficial to indoor antennas, and more stations are adding vertical polarization to their broadcasts in the United States.
The ANTOP Antop UFO 720° antenna offers automatic filtering of cellular signals to reduce interference, and comes with 33 feet of coaxial cable. Easy to set up and mount, it's also painted with an anti-UV coating to protect its electronics against the sun.
---
Lava OmniPro HD-8008 HDTV Antenna
The Lava HD-8008 antenna comes with just about everything you need to get up and running with over-the-air television. It includes 40 feet of coaxial cable and clips for attaching this to the wall, as well as a 4-way splitter for hooking up several TVs. The included mounting clamp makes it easy to attach this antenna to a mast.
A version of this antenna comes with a J-mast for easy mounting. It features high gain (thanks to the included preamplifier) for optimal reception inside of buildings. It supports full HD and ultra 4K reception.
---
120 Mile Ultra Digital HDTV Antenna
Despite its slender appearance, you can install this AliTEK antenna either indoors or outdoors. The antenna's stated range is 120 miles, but keep in mind that such ranges are only achieved if the antenna is installed very high up in the air. You'll likely only get between a max range of 25-35 miles if used indoors.
With this antenna you can get channels in full HD (1080p) and ultra 4K. It also receives the low end of VHF (RF channels 2-13), in addition to high VHF and UHF.
---
1byone Indoor/Outdoor Amplified Digital TV Antenna
This double-paneled antenna supports full HD and ultra 4K picture quality, and comes with a preamplifier whose strength (signal gain) is adjustable. The preamplifier also filters out cellular frequencies to reduce noise.
It has an anti-UV coating and is waterproof for placement outdoors. It also comes with adhesive pads for sticking to windows or to wall surfaces. The coaxial cable is fully detachable and can be replaced by your own cable if needed.
Choosing an Indoor/Outdoor Antenna
If you look closely at these models, you'll notice they tend to be compact, resembling more traditional indoor (than outdoor) antennas.
They're definitely not the long-range, Yagi-style variety you find on outdoor antenna listings (though technically you could use such antennas indoors if you wanted to).
The indoor/outdoor antennas featured on this page offer reception from all directions and are amplified. Their key benefit though is their small size and light weight that allow you to set them up in many potential places.
Find that the antenna isn't getting adequate reception in your living room? Then set it up outside. These antennas are waterproof and are built to withstand the elements.
But as these resemble more indoor than traditional outdoor antennas, you should use the same criteria that you'd use for buying an indoor antenna when researching the type of antenna you need.
Installing an Indoor/Outdoor TV Antenna
When setting up a dual indoor/outdoor antenna, you're basically taking the same steps as you would for an antenna that's purely for indoor use: you're finding the optimal spot in your house reception wise, connecting the coaxial cable to your TV, and scanning for channels.
After all, most people mount such dual-use antennas relatively close to the television and generally not that far up in the air (e.g., not on a tower or on the roof, though you can certainly try it with these antennas).
If however you do want to install one of these antennas on your roof, then you're doing an outdoor installation.
Grounding a Dual Use Antenna
Antennas that are installed outside should definitely be grounded to preserve equipment from static discharges during thunderstorms.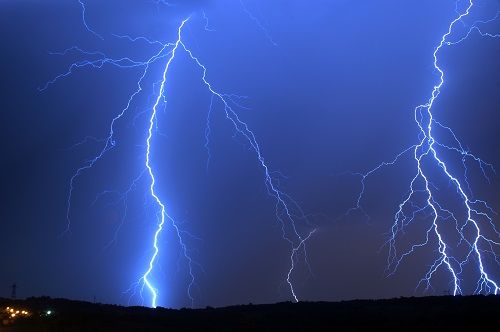 There's also an argument to be made that indoor antennas should similarly be grounded — at least to guard against electrical surges from connected but faulty AC-powered equipment.
To see if you need to ground an antenna installed indoors, check the electrical plugs of all connected equipment: generally the 3rd prong of an electrical plug is the grounding wire. If any of your connected TV devices uses a plug with 2 prongs, then you should ground the antenna.
Summary
Indoor/outdoor TV antennas are most useful due to their portability and the fact they can be installed in a wide variety of places. Whether you take them on a road trip or camping, or are just staying at home, you'll enjoy free television wherever you're at.
Such antennas are basically designed for indoors but are weatherproof for mounting outdoors if you need. When choosing an antenna, make sure to also check the length of the supplied coaxial cable to ensure it's sufficient for how you want to set it up.