Today's indoor antennas aren't your dad's rabbit ears. 
Modern HDTV antenna designs are beautiful, compact, and fit readily on bookshelves and windowsills. Their thin, aesthetic forms mean they won't stick out, and they'll provide you with years of over-the-air programming in full HD and ultra 4K high definition.
You'll be able to watch local stations like Fox, CBS, ABC, NBC, CW, PBS and more for free, saving thousands in cable programming that you won't need anymore.
They're easier than ever to set up; it's just a matter of finding the antenna's optimal placement in your living space and plugging its cable into the ANT-IN port on the back of your TV.  Then run a channel scan and say goodbye to the cable man.
Below you'll find my picks of the top 5 indoor HDTV antennas on the market, along with handy install information and practical tips for choosing the right antenna.
NOTE: If you're looking for recommendations for weatherproof antennas that you can install outside, be sure to see our picks of the Top 10 Outdoor Antennas.
| | | | | |
| --- | --- | --- | --- | --- |
| Carbon Fibre 65-120 Miles TV Antenna | Professional 75-150 Miles Indoor TV Antenna | 1byone Digital Amplified Indoor HD TV Antenna | 120 Mile Ultra Digital HDTV Antenna | Antennas Direct ClearStream Eclipse TV Antenna |
| | | | | |
| | | | | |
| | | | | |
| | | | | |
| | | | | |
| | | | | |
| | | | | |
Carbon Fibre 65-120 Miles TV Antenna
This modern HDTV antenna sports a sleek, rugged design that pulls in VHF and UHF channels with HD picture quality. It ships with a shielded coaxial cable with an attached preamplifier that switches between short- and long-range reception.
The antenna has a reputation for just working out of the box. It comes with Velcro patches allowing you to attach it to the wall or other surfaces, and takes AA batteries in case your TV doesn't have a USB plug for the preamplifier. The antenna's size and shape make it easy to move it around and mount in different places until you've found the best reception.
---
Professional 75-150 Miles Indoor TV Antenna
Are you looking for an antenna that won't stick out like a sore thumb among your paintings? Then check out this Wi-Fi router-looking indoor antenna. It comes with some interesting features, such as a preamplifier that can be switched on or off via its USB-powered amplifier box.
After setting it up, you plug the supplied coaxial into either your TV or a converter box. It receives full HD (1080p), while the number of channels you get will depend on the signal strength at your location. In my opinion, the manufacturer BuKee has a reputation for producing reliable antennas.
---
1byone Digital Amplified Indoor HD TV Antenna
This lightweight 1byone Digital Indoor Antenna features one of the thinnest exteriors you'll find — in fact it resembles a cardboard square. With this antenna, you'll be getting a 50-mile reception range for both UHF (RF channels 14-51) and high and low VHF (RF channels 2-13) frequencies.
The antenna comes with 3M adhesive for sticking to the wall and similar surfaces. You can also place it at a window. This antenna will work with any digital-ready TV with a coaxial port. If your TV doesn't have digital tuner, you can plug this antenna into a converter or set-top box.
---
120 Mile Ultra Digital HDTV Antenna
Unlike most antennas presented here, you can install this AliTEK antenna either indoors or outdoors. It comes with a clamp for mounting on a wall, as well as 16 feet of coaxial cable.
With this antenna you'll get channels in full HD (1080p) and ultra 4K, and receive both UHF (RF channels 14-51) and high and low VHF (RF channels 2-13) frequencies. It also comes equipped with a switch control preamplifier for boosting your received TV signal.
---
Antennas Direct ClearStream Eclipse TV Antenna
The ClearStream Eclipse indoor antenna features the same patented loop design as other ClearStream models from Antennas Direct, meaning you get reliable reception with a wide beam angle. You can add the supplied tape to either side of the antenna to make it adhesive (it's marketed as a "Sure Grip" antenna), to stick it on surfaces like your window.
The preamplifier provides 20 dB of extra gain to boost weak signals. The antenna supports UHF and VHF reception in full HD (1080p). The flexibility of its frame and its light weight permit you to easily move it around and reposition it in your living space.
Choosing an Indoor TV Antenna
Unlike outdoor antennas, indoor receivers don't vary as much in terms of their size, shape, and features, which can make it challenging to choose the right one. Here are a few things you should consider when buying an indoor antenna.
The Truth About Indoor TV Antennas
Despite all the marketing-speak about new technologies being integrated into antennas, they're still passive receptors of radio frequency signals (at heart).
And in today's modern leaf designs, the metal dipoles are cleverly hidden within an exterior made of plastic or carbon fiber.
But indoor HDTV antennas are like any other antennas: they still need to be positioned directly in front of oncoming signal waves in order to pick these up. And, the smaller the surface area of any antenna, the less of a signal it'll catch.
This goes especially for small, indoor antennas positioned within four walls and a roof, all of which tend to block or weaken signals.
Because of this, all indoor antennas come with a preamplifier to boost the reception of already-weak signals. Such antennas also tend to be omnidirectional, picking up signals 360 degrees around them.
But, along with these factors comes the massive convenience of simply removing an indoor antenna from the box, placing it somewhere nearby, plugging it into your TV, and running a channel scan.
You'll notice what I didn't mention: with an indoor antenna, there'll be no weekend warrior DIY projects to mount an antenna on your roof, and no long cable runs through your attic or your house.
Want to get over-the-air signals for that second TV in the bedroom? Forget about running cables through walls; just get another indoor antenna for it.
How Far Are Transmission Towers?
The most important factor that decides whether or not an indoor antenna will work for you is how far away you live from transmission towers. To see whether an indoor antenna would be a good fit for your situation (or if an outdoor antenna would be better) first grab your signal report from TVFool.com.
It'll give you an indication of the signal strength at your location, and the placements of surrounding transmission towers. Indoor antennas are generally suitable if towers are less than 25 miles away.
Forget that the box says "150+ mile range": you'll only get that kind of range if you mount your indoor antenna on the top of the very tallest pole you can think of, which most of us aren't doing.
Pay attention also to the colors of the signal strength indicators for stations on your signal report. A green color generally means you'll have a good chance of getting those stations with an indoor antenna.
Look especially at the Dist miles figure (closer to right side of the diagram): for each station you want to get, this figure should be 25 miles or less.
If you live farther away from towers (say 35 miles or more), you probably won't get those stations. In fact, just stop reading this article right now and consider an outdoor antenna.
Also, indoor antennas tend to work great in areas that are less cluttered by tall buildings and where transmitters are scattered on the compass around you.
In downtown urban centers, however, they work less well because of multipath interference — where signals can bounce off buildings and reflect around by the time they get to you.
Of course, if you live on the upper floor of a high-rise apartment building that's the tallest structure around, and which has a direct line of sight to stations, then an indoor antenna will pull all the channels you need.
But let's look at the opposite problem. What if you live too close and transmitters (i.e., you live less than 10 miles away from them)?
The antenna's preamplifier may then cause you to get less channels. Now, this may not make sense but amplification in such a case may introduce too much noise to already-strong signals.
Just try unplugging the preamplifier to see if reception improves.
What to Look For in an Indoor Antenna
If you're like me, you'll probably look through several reviews and antenna models before you settle on the right one. Check whether the antenna has:
How to Install an Indoor TV Antenna
Now I'm going to take you through the broad steps of installing an indoor TV antenna.
"Install" may be overdone here, especially when compared to mounting outdoor antennas. It's more akin to setting up an electronic device like a printer or Wi-Fi router in your home.
Make Sure You've Got a Real TV
Before starting, check behind your TV set to see whether there's a coaxial cable input for the antenna coaxial. This might be denoted by letters like "ANT-IN."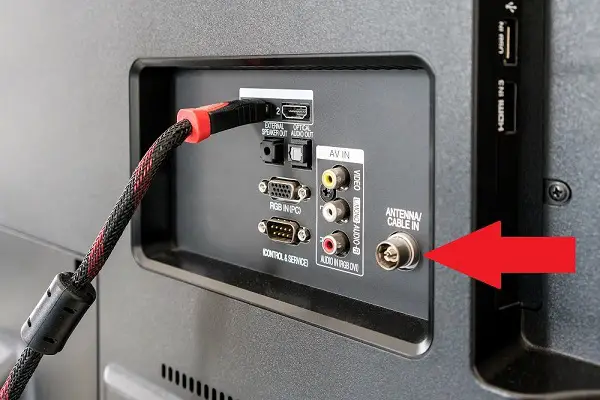 Many TVs manufactured today are actually display monitors, believe it or not. These are usually purchased in conjunction with cable television and so they don't need the digital ATSC tuner that's so critical for over-the-air digital television.
If you suspect your TV is actually more like one of those monitors, double check the instruction manual that came with the TV and look for references to "television." If you don't find any, then it's likely you bought yourself a giant display device.
But don't panic, because you can still get OTA television by adding a converter or set-top box to the mix.
These will contain that all-important digital tuner. A good-quality one is the Mediasonic HOMEWORX HW130STB, which has other nifty features thrown in such as recording and an electronic program guide.
Lastly, check whether your TV has a USB port in the back. Many indoor antennas are powered by a USB cable that can be connected directly to your TV.
1. Check the Locations of Your Stations
By now, you should have checked TVFool.com or DTV/maps to find out both where and how far transmission towers are from you.
See those numbers and lines? Those lines represent transmission towers with color coding according to signal strength. Those numbers represent the RF channels on which those stations are broadcasting, and represent UHF or VHF frequencies.
This will be important for making sure you're within range of stations (anywhere within 25 to 35 miles max from towers).
You'll also want to know the directions of towers with respect to your location, in order to place the antenna in the line of sight of those towers (as an added confirmation, take a look at where your neighbors' antennas are pointing).
In your living room or attic, it may be hard to get a direct line of sight towards towers without a wall or two in between, but every extra inch of placement and orientation counts. That's why windows are often preferred places to hang indoor antennas.
When looking at your signal report from TVFool, be mindful of values such as local signal strength, the RF channels that stations are using, and any upcoming FCC channel repacks. My article on installing outdoor antennas has more information on this.
2. Choose the Best Spot
Once you've got your antenna, check around your living space for the best spot in relation to surrounding transmission towers.
Keep in mind that as with all antenna reception, height is crucial. Want to hang the antenna in your window? Try hanging it from the top part of the window. Do you live in a multi-story house? Check to see if it's possible to place your antenna upstairs instead.
Skylights are also good places for antennas.
But be careful: metal coverings of items in your house can potentially interfere with signal. Avoid placing the antenna near, for example, mesh-covered windows or doors.
Many antennas come with parts for mounting. These might range from simple adhesive tape allowing you to stick the antenna directly on a surface, to slots for screws in the back of the antenna, to even a mounting clamp for placing the antenna on a mast.
When looking for a good spot, you're probably also going to want to keep aesthetics in mind. You can actually paint some types of antennas so they blend in with their environs, while others you can't.
3. Connect the Antenna to Your TV and Scan For Channels
This is the simplest part. You connect the antenna's coaxial cable to the F connector port on the back panel of your television or converter box.
Depending on your installation, this might involve running the cable a few feet or more, which could entail some minor work to hide or otherwise organize the cable so no one trips over it (or sees it).
After connecting the cable and plugging in the preamplifier or switch for the antenna, run a channel scan on your TV. Most televisions and converter boxes have a special antenna set-up program for channel scans.
4. Optimize Reception
Referring to your TVFool signal report from earlier, you should ensure that you're getting at least most if not all the channels within range.
If not, you may have to adjust the position and even the location of the antenna. Move the antenna around to different places in the room or even around your house, re-scanning for channels after each move to check the number and quality of received channels.
If the antenna is made of metal, try hanging a coat hanger or other metal part on it to see if reception improves.
Try also unplugging or switching off the preamplifier. Your channel reception may actually get better.
But if not, move the antenna outside as a last resort. Most indoor antennas aren't meant to be mounted outside and so aren't waterproof. Be sure to read the product details to check whether it is or not. If not, try to keep it in a relatively dry, sheltered place.
Conclusion
After making the adjustments I described above, you should be getting a number of channels on your TV. Some people nevertheless don't receive channels with an indoor antenna.
This likely has less to do with the antenna and more to do with your location, as well as the structure and items in your house that may introduce interference.
For instance, a metal roof is known to interfere with TV signals. Living in the middle of a big city means signals have an opportunity to bounce around and split up, introducing multipath interference.
If you're not getting the desired over-the-air programming with an indoor antenna, you may consider installing an outdoor antenna (or even a dual indoor/outdoor antenna).
Antennas designed specifically for mounting outdoors tend to offer better factors for focused, long-range reception.