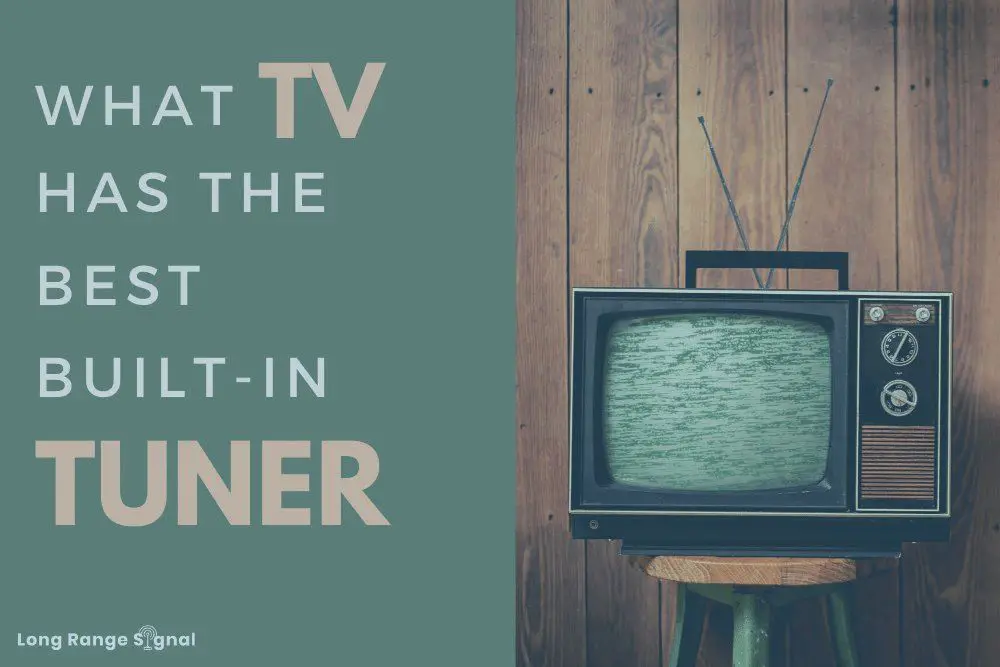 *As an Amazon Associate we may earn from qualifying purchases when you buy through links on our site.
A TV tuner card not only enables you to watch TV channels for free using an HDTV antenna, but it also functions as a video capture card.
It allows you to record television programs onto a hard disk, much like a digital video recorder (DVR) does. These cards are literally built into TVs, while you can set up external ones for computers.
There are so many options to choose from, making the choice of the right tuner more challenging than it already is.
But don't worry, I've got you covered. In this post, I'll discuss some things to look out for when selecting such a device.
We'll first look at TVs with the best tuners, followed by a detailed buying guide.
TVs With The Best Built-In TV Tuner
The following Smart TVs feature built-in ATSC 3.0 digital tuners (also referred to as NextGen TV), and are recommended based on good value for money.
LG OLED 55GXPUA
The 55-inch GX OLED is the least expensive LG option for accessing ATSC 3.0 broadcasts:
Samsung QLED TV
The 65-inch Q800T is the least expensive Samsung option for ATSC 3.0 compatibility.
Sony TV
Sony offers several different models of Smart TV but the 55-inch X900H is the least expensive TV on our radar that supports ATSC 3.0 NextGen TV. 
You should also check out the 85-inch X900H, which is the most affordable large-screen model to incorporate the new tuner technology.
The #1 Mistake To Avoid While Buying A TV
The most common mistake consumers make is they overlook the fact that manufacturers often incorporate cheap, low-quality tuners to cut costs. 
However, there are some easy ways of avoiding getting a TV with a low-quality tuner:
Make sure the TV you're going to take home also has an antenna. It's mentioned in the specs. And also remember to pick up the right cables if the TV doesn't come with them. 
Be careful when purchasing a Vizio-branded TV: these often don't supply the needed cables. You may be frustrated to find out that the box doesn't contain cables after you get home.
Look for a photo of the TV's rear panel online and make sure it has the round coaxial connector. Here's an example:
As long as you keep you remember these guidelines, the TV you pick up will satisfy your entertainment needs for a long time.
Other Types Of TV Tuners
The cord-cutting movement is far from new. Many have gotten rid of needlessly pricey cable subscriptions and purchased a tuner-equipped TV. 
The average cable subscription starts at $40, giving you access to a minimal set of channels. That's not only unreasonable; it's also unfair.
The increase in demand for cheaper entertainment solutions has not only led to almost every brand embracing TV tuners, but it's also led to a market that's flooded with off-the-shelf options.
You don't always need to get a new TV to access free-to-air channels over a TV antenna (unless you want one). 
You can also get your hands on USB and set-top tuners with useful features like the ability to skip commercials, display electronic program guides, and record TV shows in advance (like the Hauppage dual USB 2.0 tuner below).
I've more to add to this good news. 
There are external tuners available that you can plug right into your laptop or desktop computer. A lot of them are small enough to take with you on the road.
Below is a list of top TV tuners to make things easy for you:
While this shortlist will come in handy if you're looking to save some money and not buy a TV altogether, it's important to remember there's no "ultimate" TV tuner.
If you're on the move with your laptop, a smaller one may fit your needs. If you have a big TV and want a plug-and-play solution, a set-top tuner may be right.
But, at the end of the day, nothing beats a new TV equipped with the latest streaming technology.
In-Built Digital TV Tuners: Repurposing Your Old TV
There are two types of digital tuners in TVs: it can either be built into the device, or external to it (that you have to plug in or separately install). Keep in mind that having either of the two is absolutely necessary if you want to watch over-the-air (OTA) TV channels. 
The TVs recommended above have a built-in tuner. External tuners are the kind you buy off shelves at your local electronics store or online.
But here's the kicker: 
Any television bought during 2009 or afterwards already has a built-in digital tuner. 
The digital TV tuner makes it possible for your television to receive and display a digital signal. In simpler words, there's a good chance that your old tube TV that's gathering dust in your home is in fact a digital television and already capable of picking up OTA channels.
If you have an older analog TV (that is, manufactured pre 2009), you'll need to get a separate converter box (a.k.a. set-top box or DTV converter box).
One such analog-to-digital converter box that I like is the Homeworx HW130RN by Mediasonic:
Back to televisions, newer TVs incorporate the digital tuner on the actual motherboard of the TV. The close proximity of the tuner with the board is a big part of the reason behind why OTA channels look better on newer TVs.
How to Find Out If Your Old TV Has a Tuner Built In
There are a few methods to find out if your TV has a tuner:
Many so-called TVs are actually cable-ready displays. Yes, they're not actually television sets. Check the owner's manual that came with your TV and look for words like "television."
Look on the front and back of the TV for a marking that indicates a digital tuner. It might say ATSC, DTV, HDTV, Digital Ready, HD Ready, Digital Tuner, Digital Receiver, Digital Tuner Built-in, or Integrated Digital Tuner.
Look at the back panel for a coaxial cable input (i.e., an F connector)—see the image earlier in this article.
Find the model number of the TV and check the specifications on the manufacturer's website.
Final words
It's important to know whether your TV has a tuner or not, and whether it's good enough in comparison to newer TVs or not (in terms of features).
If your old TV is good enough, you may not need to buy a new TV after all. But, then again, there's just nothing like a new TV, especially one that gives you access to channels for free.
And with my recommendations and the guide above, hopefully life will be easier when looking for ways to enjoy free TV and over-the-air channels like Fox, CBS, ABC, NBC, CNN, and more.