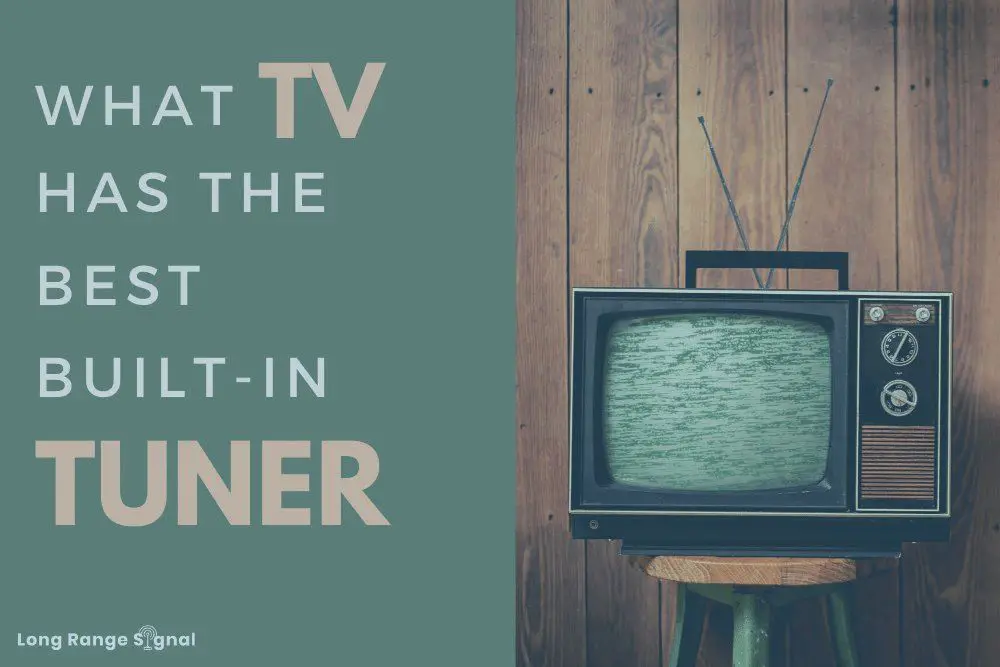 *As an Amazon Associate we may earn from qualifying purchases when you buy through links on our site.
A television uses an internal component called a tuner to convert TV signals from your over-the-air (OTA) antenna into pictures and sound.
Since 2009, TV stations have been broadcasting television signals as compressed digital signals (complete with error correction), so tuners today are referred to as "digital" or "ATSC" tuners.
If you've ever hooked up two different TVs to the same antenna and wondered why one gets more channels than the other, it may be because one tuner is more sensitive, or offers a greater "signal-to-noise ratio" than the other.
So which TV has the best tuner? Actually I'm not aware of any comparison tests among major television brands to determine the best, or most sensitive tuner.
Now, you may hear about one brand having better tuners than another. Someone may tell you they picked up more channels with this-or-that TV in comparison with another.
But keep in mind that even if one brand's tuner is reputationally better than another's, you likely won't see much of a difference in terms of extra channels, even under the right circumstances.
In fact, you're likelier to have more success with a good HDTV antenna setup combined with amplification (if needed, i.e., preamp or distribution amplifier) than seeking out the TV with the best OTA tuner.
However, the new broadcast standard ATSC 3.0 looms on the horizon. The class of tuners manufactured for this version promise better reception than current devices and so you should begin to consider these in your purchasing plans.
TVs With The Best Built-In TV Tuner
Generally speaking, of the major TV brands, LG and Samsung offer high-quality tuners with a reputation for good performance. Nowadays though, the differences in tuner performance among the major brands is said to be less and less.
Looking at the future of broadcasting, the upcoming ATSC 3.0 should offer better reception than the current ATSC 1.0 standard due to (among other reasons) its different modulation technique that should be less susceptible to interference. Aside from that, it will also provide 4K picture and better sound quality.
Unlike during the introduction of ATSC 1.0 in 2009, there's no federally mandated rollout of the newer version and so its adoption by television stations is voluntary. However there are benefits for stations, such as more targeted advertising, and so the new standard is being adopted at a steady rate, with ATSC 3.0 (otherwise known as "Next Gen TV") currently already being broadcast across major US metropolitan areas.
Keep in mind that ATSC 3.0 isn't backward compatible: if your current television uses an ATSC 1.0-compatible tuner then it won't be able to correctly process the ATSC 3.0 signals that the antenna is feeding it. But I'll predict that in future, many will end up buying an external ATSC 3.0 tuner or converter box to watch Next Gen TV.
Which is why if you're in the market for a new television, you should consider getting one with an ATSC 3.0 digital tuner. Here are four Smart TVs that are Next Gen TV compatible.
Hisense ULED Premium U7H
Hisense announced at CES 2022 that its U7H, U8H, and U9H series Smart TVs would include the new standard, and is thus a new entrant in the market for ATSC 3.0-compatible television sets.
The U7H below packs 4K ULED with Dolby Vision and Atmos sound into a 75" screen, and is worth checking out:
Samsung Neo QLED QN90A
Samsung has been adding ATSC 3.0 tuners in its Smart TV lineup since at least last year and there's every reason to think this trend will continue. Its 4K picture is enhanced by proprietary Quantum Matrix technology. I like it particularly for the brightness of its screen and its voice-assisted technology.
LG G2 OLED
The G2 series includes ATSC 3.0 tuners and features a heatsink that reduces the display panel's heating. It offers outstanding pictures and sound, as well as AI-supported voice control.
Sony A90J Bravia XR OLED
The Sony brand is known for its premium features and the A90J line offers the Sony Bravia streaming service that takes advantage of the Sony's proprietary technology and hardware, along with an immersively deep and contrasted picture.
Getting Ready for Next Gen TV
In the United States, ATSC 3.0 is rolling out at a gradual pace so there's no hurry to get set up for Next Gen TV.
Looking ahead however, you might check whether your current TV supports ATSC 3.0 since, as mentioned earlier, that version won't support the current generation of ATSC 1.0 tuners.
Eventually when the new technology rolls into your area, you'll have a choice between getting a new compatible TV or buying a set-top box (similar to what many did with the rollout of digital TV broadcasting in 2009).
Regarding your current TV antenna, you'll also want to verify whether local stations are broadcasting their ATSC 3.0 shows on a new frequency.
If that's the case, it may be you need do nothing more than rescan your channels. In the most extreme case, however, it may require a new antenna (particularly if it was a UHF channel that now broadcasts on low VHF). However, it's not anticipated there'll be many such instances.
Lastly, ATSC 3.0 is "IP enabled," which basically means it can be received by any Internet-enabled device, from your smartphone to your Smart TV.
As far as TVs are concerned, to take full advantage of the new standard's capabilities you'll need a TV that can connect to the Internet (i.e., a Smart TV) – although strictly speaking this won't be absolutely necessary.
Final Thoughts
Published tests comparing TV tuner performance would be useful for consumers, and if anyone knows of such a test please don't hesitate to leave a comment.
In the meantime, all eyes are looking to the implementation of ATSC 3.0, which should generally offer better reception than the existing ATSC 1.0 standard.