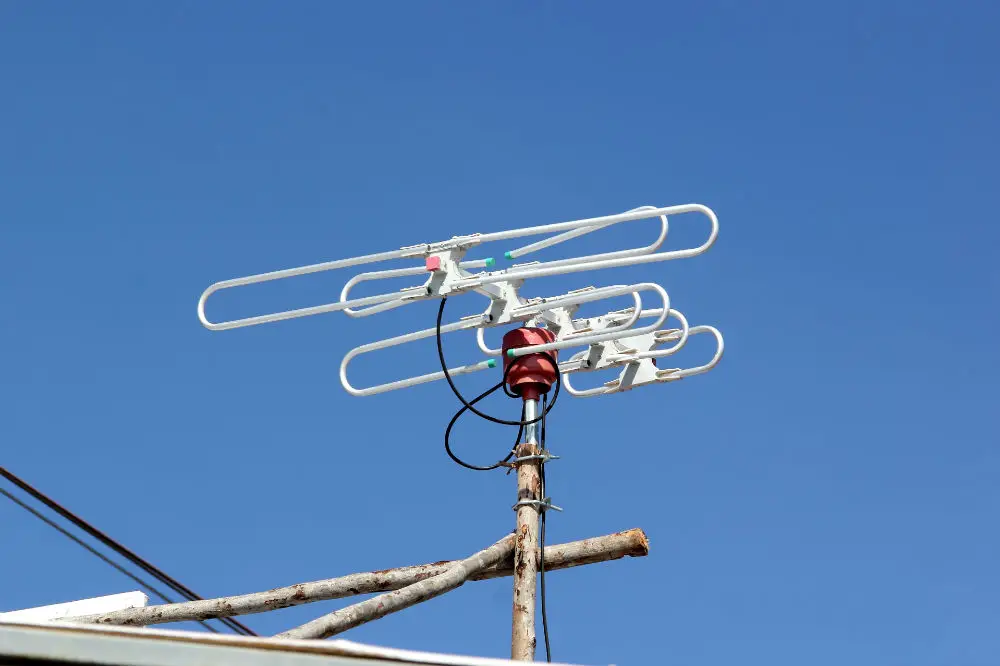 *As an Amazon Associate we may earn from qualifying purchases when you buy through links on our site.
Despite its invention nearly a century ago, the Yagi-Uda antenna design is one of the most successful of all time.
As a rule, it offers excellent signal-to-noise ratio along with reduced interference in a certain direction.
That's why such antennas are classified as unidirectional: they'll pick up signals with extra focus, but from stations within a narrow arc.
The Winegard HD7694P is designed along these lines. It's a high-gain antenna with a 45-mile nominal range, and gets both VHF and UHF channels.
In fact, this antenna is one of the better ones on the market for picking up stations broadcasting on VHF frequencies.
What's Included?
As with similar antennas of Yagi design, this one doesn't need extra amplification when mounted in a place getting optimal reception. Thus it doesn't come with a preamplifier.
It's made to be installed outdoors, and as such is manufactured from weatherproof, aluminum parts that can take a beating from wind and rain.
It also comes with a rubber weather boot for protecting the coaxial connection from the elements.
Although rated for outdoor use, you can also install it in the attic where its strong reception gives it a fair chance of overcoming interference caused by your house structure.
The antenna itself is compact and manageable in terms of size and weight (7 pounds), but as with any Yagi antenna it has a long, extruding axis (in this case several feet in length).
In fact, if mounting on a pole, make sure the pole is sturdy, as the antenna's mount location doesn't correspond with its center of gravity.
Channel and Frequency Types
The Winegard HD7694P antenna receives UHF and high VHF (VHF frequencies 174 – 216 MHz, or real channels 7 – 13 on VHF, plus all real channels on UHF).
However it's not intended for receiving low VHF or FM radio signals.
It receives broadcasts of up to full HD (1080p), and is Ultra HD 4K compatible, which will be useful when the latter technology becomes mainstream.
Setting Up the Winegard Platinum Series HD7694P Antenna
Before purchasing any antenna, you should check your signal report on TVFool.com, or go to DTV.gov/maps to get the distance and direction of the nearest transmission towers.
By consulting these websites and looking at the locations of surrounding towers, you should get an indication of whether to buy a directional (when towers are clustered relatively close together) or omnidirectional (when towers are scattered around you at distances less than 30 miles) antenna.
Assembly
Assembling the HD 7694P consists of removing the preassembled parts from the box and using a screwdriver to attach the UHF and VHF elements to the axis.
You must purchase a coaxial cable separately (preferably tri- or quad-shielded cable of the RG6 variety) in order to connect the antenna with a television.
The antenna features a built-in transformer or balun (300 to 75 Ohm) for reducing the impedance between the antenna's elements and the coaxial cable. 
Installation
The antenna's mast clamp allows you to easily mount it on a mast and tighten the attachments with an adjustable wrench. Winegard recommends you mount the antenna at least 30 feet off the ground for optimal reception.
If you previously had satellite service, you might consider installing the antenna using any pre-existing mast and coaxial cable.
Once set up, you should test the antenna by connecting it to your television and doing a channel scan. If you aren't satisfied with the number of channels received, change the antenna's orientation or position to try for better reception.
Aiming the Antenna
Make sure to point the long part or axis of the antenna in the direction of towers. A compass (whether a real one or a smartphone app) can come in handy for accurate orientation.
On TVFool, you can use the magnetic azimuth heading of the towers to aim the antenna with a compass or compass smartphone app.
You can also use a carpenter's level tool or the level feature of software like the iPhone Measure app to ensure the mast or antenna is perfectly vertical.
If installing the antenna outdoors, you should ground it using either a coaxial grounding block or lightning arrester. See my guide on grounding antennas for more information.
Winegard Mobile App
Winegard Co. has also developed a smartphone app for iOS and Android that shows the direction and distance of nearby towers.
The app is useful because it displays this information directly in the field of view of the smartphone's camera, using augmented reality.
As you turn your phone in different directions, the app shows the picture from the phone's camera along with this information superimposed on the view.
Signal Reception
If you're not satisfied with reception, you may want to consider purchasing and installing a preamplifier.
Winegard recommends their Boost XT HDTV preamplifier but in truth you can use any other brand.
Keep in mind that a preamplifier is mainly for improving signal gain for long coaxial cable runs or overcoming local interference, rather than for receiving signals from far-away towers.
Before buying a preamplifier you may consider the following:
How long is your existing coaxial? If it's longer than 50 feet from antenna to TV, then a preamplifier may be justified for minimizing signal attenuation along the cable
How far away is the tower you're trying to receive? If it's less than 10 miles away, a preamplifier may not be useful and may even add more noise, distorting the signal
Connecting Multiple TVs
A preamplifier may also be justified in cases where you're connecting more than one television to your antenna. In this case, you would attach a splitter to the coaxial, and run separate coaxial cables out of the splitter to the TVs.
A splitter always causes (small amounts of) signal loss, so if you find the television signal to each of the TVs has been weakened after adding the splitter, installing either a preamplifier (outdoors, closer to the antenna) or a distribution amplifier (before the splitter) will help.
A number of customers also hook up the antenna to a streaming device such as Xbox One or HDHomeRun to stream television signals to multiple devices like iPads or computers in the home.
Besides making TV watching more convenient, such devices also provide programming guides and allow pausing of live shows. 
Pros
Yagi design offers unidirectional reception and decent antenna gain
Ease of installation with preassembled parts
Sturdy and weather-resistant frame
Exceptional VHF reception
Cons
Doesn't receive low VHF frequencies
Verdict
This Winegard HD7694P will give you reliable, unidirectional reception for most television frequencies.
Manufactured for outdoor use, it also has surprisingly good reception in the closed confines of an attic.
With a central axis measuring nearly five-and-a-half feet long, be sure to attach it as firmly as possible (preferably with guy wires if mounting it on a pole) in order minimize possible movements or swaying — which can interfere with reception.
Keep in mind also that today's modern digital antennas can get you great UHF, but often aren't so good with the longer VHF frequencies.
So if one or more stations in your area are broadcasting on VHF, then I highly recommend that you take a closer look at this Winegard.
The antenna's manufacturer has been producing reliable antenna technology for well over half a century, and offers both email and phone support in case of issues.
Winegard HD7694P Manual
It's often useful to have a look at technical manuals when evaluating an antenna for purchase. Here you can find both the installation manual and mounting guidelines for the Winegard HD7694P.
Specs
Design
| | |
| --- | --- |
| Direction | Unidirectional |
| Coaxial cable length (feet) |   |
| Dimensions in inches (H x W x L) | 13 x 35 x 65 |
| Preamplifier |   |
| Our rating | 4.5 / 5 |
Reception
| | |
| --- | --- |
| Antenna range (miles) | 45 |
| Channels | Full HD (1080p) |
| Frequencies | UHF/VHF |
Help & Support
| | |
| --- | --- |
| Warranty | 90 days |
| Email support |   |
| Phone support |   |