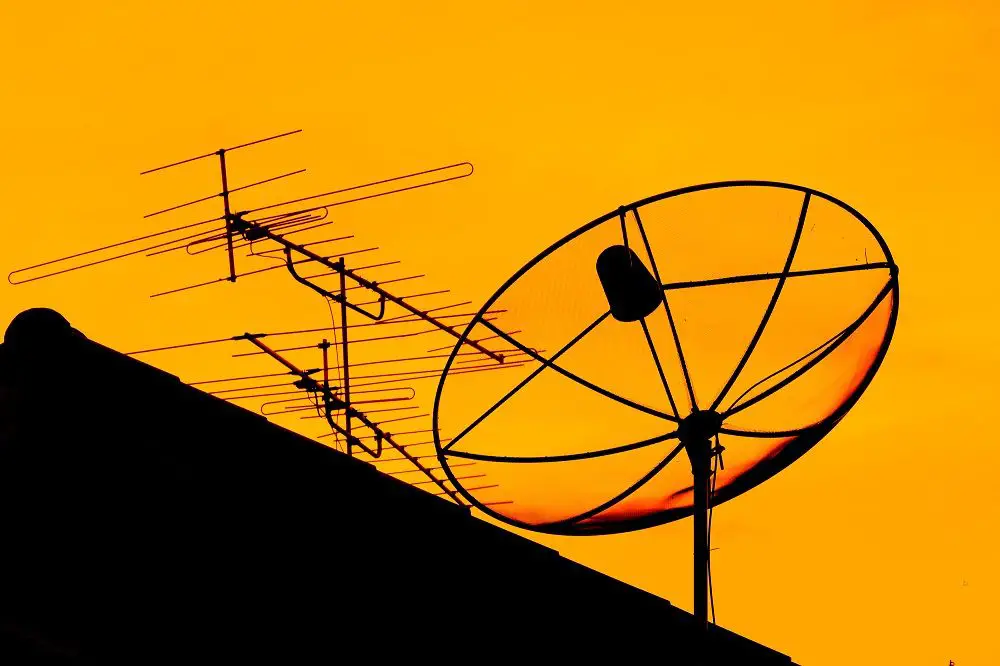 *As an Amazon Associate we may earn from qualifying purchases when you buy through links on our site.
Some modern antennas can be used indoors or outdoors, and are convenient to assemble and mount. The Antop UFO 720° antenna offers such convenience; not only does it have a low profile, but it includes a number of parts to reduce your efforts in setting up a TV antenna.
For instance, it includes a preamplifier and 33 feet of RG6 coaxial cable that you connect directly to your TV or converter box — saving you the trouble of getting these separately.
Its rugged, waterproof exterior allows installation in different places, be it inside or outside your home, your RV, or on a boat.
This is particularly useful if you know that an indoor antenna won't work at your location, but you don't want to go through the trouble of setting up an outdoor antenna on your roof.
Features
Omnidirectionality
The antenna is omnidirectional, meaning it receives signals from 360 degrees around. In other words, given sufficient signal strength, it should pick up any surrounding TV stations.
Now you've been probably wondering why this antenna is called "720 degrees." Isn't that the sum of two circles?
It actually boasts both horizontal and vertical reception (all around). So this means it's picking up signals both above and below.
This is unique among many antennas I've seen, as most antennas pick up radio waves traveling along a horizontal plane.
The North American TV broadcasting market is horizontally polarized, but a number of US broadcasters have added a vertical component to their signal (especially after having undergone channel repacks).
Vertically polarized TV signals generally improve reception for indoor antennas.
This antenna has a nominal range of 65 miles so you should ensure the stations you want to pick up are well within this range — by looking at your RabbitEars.info signal report for instance.
However, if you install this antenna indoors, you probably won't get this range.
Amplification
The antenna also comes with a built-in preamplifier, which ANTOP refers to as the Smartpass Amplifier.
This preamplifier boosts the strength of TV signals the antenna receives and should generally increase the number of channels you get.
The antenna has a nominal gain of 20 dB, but switching on the preamplifier should increase this antenna gain to 30 dB (this makes the signal stronger and better able to overcome any loss as it travels down the coaxial cable to your TV).
Filtering of Cellular LTE Signals
It also comes with a built-in 4G LTE filter, which ensures that cell phone signals don't interfere with the UHF TV signals you're receiving.
This filter reduces noise interference from nearby cell phone towers.
Channel and Frequency Types
The antenna supports broadcasts of up to full HD (1080i or 1080p), and 4K. It picks up signals on both high VHF and UHF.
RF channels are not the TV channels you normally think of and are also known as broadcast or real channels.
They're allocations of the radio frequency spectrum that stations use to broadcast signals.
It's important to know which frequencies your antenna can pick up (before buying one!). You can find out the availability of RF channels in your area by consulting RabbitEars.info.
Assembly and Installation
Assembling the antenna is easy, as you won't need tools to attach the parts.
You'll need to decide the best place for the antenna by choosing a spot that has the least amount of obstructions in the line of sight to surrounding transmission towers.
You can mount this antenna indoors or outdoors. Some customers put it in their attic or balcony, but many get best results by mounting it outdoors and as high as possible off the ground.
The antenna comes with a clamp and U-bolts for mounting it on a mast like the Channel Master CM-3090 Universal Antenna J-Mount.
After mounting the antenna, you run the supplied coaxial cable to your set top-box or TV. If the cable is too short, you can extend it with high-quality coaxial like MediaBridge Ultra Series tri-shielded cable and F-type connectors.
Attached to the end of the coaxial is the SmartPass switch I had referred to earlier, which allows you to turn the preamplifier on or off.
On the antenna itself you can find LEDs indicating whether the preamplifier is switched on.
After installing the antenna you should ground it. You can find more information on grounding an outdoor antenna in this article.
In case you have more televisions in your home and want to hook these up to the antenna, you can attach a splitter to the end of the coaxial and then run further coaxial cables to your TVs.
Pros
Receives OTA broadcasts from all sides (omnidirectional)
Built-in preamplifier to boost received TV signals
Filtering of cell phone signals that could potentially interfere
Cons
Supplied coaxial cable may not have sufficient length for your situation
Antop UFO 720° vs 1byone New Concept Series
The New Concept Series Omnidirectional TV antenna from 1byone offers comparable features to the ANTOP UFO 720°. Both are small, aesthetically designed, and lightweight units intended for installation in a variety of settings.
One notable difference is the fact that the ANTOP antenna has vertical reception, which the 1byone doesn't have. In addition, the ANTOP antenna has built-in cellular noise filtering. Otherwise both antennas have matching features.
The Verdict
If you're looking for a compact, over-the-air antenna that comes with a kit including everything you need to set it up, then have a look at this Antop AT-415B.
The antenna has a few features for boosting channel reception, such as built-in amplification and LTE filtering.
Receiving both high VHF and UHF frequencies, you can also install it indoors such as in your attic or at an upper floor window. ANTOP products have a reputation for quality and reliable technical information.
Antop AT-415B User Manual
For those looking for additional technical details, here is the product manual for the Antop UFO 720° antenna.
Specs
Design
| | |
| --- | --- |
| Direction | Omnidirectional |
| Coaxial cable length (feet) | 33 |
| Dimensions in inches (H x W x L) | 15 x 15 x 6.6 inches |
| Preamplifier |   |
| Our rating | 4 / 5 |
Reception
| | |
| --- | --- |
| Antenna range (miles) | 65 |
| Channels | Full HD (1080p) |
| Frequencies | UHF/VHF |
Help & Support
| | |
| --- | --- |
| Warranty | 1 year |
| Email support |   |
| Phone support |   |