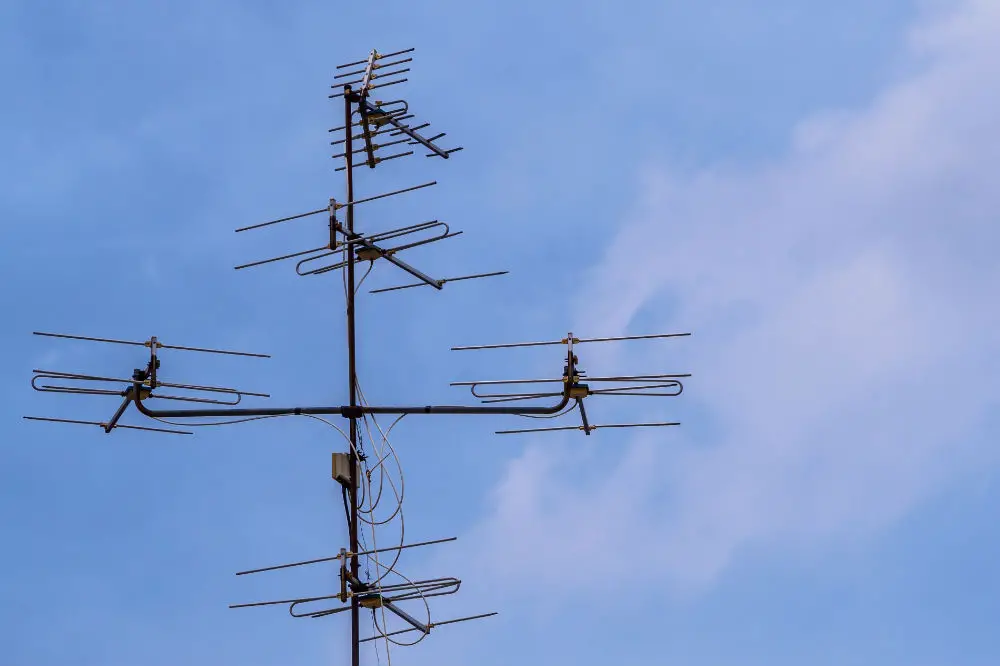 If you're looking for a small and compact outdoor antenna you might consider the 1byone New Concept Series Omnidirectional TV Antenna.
Coming in at only a foot wide and weighing a pound, this antenna can be installed in a wide variety of places, from the side of your house to the top of an RV.
It has 360-degree reception, meaning it's designed to pick up signals from all sides.
This added convenience means you don't need to rotate it (either manually or via remote control) to pick up different stations.
This is especially convenient if the broadcast transmitters where you live are scattered all around your location.
Features

For starters, the New Concept Series TV Antenna has an aesthetic, futuristic design, and is nearly unnoticeable in different settings around the house.
Its all-white color makes it not only a discreet ornament, but also features an anti-UV coating that protects the hardware from the rays of the sun.
However, you can paint the antenna another color without affecting reception.
An added benefit of this antenna's shape and small size, which is rarely mentioned in reviews, is the reduced wind load it offers.
As the manufacturer says, this should contribute to better signal reliability on windy or rainy days.
The reduced drag also makes it viable for mounting on a motor vehicle or boat.
Although it's definitely an outdoor antenna (1byone markets it as being both water- and snowproof), users have reportedly used it indoors as well, with some mounting it in the attic, or in a room next to a window.
Installing
Tools-Free Assembly
Although no mounting pole is included, the antenna comes with a stand and mount clamp (which would require a mounting pole with a diameter of 2 1/4″).
However, you wouldn't necessarily attach it to a mast; the clamp allows mounting on a number of other types of surfaces such as flat walls or balcony rails.
It also boasts tools-free assembly; the mount clamp relies on wing nuts that can be easily tightened or untightened by hand.
Personally I find this to be a convenient feature of the antenna, as it allows relatively easy mounting and dismounting, especially if you're installing it in a temporary setting.
Amplification and Omnidirectionality
The antenna comes with a built-in preamplifier with power supply.
Regarding omnidirectionality, you may need to point the antenna in the direction of towers to improve reception.
This is because antennas are generally not 100% omnidirectional. In most cases however this shouldn't be necessary.
Grounding the Antenna
The manufacturer claims there's no need to ground the antenna.
However, there are good reasons (both safety-related and legal) to ground an outdoor antenna and I'd definitely recommend doing it, even if only with a coaxial grounding block like the iMBAPrice Single 2.5GHz F-Pin.
Channel and Frequency Types
The antenna offers modern digital picture quality — full HD (1080p).
It receives both high and low UHF and VHF signals, in addition to FM, meaning it gets all possible RF channels used in North America (2-51).
RF channels, also known as "real broadcast channels," are allocations of spectrum used by your local stations.
The channels we see on our televisions are actually virtual channels, however. Each RF channel contains one or more of these.
You can see which RF channels your local stations are using by getting your free signal report on TVFool.com.
Reception & Directionality
This antenna offers a nominal range of 60 miles, meaning in theory you should be able to adequately pick up signals from towers at a maximum distance of 60 miles away.
However the effective range for your situation may differ from this, as your geography and local interference factors will play a role.
Note that the higher you place your antenna, the better the reception will generally be.
Placing it on a mast above your roof will get you better reception than placing it in your living room, all things being equal.
Verdict
If you're looking for a relatively short-range solution that's easy to set up and blends in with its surroundings, then you should take a look at this compact 1byone TV antenna.
The amplified antenna receives a broad range of UHF and VHF frequencies.
It's built with materials meant to withstand windy and rainy days, snowy seasons, and other weather conditions.
If you live in an area where the closest towers are relatively far apart from each other, the omnidirectionality of this antenna is helpful.
The built-in preamplifier is not only useful for picking up transmissions from distant towers, but also for overcoming interference when placed in indoor spaces.
Specs
Design
| | |
| --- | --- |
| | |
| Coaxial cable length (feet) | |
| Dimensions in inches (H x W x L) | |
| | |