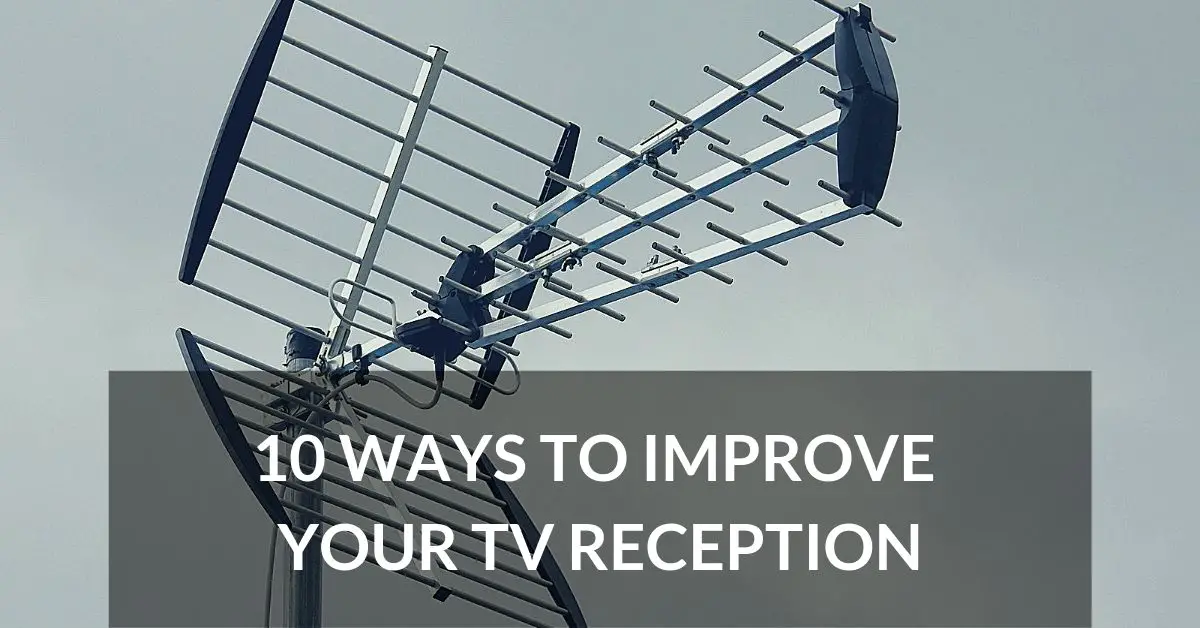 *As an Amazon Associate we may earn from qualifying purchases when you buy through links on our site.
Your TV antenna is receiving a few channels in crisp HD or 4K quality but you feel you could be getting more. How is it your neighbors are pulling in several more channels with their antenna than you are?
You can do a couple of things to get better TV reception: you can change your antenna's position and orientation, secure it better against the elements, and protect it against sources of interference.
Below I list 10 different ways to get more live TV channels, or improve the ones you're already receiving.
Before trying any of these methods, first get a station list for your local area from RabbitEars.info (or similar tool) to check whether additional channels are indeed available.
It's also a good idea to run a channel scan on your TV after trying one of these methods to verify results.
Increase the Elevation of Your TV Antenna
For reception to work best, your antenna should have a clear line of sight to nearby transmission towers.
Anything standing in the way, like buildings, trees, or hills, is liable to disrupt your signal. For instance, it can cause a signal to split and reflect off of surfaces, possibly arriving out of phase at your antenna and interfering with reception.
If your antenna is mounted outdoors, it's relatively straightforward to increase its elevation. At the very least, you could mount it atop a taller pole. And even if it's installed in your attic and you don't have a huge amount of leeway to change its position, each extra amount of height added will probably amount to slightly stronger signal.
In general it's best practice to mount outdoor antennas at least 10-20 feet off the ground.
For an indoor antenna, increasing elevation may be easier said than done. You may want to experiment with changing its position, like placing it at a window rather than near the TV.
Ensure Your Antenna is Properly Aimed
TV antennas can do their job well but they must be correctly aimed at broadcast towers.
To confirm your antenna is pointing in the right direction, check the magnetic azimuth heading of your local stations listed in RabbitEars.info. If aiming towards a group of towers, you may have to experiment a bit with aiming somewhere between them.
You can use a compass or compass app on your smartphone to align the antenna with the magnetic azimuth, keeping in mind that north is 0°, east is 90°, south is 180°, and west is 270°.
An important part of aiming your antenna is knowing where the front of the unit is, which sometimes isn't obvious:
Unidirectional antennas like this one feature a long axis with protruding dipoles, and the front is the end that's farthest from the mast
Then you've got multidirectional antennas, whose front is the side with the plastic Xs
Omnidirectional antennas, like your typical flat-panel indoor TV antenna, aren't supposed to have a "front" (as they're omnidirectional), but you'll get good results if you face the flat panel towards broadcast towers
Level Your TV Antenna
If you've mounted a TV antenna outdoors, you should ensure the antenna's mast is vertically level, as any deviation from perfectly vertical may cause reception issues.
For the task you can use either a carpenter's level tool (aligning it with the antenna mast), or you can download a Bubble Level tool app on your smartphone.
Reset Your TV Tuner
A television tuner is an electronic component inside your TV (or connected device like a set-top or converter box) that converts signals from your antenna into digital format for display on your television screen. The tuner also stores channel information that allows you to switch channels.
Resetting your tuner goes beyond a mere channel rescan to clear the tuner's memory cache in order to refresh channel information.
One reason for resetting the tuner is that broadcasters occasionally change their channel's metadata, like many did during the FCC spectrum repack from September 2018 to July 2020.
Normally you wouldn't need to reset the tuner to get new channel information (just do a channel rescan for this) but if you're having a hard time getting certain channels, it may be a trick worth trying.
Some hardware manufacturers offer a one-step tuner reset option, which you'll need to research in the manufacturer's instructions.
A manual way to reset your tuner to clear existing memory and recompile the channel list is to do the following:
Disconnect the antenna coaxial cable from your TV or connected external device (replace "TV" below with whatever device, like a set-top box, that you're using)
Run a channel scan on your TV (with the antenna disconnected)
Turn off and unplug your TV and wait for several minutes
Reconnect the antenna to the TV
Plug your TV in and turn it on
Do one more channel scan
Secure Your Antenna and Components Against the Elements
Rain, wind, and even the hot sun can eventually wear down and erode outdoor hardware.
An antenna may have a sturdy and waterproof frame but if individual parts such as screws and connectors are of cheap quality, they won't last.
It may be worthwhile to have a quick look at your antenna once a year or so to check for signs of corrosion or aging, and as well verify its connected cable and other attached outdoor devices (like amps).
Weatherproof Cable Connections
You'll want to especially check the connections between coaxial cables and equipment, and waterproof these if necessary.
First, unplug the coaxial cable from its connection and clean and dry it.
After plugging it back in, carefully wrap moisture-proof tape such as Parts Express Coax Seal Moisture Proof Sealing Tape around the connection.
Alternatively, you can weatherproof cable connections with hardware using STUF Dielectric Waterproofing Grease.
You apply the grease directly to both the cable's core and its connector, before plugging it back in (don't worry it won't interfere with signal flow – check out this page for more information).
Some antennas come with a weather or rubber "boot" that covers sensitive parts like transformers or baluns (you can find a balun for example on some antennas like the Winegard Platinum Series HD7694P).
Fasten Down Your Antenna
If you're watching TV and suddenly the screen pixelates during strong wind gusts, make sure the outdoor antenna is tied down or mounted securely.
The antenna should be fixed rigidly to its spot since swaying can cause signal dropouts.
If feasible, consider using steel guy wires made of galvanized steel to secure the antenna pole.
Check for Nearby Items That Cause Interference
Reflective surfaces around your antenna (like a metal roof or a radiant barrier), or appliances in your home or sources outside of it, can distort and weaken incoming radio frequency signals.
Get a Power Conditioner
If you observe TV channels dropping out due to the activation of an appliance (e.g., hair dryer or LED light switching on), your home's wiring may be inadequately shielded from electromagnetic interference, allowing radio frequency noise to seep into the AC power system.
You can test for interference effects on TV reception by unplugging various appliances in your home and isolating the cause.
If interference is acute, you may consider plugging your TV and nearby devices into a power conditioner, which provides both electromagnetic noise filtering and power surge protection.
Install an LTE Filter
If there's a cellular phone tower in your vicinity, LTE signals might be interfering with your TV.
Since 2009, the upper range of UHF frequencies has been re-allocated to cellular carriers due to growing demand for 4G and 5G, which sometimes puts LTE signals next to frequencies used by television stations.
Consider attaching an LTE filter to your antenna coaxial cable to filter out such interference.
Protect Against Power Surges
It's well known that power surges caused by thunderstorms may damage household appliances.
Even the buildup of static electric charge on your antenna during storms may affect any connected devices, including amplifiers, converter boxes, or your TV.
Grounding your outdoor antenna and its coax cable can go a long way towards warding off the chance of a damaged TV.
As an alternative to the complexity of grounding their antenna, some choose to simply install a surge protector on the antenna coaxial cable.
Keep in mind however, that surge protectors generally cover only one part of the equation — the grounding of the coaxial cable — and don't provide grounding of the antenna mast itself.
Use an Antenna Rotator
If you use a unidirectional outdoor antenna (like an RCA Yagi style antenna) and the transmission towers in your area are more than 90 degrees apart from each other in relation to you on the map, you may consider installing an antenna rotator.
This enables you to reorient your antenna towards the other towers as needed – without getting up on the roof to turn the antenna yourself.
Below is an example of a rotator, the RCA VH226F; note the control unit on the left (showing both memory and antenna position in degrees), the rotator box itself in the middle, and the remote control on the right.
Amp Up Your Reception
If you feel you're not getting enough live TV channels from your antenna, you may benefit from installing either a preamplifier (at or near the antenna) or a distribution amplifier (further down the coaxial line).
An amplifier applies electric voltage to the coax in order to boost its signal to noise ratio and thus strengthen those channels that were perhaps coming in too faintly to pick up.
To determine whether you should install an amplifier, check first whether your antenna already comes with a preamplifier. Antennas normally don't need to be plugged in, so if it comes with a component that requires power then it probably already has an amp.
If you're less than 10 miles away from the nearest TV broadcast tower, then installing an amplifier will probably be counterproductive as the signal is already too strong.
Mount a Second (Directional Antenna)
In situations where your antenna is working fine but is unable to pick up one or more towers in a different direction, installing a second antenna (also referred to as "stacking") may make sense.
Having a second antenna may also be sensible if your first is either UHF or VHF, and you want to get a channel or two in the other frequency band.
My article on stacking antennas goes into how to set them up and how to minimize interference between them.
Can I Use Aluminum Foil to Improve Antenna Reception?
A once-popular trick from the old days of rabbit ear antennas was to add tinfoil to your TV antenna in order to expand its conductive surface area, allowing it to better pick up signals and improve reception.
If you got lucky and the aluminum foil happened to mirror incoming radio frequency waves or blocked unwanted noise then your reception got better. On the other hand, it might have worsened your reception.
Wrapping your antenna in tinfoil is no guarantee of better reception.
If you're determined to try it, this trick will work better with indoor antennas than outdoor ones, since wind and rain tend to wear away carefully placed tinfoil on the antenna.
Final Thoughts
These tips are a collection of strategies I've used over the years to improve reception, and I hope you find them useful.