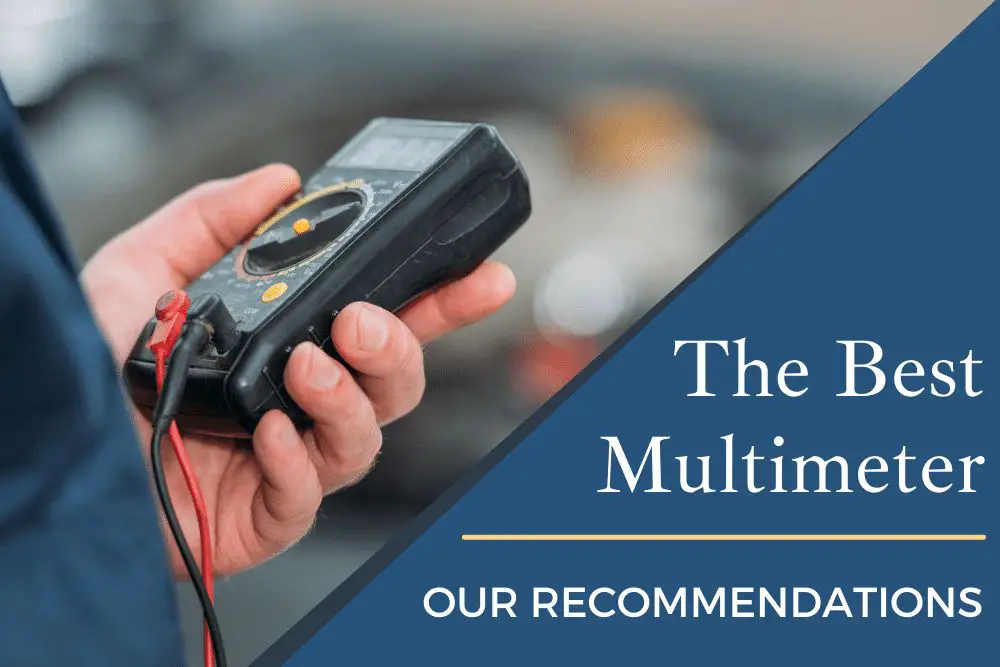 *As an Amazon Associate we may earn from qualifying purchases when you buy through links on our site.
Anytime you're doing any type of electrical work, you always need to have a multimeter close by. Whether you're installing a TV antenna in your attic or a ceiling fan in your living room, the best multimeter will let you know whether the wires you encounter are hot (live) or not.
Multimeters are designed with three fundamental functions. They measure:
Voltage (volts)
Current (amps)
Resistance in any circuit (ohms)
They typically have two wire leads, which, when touched to exposed wires, give you readings based on the specific unit of electrical energy you want to measure.
With so many multimeters in the market right now, it's important to pick the right one for the most accurate results. Without further ado, if you're looking for the best multimeter 2020 has to offer, here are my top recommendations.
Best Multimeter—Top 5 Picks
Excels at
Wide range measurements for current, voltage, resistance, and capacitance tests
Handling high measurement demands in commercial settings
Easy measurement recording thanks in large part to features like data hold, kickstand, and hanging magnet
Using professional devices is one of the best ways to ensure that your project gets off to a great start. And, truth be told, when it comes to all-things electrical, this is one area you simply can't afford to skimp on.
The AstroAI DM6000AR digital multimeter is designed specifically for professional use, particularly in commercial settings that may have higher-than-usual demands for electrical energy measurements. It comes with built-in, explosion-proof ceramic fuse tubes for effective overload protection regardless of the ranges you're working with.
If you also need to measure capacitors and transistors, the device has a multi-function socket to allow you to do this with ease. This multimeter is backed by a 3-year warranty.
Excels at
Non-linear load measurements using the True-RMS feature
Diode, capacitance, frequency, and continuity testing
Safety and reliability
It's no surprise that many of the multimeters you'll find on the market today are pretty bulky. The compact nature of the Fluke 115 digital multimeter is just one of many features that I find so appealing.
It's also very versatile, making it ideal for any general-purpose electrical needs you may have. So, whether you want to carry out some maintenance troubleshooting such as eliminating ghost voltages or conducting basic wiring checks, or if you simply want to measure frequency and capacitance of a circuit, the Fluke 115 multimeter is the perfect companion to help you do just that.
Excels at
Troubleshooting and diagnosing electrical circuit problems
All kinds of industrial and home use. You can even use it to test automotive electronics
Providing clear readings with its data hold feature
Let's face it. The best multimeter is guaranteed to cost you an arm and a leg…, said no one ever in the history of humankind!
Just joking. You can get a pretty good gadget without having to break the bank. If you're on the hunt for a great, multi-functional, feature-rich device that's just as effective as it's pocket friendly, you can't go wrong with the WeePro VPro850L digital multimeter.
To be honest, I was quite skeptical about it at first. But, when I put it to the test, I was pleasantly surprised by the results! It accurately measures AC/DC voltage from as low as 200mV up to 600V. It also measures DC up to 10A and resistance up to 2MΩ.
Its built-in backlit LCD allows you to view the readings even in dimly lit conditions. The fact that it is backed by a lifetime after-sales guarantee is a definite plus in my books.
Excels at
Measuring AC/DC and voltage
Measuring diode, continuity, and resistance
Negative polarity indication
When it comes to small handy gadgets, nothing beats the Allosun digital multimeter. How small you ask? Well, for perspective, it's much smaller than your smartphone. So, you can comfortably carry it around in your pocket and completely forget that you have it in there.
Don't let its small size fool you, though. Its sleek, box-like design provides an added layer of protection. Its LCD has a maximum reading of 1999 and displays "OL" on the screen for readings that are over the range.
All in all, if you want a basic, inexpensive, portable, yet functional multimeter, this pocket-sized unit from Allosun will not disappoint.
Excels at
Accurate measurement of AC/DC voltage and current
High voltage range of up to 1000V
Excellent overload protection on all ranges
If you're looking for a multimeter that does it all, then you can't go wrong with the Etekcity MSR-A1000. It is one of the most advanced digital multimeters that's hot on the market right now. It comes with a wide range of testing options, some of which include diode testing, capacitance, and temperature testing, in addition to DC and AC testing in milliamps and microamps.
It also has excellent safety features for your protection like the two built-in ceramic fuse tubes. These provide foolproof overload protection regardless of the measurement range you're working with.
My favorite safety feature on this device is no doubt the non-contact voltage (NCV) mode. It allows you to check for the voltage on the wires you're working with, without having to touch the wires. So, whether you're looking for a multimeter for professional or home use in your next DIY project, this is a great choice.
What to Look for in the Best Multimeter
At this point, you're probably wondering what criteria I used to rank the five devices I detailed in this guide. Here are some key factors you need to consider when choosing the best multimeter.
1. Identify Your Multimeter Needs
People use multimeters for both professional and home use. Different devices are designed to cater to the needs of different users.
Construction workers, for instance, may require commercial electrical multimeters to handle their high daily demands. A pocket multimeter, on the other hand, might be more suited to someone who only needs to use it occasionally.
Likewise, an electronic field technician might require a gadget with more advanced features like True-RMS measurements for non-linear loads. So, purchase a multimeter based on what you'll use it for and how often you intend to use it.
2. Determine the Features That Matter the Most to You
You don't need to be a professional to check on simple things like DC and AC voltage on your home electronic appliances. Nevertheless, before you can troubleshoot a particular device, you need to understand the different features multimeters have.
That way, you can determine the ones that matter the most to you for your specific needs, and buy a device that can help you effectively identify any electrical issues you might be grappling with.
Here are the main ones you should look out for.
Continuity testing – When checking for the consistency of the current in a circuit or appliance, the multimeter you use should be able to measure ohms. It is a great feature to have when troubleshooting a broken wire or an open switch that may otherwise go undetected.
Data logging – This feature allows multimeters to record measurement data over a prolonged period. This can be analyzed further to see if any emerging trends may call for maintenance or repair of the systems in question.
Real-time AC display – You want a device that displays AC measurements in real-time. This is especially important for individuals who work with non-linear AC loads.
Non-contact voltage mode – Multimeters that have this feature offer the safest way to detect hot wires without having to touch them. They typically light up or provide audible feedback when the device comes close to a live wire even when covered in plastic insulation.
Voltage testing – This is a basic feature that all meters must have. The test typically begins at the highest limit moving down to the most ideal voltage range of the circuit in question.
3. Go With the Top Brands
It's always better to buy a multimeter from a top-rated manufacturer. Some of the go-to brands you can trust are Etekcity, WeePro, AstroAI, Fluke, and Allosun.
Most of their products are usually backed by a lifetime warranty or, in some cases, a lifetime after-sales service guarantee.
4. Pick a Digital Multimeter Over an Analog One
While there's nothing inherently wrong with analog multimeters, the digital ones are known to provide more accurate measurements. They also have bright LCDs that make them easy to read even in dimly lit spaces.
They are feature rich with a host of advanced features like temperature and Bluetooth readings, smartphone compatibility, and much more.
The Takeaway
With so many different devices to choose from, picking the right one can be a daunting task. Use the information in this guide to help make the decision process a little easier.
Overall, I recommend getting the AstroAI DM6000AR. It's highly versatile, functional, and feature-rich, making it the best multimeter for professional and home use. Is it worth it? I certainly believe so.