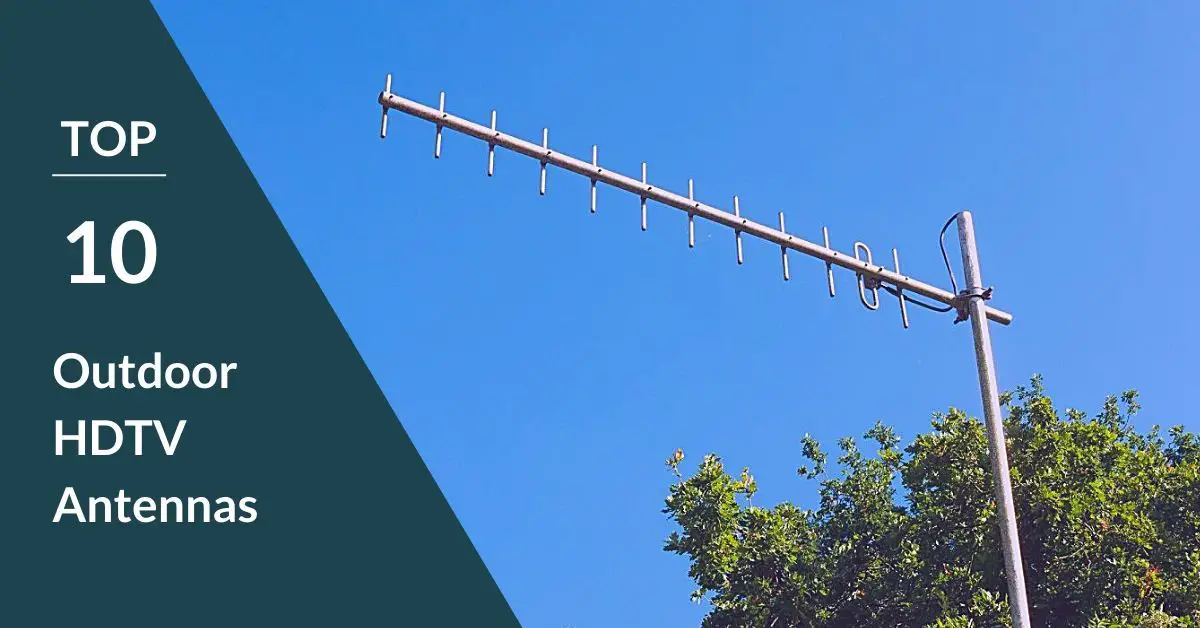 *As an Amazon Associate we may earn from qualifying purchases when you buy through links on our site.
In case you don't want to read through the list below, our top pick for best all-round long range antenna is the: RCA ANT751R Yagi HDTV Antenna.
Alright friends, here's our list of the best HDTV antennas that you can mount outdoors!
These long-range antennas not only have the specs and technology to offer you high-quality viewing; they give you a balance of all the features you need at the right price. An antenna is actually a compromise between capability, size, and weight. What you want is an outdoor antenna that gives you the right features that your situation requires.
All these outdoor HDTV antennas are vetted to give you an excellent choice of features you need for each potential situation. What are these situations? Cases where you've got powerful signals or weak signals, where you need VHF for a channel or two (this stands for Very High Frequency — most over the air TV is transmitted on UHF or Ultra High Frequency), or when you're thinking of an attic installation, etc.
But let's leave off of antennas for a moment — the real reason you're here is because you want to avoid those big cable or satellite bills and save money. That's why the search for an HDTV antenna at an excellent price can be a viable option for people cutting the cord for the first time.
Not only can an antenna save you money, but you'll get local weather, news, sports, and entertainment in uncompressed picture and sound — for an overall better HDTV experience. And as broadcasters switch over to newer technologies like Next Gen TV with each passing day, your investment in an OTA antenna will hold up its worth.
OK, back to our regularly scheduled program! Check out my antenna recommendations below. If you want to know more about how to choose the best long range antenna, see the end of the list for our detailed guide.
Outdoor HDTV Antennas: The Top 10
Excels At
Placement in confined spaces
Reception of TV signal from all directions (omnidirectional)

Overcoming interference (from geography, installations inside the home, long cable runs, splitters,  etc.)

Simple and easy installation
First up, check out this flying saucer. I know what you're thinking, why the funny shape? Antenna design and tech have actually come a long way since our first rabbit ears when I was a kid, so let's get down to brass tacks.
That vertical "spike" in the middle is to add vertical reception, so here you'll get not only all-round reception horizontally, but you'll pull in 720 degrees in total.
Why would you want to receive vertically anyway, since North American TV broadcasts are horizontally polarized? As it happens, more US broadcasters are adding a vertical component to their signal, especially during FCC channel repacks, in order to improve HDTV reception for indoor antennas.
Funny enough, this is both an indoor and outdoor antenna. If used outdoors, the anti-UV coating will add extra durability against the elements. You can also watch Fox, CBS, NBC, CW, ABC, and more every day, as assembly is tools free and it comes with over 30 feet of coaxial cable, hardware for tools free installation, and instructions.
The antenna also has some interesting tech gear that's worth looking into.
For instance, if you plan on setting it up inside your home, the SmartPass amplifier can add channels by reducing noise caused by the walls and structure of your house. You can actually switch it on or off, depending on whether broadcasts are far away and weak), or if they're only a few miles distant and their signals are coming in too strong.
One issue affecting antennas these days is noise from adjacent channels on the UHF spectrum (e.g., from 3G and 4G wireless signals from nearby cell phone towers). But this outdoor antenna makes our list because it comes with a built-in LTE filter for improving TV signals within range.
Lastly, ANTOP provides customers with technical support via phone or email.
Excels At
Placement in confined spaces
Reception from within attics
Overcoming interference (from thick walls, building materials, radiant barriers,  etc.)
When choosing an HDTV antenna to enjoy local channels for free, many opt for an attic installation rather than on their rooftop. Placing your antenna in the attic keeps it out of sight and promises a speedier setup than on the façade of your house.
But the price you pay might be signals blocked by thick walls, radiant barriers, and other sources that can reduce your channel count.
The curves of this antenna design are signal-enhancing reflectors for overcoming typical attic issues. I love the fact that the gain of the antenna design doesn't require an amplifier, which many attic installations eventually need.
With a range of 60 miles, this antenna supports full HD (1080p) picture quality with excellent sound. It's a directional antenna, so you'll need to aim it towards signal sources (yes, even from within the four walls of your attic).
Setting it up is made easier with the included mounting hardware like bracket, mast, and screws. Fortunately, attics present a good choice of ways of mounting an antenna — you can attach the mast to the floor so it's upright, mount it on a vertical wood beam, or suspend it from the ceiling. This easily gives you flexibility in finding the position that best works.
Excels At
Deep fringe reception
Receiving a wide range of frequencies from a single direction
Live out far away from the nearest city where the night sky is perfectly dark and you can almost touch the Milky Way spiral?
The sky might be impressive where you live but your over-the-air TV reception probably isn't. In fact, the nearest antenna farm might be just over the horizon, along with your hopes for free television.
So could you use a standard, compact antenna here to get your favorite channels?
I'd wager this might work, but with that shortened size comes the need to place the receptor ever higher in the sky. If you live well outside the city with miles and miles separating you from the nearest stations, then I recommend you have a look at this Channel Master antenna.
Yes it's a big boy, with a main boom (that spine holding all those smaller dipole elements) totaling over 12 feet in length — it'll of course go on your roof but make sure your attic will be sufficiently large if you want to place it there.
Those large dimensions confer advantages in both greater antenna range (the nominal range is 100 miles) and higher overall gain (9 dB) however, making for better reception of TV signals weakened by distance. In fact, with this antenna you'll get both high and low VHF (channels 2-13), a set of frequencies the other antennas on this page (except for the Winegard HD7694P below) probably won't so readily deliver.
Keep in mind this is a (log periodic) unidirectional antenna, meaning you'll need to aim the front part of the boom towards distant towers to get signal. It doesn't come amplified, and you'll need to add your own coaxial cable — here it's definitely worth going with modern RG6 such as MediaBridge tri-shielded cable.
If you need technical support for setting up the CM-3020, you can reach the company by phone or email.
Excels At
Placement in confined spaces
Reception of TV signals from all directions (omnidirectional)

Overcoming interference (from geography, installations inside the home, long cable runs, splitters,  etc.)

Simple and easy installation
Portable like a football, I love this product's futuristic design, since I can install it pretty much anywhere (and it has a low wind profile). While you're not going to mount this on the roof of your barn to pull signals from very far away (ahem, I've actually heard of someone throwing it atop a tall HAM radio tower and pole, and getting great signal from broadcasts over 60 miles away — but I digress), it does promise the convenience of OTA television wherever you travel.
Much like the ANTOP above, it provides an easy installation (it comes with simple, tools free mounting hardware, and instructions) and comes with some interesting tech gear, such as an embedded amplifier for overcoming signal noise, especially when you set it up indoors.
Want to add this to the top of your 60-foot yacht? (Well, not me as I don't own one!) Or how about on your RV so you can catch up on your favorite game show at the camping ground? (Now that's living.) Or perhaps near the window of an unused guestroom?
You can easily install this outdoor antenna with no qualms about the weather as it's protected by an anti-UV coating, along with weatherproof paint, and has a plastic exterior.
Once installed, the antenna gets full HD picture quality (1080p and 4K — when the latter rolls out) and you'll watch all your local offerings for free, such as CBS, ABC, FOX, CW, NBC, and more, each and every day. Note that it's also an omnidirectional type, meaning it gets received signals from all sides within range and with good performance.
This product also makes our list because of the two-year warranty service offered by the manufacturer.
Excels At
Receiving from TV stations that aren't grouped together, but rather widely scattered around
Quality reception of signals that are distant but within range
This deep-fringe OTA television receiver has the highest gain of any antenna on this list (17.4 dBi). If you live on the edge of town, far away from the nearest transmitters, and feel comfortable mounting an 8-element bowtie antenna on your roof, then this antenna's for you!
Sure, you'll find plenty of wide-array antennas out there on the market. But this has flexible panels that can each be turned independently of each other. This widens your coverage considerably. I sometimes ask myself why other manufacturers don't add flexible panels to their multi-bay antennas. But anyhoo…
Now, since this is a bowtie antenna, it's specialized for UHF channels. So what if you want to receive some channel like PBS? No problem. Antennas Direct actually includes a separate dipole element that you add to the top of the antenna, enabling it to pull UHF and VHF signals (the Very High Frequency dipole kit is included with the antenna).
As is typical of such multi-directional antennas, you'll need to add the coaxial cable separately to run down to your TV when mounting it. But this is no problem if you know which one to get! I recommend MediaBridge tri-shielded cable. It's modern, RG6 cable that's shielded from electromagnetic noise. As the antenna is directional, make sure you mount it as high as possible to clear any obstacles to get a direct line to remote towers.
You might be wondering why these array and n-bay antennas have that bulky reflector on the back. This is actually aluminum mesh that focuses the antenna's receiving power to improve signal strength, as well as for minimizing multipath interference.
So whatever you do, don't remove it as you'd be reducing the number of channels receive — or maybe not by that much, as you might actually pick up channels from behind you!
Excels At
Getting distant, but closely grouped stations
Requiring less space than similar outdoor Yagi antennas
VHF reception

Overcoming interference (from geography, installations inside the home, long cable runs, splitters,  etc.)
Here's a little tidbit about myself. When walking around, I usually notice various antennas on rooftops. Wherever I'm at, I tend to scan the rooftops for familiar antennas, and many times I'll recognize the brand and type.
But there's one outdoor antenna I miss consistently at first glance. The 1byone Amplified Outdoor Antenna seems to be unnoticeable. When I do spot it, it's usually because I was focusing on something nearby.
This is designed to be one of the most discreet antennas on this list of reviews, which is what I love about it.
Which can be a good thing if you need something unassuming to mount on your roof. With an 85 mile range, it has good performance with its compact design and light weight. Though not quite an indoor antenna, installation can be done pretty much anywhere, whether in your attic, on the side of your garage, or inside your home next to a window.
You can call this a Yagi-style antenna (note I said "style," as it's not of pure Yagi design, but rather of different element types and dipoles). It's built with focus and long range in mind, and thus best for capturing signals from distant TV stations that are grouped rather closely together.
To discover the locations of stations around you, it's best to enter your address in RabbitEars to get your local signal report. These will show a radar plot of your area that includes the locations of nearby TV stations.
You can mount this easy to install antenna on either a flat surface or the side of a wall with the included, simple J-mount mast, which is weatherproofed against rust and erosion, and can withstand harsh weather conditions. The antenna is also good for attics, as it includes some gear such as an amplifier for overcoming noise typical of attic spaces.
With its preassembled hardware and included pole, you'll get this HD antenna installed in no time to cut the cable or satellite cord and experience free channels like ABC, NBC, CW, Fox, and more. Its Very High Frequency capability is also useful for getting local channels broadcast on those frequencies, making this a VHF UHF product that gets exceptional picture.
Excels At
Receiving from TV stations that aren't grouped together, but rather widely scattered around
Quality reception of distant signals
Like many of us, you want an HDTV antenna to say goodbye to your cable or satellite bills and to receive free, over-the-air HDTV. But you live on the edge of town, far from remote broadcast towers. You might've looked at a few big, high-gain antennas, but were turned off by their gangly appearance on your roof.
Fortunately, some companies have introduced new designs that are both aesthetic and compact. For instance, the ClearStream series from Antennas Direct has redesigned the everyday bowtie elements as loops. This preserves your home's curb appeal.
The HD antenna also has a VHF dipole element that you add to the top, in case one or more channels in your area happens to be broadcasting on that frequency band.
The box comes with a few items designed to help you set up faster for picking up local sports, news, and entertainment. This includes a 20-inch J-mount antenna mast with U clamps and sealing pads for extra weatherproofing, as well as instructions to follow. Despite the large signal reflectors, it's actually not heavy. In fact, many people install this antenna in their attics. 
This ClearStream doesn't come with an amplifier which in most cases simply won't be needed, as the antenna's gain is sufficiently strong to get poor signal quality.
This antenna has a 70 mile range in ideal conditions. It's actually more than enough for households with a direct view towards transmission towers (that is, no hills or tall buildings in the way). Antennas Direct gives you a lifetime limited warranty on their products and provides responsive technical support (both phone and email).
Excels At
Reception of TV signal from all directions
VHF reception
Overcoming interference (from geography, installations inside the home, long cable runs, splitters, etc.)
Imagine getting an outdoor HD antenna that's a full kit of everything you need. Let's see, what would such a kit have?
A motorized rotator with wireless remote, allowing you to control rotation of the antenna 360 degrees to get all stations around you? – Check
A coaxial cable to connect the antenna with your TV? – Check
A built-in splitter for hooking up the antenna to two TVs? – Check
VHF UHF reception? – Check
A built-in amplifier for overcoming noise? – Check
Now an admission. At first I was skeptical of the 150 mile range Vansky Outdoor Amplified Antenna. It looked flimsy to be honest. High-quality antennas usually do a few things right and wind up doing nothing correctly if they attempt everything.
But I've warmed up to it since. It has good performance, is easy to install, and has a lot of things we want out of an antenna. For instance, many of us live in areas where TV transmission towers are not only far away but are scattered around us, almost in a circle.
If we aim a Yagi-style (unidirectional) antenna to get some stations, it won't get those in the opposite direction. Here, a 360-degree rotator with wireless remote control allows us to swivel the antenna to focus on other stations as needed.
Here's another case. Most of us with two or more TVs would require a splitter to feed antenna signals to each. The Vansky already adds a splitter built in, thus saving the trouble of separately buying such a device. As well, signal weakening is sometimes an issue (e.g., from geographic obstacles like hills in the way of TV towers), so having a preamplifier that will support a better signal-to-noise ratio along the coaxial can help you add those extra channels.
Although the amplified HDTV antenna has a tested range of 150 miles (incredibly), you'll likely get a distance of max 70 miles with no obstructions in the direction of the broadcast tower.
If you're the type of person who wants to watch CBS, ABC, Fox, CWS, NBC, and more in short order, and who doesn't need the hassle of separately ordering different parts, then you might want to have a look at this one. This product ranks #3 in our list because it can provide most if not all of what you need and is perfect for getting you up and running with over the air TV fairly quickly.
Excels At
Getting distant, but closely grouped stations
VHF reception
You may have noticed that I keep mentioning Very High Frequency. Why is this important? Well, modern outdoor TV antennas generally receive UHF signals anyway — that's the frequency band that most digital broadcasts use.
But you'll find quite a few stations still broadcasting on VHF (and some are switching from UHF to back to Very High Frequency during the FCC channel repack). So VHF is still relevant; in fact you'll probably find a station or two in your area transmitting on VHF.
To get those transmissions, you'll obviously need an antenna that'll provide good VHF coverage, and for this task the Winegard HD7694P Yagi tops our list.
It's an all-round UHF and VHF antenna with a good balance of design features; in fact it almost made the #1 spot (it's just not as compact as the RCA described below, but that's the only reason). This outdoor Yagi antenna has a narrow but powerful receptive focus, which means you need to carefully choose a direction to aim it.
It's easy to assemble and set up — you just add the preassembled parts and dipoles to the main axis. The mounting pole is sold separately.
As with many other long-range outdoor HDTV antennas, it isn't amplified since it provides sufficient gain. But you may need to add a preamp if you're getting noise for any reason, like if your location has hills or buildings in the way of TV towers. Winegard of course sells its own preamp, the LNA-200.
Outdoor antennas like this should be mounted as high as possible in order to get the best view towards TV stations. You can conceivably set this antenna up in your attic, but the space will need to be adequately large.
Excels At
Getting distant, but closely grouped stations
VHF reception
Requiring less space than similar Yagi-style antennas
I've installed the forerunner of this RCA antenna — this newer model (ANT751R) is an iteration of the original design. The older version was one of our recommended models since it was reliable and resistant to all weather conditions, but what I liked most was its uncomplicated setup and durability.
Looking at this newer version, the design hasn't changed much. With a tested range of max 70 miles under ideal conditions, this Yagi-style antenna is made for getting quality reception of signals at a distance of 15+ miles away
Another reason why this antenna tops our list is because of its compact design. Above, I had written that while the Winegard HD7694P receives VHF best, this RCA model (which gets high VHF) can be deployed in smaller spaces like your attic.
As is usual with long-range outdoor HDTV antennas that are directional, this product isn't amplified. But the assembly is still as easy as in the old days: after unpacking the antenna from the box, you just need to unfold the dipoles and lock them in place, before mounting it on the pole.
Built from aluminum and stainless steel parts, the antenna can take a beating from the weather. As long as it's well secured (i.e., doesn't sway on its pole during wind gusts) you'll enjoy dependable and clear HD reception. It's actually not heavy, weighing only 2 pounds.
Despite having been revised, this antenna has retained its popularity. I'm highly pleased to put this antenna, which continues to offer good value for money, at the top of our list. RCA has a one-year warranty service on its products.
5 Criteria For Choosing an Outdoor TV Antenna
Now that you know our top picks of outdoor HDTV antennas, you need to decide which one is right for you.
You can do a lot of research by reading articles such as this one, but narrowing down your choices to just two or three candidates will make your life easier.
Unlike standard reviews that just describe digital antenna features and expect you to know what's best, I'll tell you about the main criteria for choosing a TV antenna. Although you've probably decided you need an antenna for outdoors, I'll back up a bit and explain more general criteria about HDTV antennas.
Should You Install an Antenna Indoors or Outdoors?
Criteria #1 for installing indoors or outdoors is the amount of signal strength at your location, as well as how much interference an antenna at your place will get. If you're sufficiently close to TV transmitters (less than 15 miles away), then an indoor antenna should be sufficient.
If you're farther away, then you'll need an outdoor antenna. As far as interference is concerned, RabbitEars gives you information on the existence of geographical obstacles, such as hills. If you install an antenna indoors, the structure of your house may interfere with TV signals as well. You might need to move the antenna around your house to get optimal reception.
Do You Need a Preamplifier?
Preamplifiers are best used for reducing noise; they apply electric current to the coaxial cable carrying TV signals from your antenna to your television in order to improve signal strength.
So will you need an antenna that comes with a preamplifier? Indoor antennas always have a preamplifier built in. But many long-range outdoor antennas don't, as they generally won't need one if mounted as high as possible and with direct view to stations. If you anticipate there will be some signal weakening at your location (e.g., you plan on installing the antenna in your attic, your coaxial cable is over 50 feet in length, etc.), you might eventually add a preamp.
If you do install an amplifier, make sure to run a channel rescan on the menu of your TV or set-top box to enter any additional channels found.
If you're unsure about whether to add a preamplifier or not, just get an antenna without one and look at your reception. You can always order a preamplifier later on and they're easy to install.
How Big or Compact Should the Antenna Be?
There happens to be a direct relationship between antenna size (reception surface area) and its range. If you place two antennas side by side and compare, chances are that the one with the longer axis or broader reflector will get better reception.
But there are other constraints to deal with. When installing an antenna indoors, like in the attic, you'll have to pay attention to the overall antenna dimensions as you'll not only need to fit the antenna in the space, but the larger it is, the more cumbersome it'll be to reposition for optimal reception.
What Is Your Budget, Or How Much Do You Want to Spend?
Lastly comes the question about budget. How much can you expect to pay for a good antenna, and does paying more get you a better signal?
A lot of the time antenna quality is a good predictor of reception (and for factors like durability). Like they say, you get what you pay for. You'll also need to look closely at the antenna's characteristics — like how compact it is if you intend on setting it up in the attic.
A standard outdoor antenna will cost you anywhere from $30 – $200. The most expensive units are the wide-reflector bowtie antennas (like the ClearStream 4V above), which work well if you live farther away from the urban center.
If you plan on taking the easy route and having a professional install the antenna for you, you'll also add labor costs, which will probably come out to around two to three months of your cable bill.
Compared with your cable or satellite TV bills, an HDTV antenna is worth the price despite any up-front costs — even tacking on fees from some extra streaming services.
Outdoor HDTV Antenna Frequently Asked Questions
What Is the Best Outdoor Antenna for Free TV?
The right outdoor antenna for your needs will be based on a number of factors:
How strong are signals at your location: Sure, signals are clear and strong at the broadcast towers but tend to get weakened as they traverse the air and bounce off trees and buildings. You'll want an antenna that has a gain that's sufficient to "offset" the strength these signals have lost by the time they hit the top of your roof. Generally speaking, an outdoor antenna is suitable for picking up stations that are at least 15 miles (and more) away.
Where do you plan on installing the antenna: A digital antenna should ideally be positioned facing transmission towers and at the edge of your house nearest to those signals. But many times we can't mount the antenna at an easy location because of the structure of our homes and so must settle for the second best spot. You'll need to pay close attention to the antenna's size and bulkiness to ensure it's a good fit.
On which frequencies are local HDTV channels broadcast: Digital TV is generally broadcast on UHF these days, and although most if not all units will get UHF, many won't receive Very High Frequency reliably.
What Is the Best Outdoor TV Antenna for Rural Areas?
If you live in a rural area it can be challenging to get a good number of TV channels. This is due to the fact that most station transmitters are located to serve markets with higher population densities.
In rural areas, transmission towers can be either scattered around or grouped together, and are generally distant (e.g., 35+ miles away).
In such cases, you should go for a larger-sized outdoor antenna with focused reception (and that gets low VHF physical channels).
A reliable antenna for rural areas is the Winegard HD8200U Platinum VHF/UHF HDTV Antenna:
But that's not the only one you might consider. The Channel Master CM-3020 below has great low VHF qualities (but for a bigger size):
Such antennas are unidirectional and their focused reception beam means they may not pick up stations from other directions. If this is the case, you should consider using an antenna rotator to orient the antenna towards other stations as needed.
Are Outdoor Antennas Better Than Indoor Antennas?
Both outdoor and indoor digital antennas basically do the same thing; they each feature metal dipoles for picking up radio frequency signals broadcast by nearby stations.
Indoor antennas offer easy installation and generally get clear signals from TV stations that are less than 10-15 miles away – and where local interference happens to be minimal. Depending on where you live in proximity to local stations, an indoor antenna might be an excellent option for your needs.
If you live farther away from stations however, a quality outdoor antenna would be a better choice. All installed HDTV antennas require a direct line of sight to broadcast towers, and so mounting an antenna on your roof is likelier to clear obstacles like trees in the way of stations and thus minimize interference.
This is why a standard outdoor antenna might be the better choice for people living somewhat farther away from towers.
What Is the Best Antenna for VHF TV Channels?
Although digital television tends to be broadcast on UHF frequencies, a great deal of modern OTA television is still broadcast on VHF. You should know, however, that the compact designs of today's outdoor HDTV antennas aren't often ideal for picking up the much longer wavelengths of Very High Frequency signals.
VHF channels are actually grouped according to frequency:
Low VHF (real channels 2-6)
High VHF (real channels 7-13)
You can enter your address in RabbitEars.info to find the RF, or broadcast channels of local stations.
Many signals are often broadcast on high VHF, and combo UHF and VHF antennas – because of their designs and relatively compact sizes – are likelier to receive these kinds of signals than the longer wavelengths of low VHF.
True VHF antennas can reach beyond 20 feet in length (incredibly) and can be bulky. The Winegard Platinum Series HD7694P offers the most reliable VHF signal reception for its size.
Final Thoughts
I hope these reviews have been helpful for deciding on the best outdoor TV antenna. Remember that it all comes down to choosing the right one for your situation, and installing it in a place that gets optimal signal reception.
Installing an outdoor HDTV antenna for the first time can seem challenging but is worth it with the right guide. You can also hire a local professional to do this safely; an experienced person will know the options for getting excellent OTA television and give you advice on how to best use your antenna in combination with your home entertainment system.