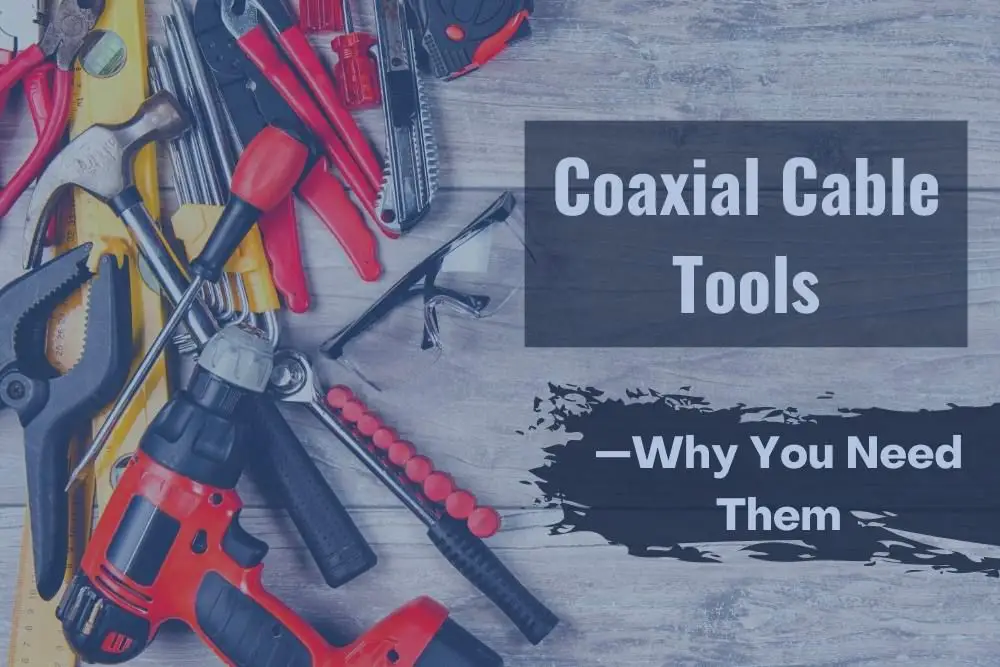 *As an Amazon Associate we may earn from qualifying purchases when you buy through links on our site.
There's no substitute for having the right tools for the job. When it comes to coaxial wiring installations, whether it's at home or at work, having the right coaxial cable tool is really not an option.
Without the right tools, you won't get the same quality level, and as such, you won't enjoy all the good features that coaxial cables have to offer.
That being said, here are some key coaxial cable tools required for cable work.
NOTE: Check out our tips for efficiently working with coaxial cable.
Coaxial Cable Stripper
The right coaxial cable stripper, such as the Gardner Bender SE-98 shown above, is very much a time-saving machine.
The best coax strippers are designed to do multiple levels of coaxial cable stripping, with almost no adjustment required. They strip the outer jacket to get at the shield braid and inner dielectric.
They do all this thanks to the adjustable blade depth that allows you to work on a wide variety of coaxial cable thicknesses when extending cable or doing other tasks.
You can easily adjust the blades of some strippers using a hex key, which allows you to set the blade cutting depth as desired.
Coaxial Cable Cutters
This unique coaxial cable cutter by Ideal is well designed to cut around communication cables that are up to 0.5 inches, or coaxial cables that are up to RG-9/U.
This coaxial cable tool has curved cutting blades that go a long way to maintain cable geometry, which in turn offers you better cable performance.
It also features bold cutting holes that allow you to trim steel reinforced center conductors.
Couple all that with the locking latch that keeps the tool closed in pouch, and the cushioned comfort grip handles, and you have an excellent coaxial cable tool for your cutting needs.
Coaxial Compression and Crimping Tools
You could choose to get two separate tools that offer these functions, or you could get one universal coaxial cable tool that allows you to do compression and crimping in one ideal location.
The SealTite Pro Universal Coax Compression Crimper fits that bill.
This tool has a reversible universal head that is capable of accepting BNC, CATV F, RCA as well as right angle coax compression connectors from pretty much any manufacturer.
It's so easy and convenient to use; an adjustable locking screw allows you to set the compression crimp length in no time at all.
All you have to do to use this tool is back the screw out to hold the connector and then simply adjust inwards while pressing the handles until you get the right compression length.
This is by far the fastest, easiest, and most reliable compression crimper you can buy.
F / BNC Connector Remover Tool
This particular F / BNC Connector Remover Tool is designed to work on compression and hex crimped connectors.
It features an exclusive socket design that accommodates BNC, F, TNC connectors, which makes it one of the most ideal connector remover tools on the market.
Thanks to its easy and ideal features, it makes detaching and attaching connectors to your desired equipment much easier.
The beauty of using F-connector remover tools is that they go a long way in helping with the installation of CATV connectors on coaxial cables.
This one, in particular, has a comfortable and dual durometer handle that's both convenient to hold and chemical resistant.
Coax Flaring & Insertion Tool
The RG6 Flaring & Insertion Tool is designed to make your coax cable flaring and insertion job easier by spreading the cable jacket for better installation of coax F-connectors to cables.
The insertion side of this tool has threads that are buffed and machined while the flaring side is equipped with a precision ground flaring edge.
All of these aspects of the tool have been safely and ideally embedded in a Series 6 Cable handle making this tool both easy to use and ideal for plenum cable.
It also makes your work life much easier when you want to carry out the insertion of Series 6 connectors on plenum cable and during winter or in cold weather.
Coaxial Connector Adapter Kit
Do you ever find that you have a whole lot of coaxial adapters? This particular Coaxial Connector Adapter Kit is uniquely designed to help you solve that problem.
As a 40-piece coaxial adapter kit, it's specifically designed to be versatile enough to help you assemble virtually any adapter in no time thanks to all the little in-between fittings.
As a premium quality adapter kit, this set features Teflon insulators, gold plated center pins as well as gold plating overall which is ideal for low loss conductivity.
The kit adapts UHF, TNC, SMA, BNC, N, RCA, Mini-UHF as well as coax F-connectors. Finally, this set even comes with a heavy-duty zipper case.
VDV Multimedia Cable Tester Kit
The main reason why you need all these coaxial cable tools is so you can carry out successful cable installations whenever needed.
To determine whether that successful installation has occurred, a tester can come in handy, and that's where the Southwire Testing Kit comes into play.
Designed for comprehensive testing of Voice, Video, and Data applications, this cable tester kit is ideal for both commercial and residential use.
Capable of supporting RJ45, RJ11/12, and coax F-Connector cabling as well as interfaces, it's one of the most convenient coax cable tools on this list.
Conclusion
While this list is not entirely comprehensive (there are other tools such as slitting and shaving tools that you could include), it does hold every major coax cable tool you'll need.
With the right set up, you'll find that your cabling jobs are not only easier but are also more convenient and more successful.