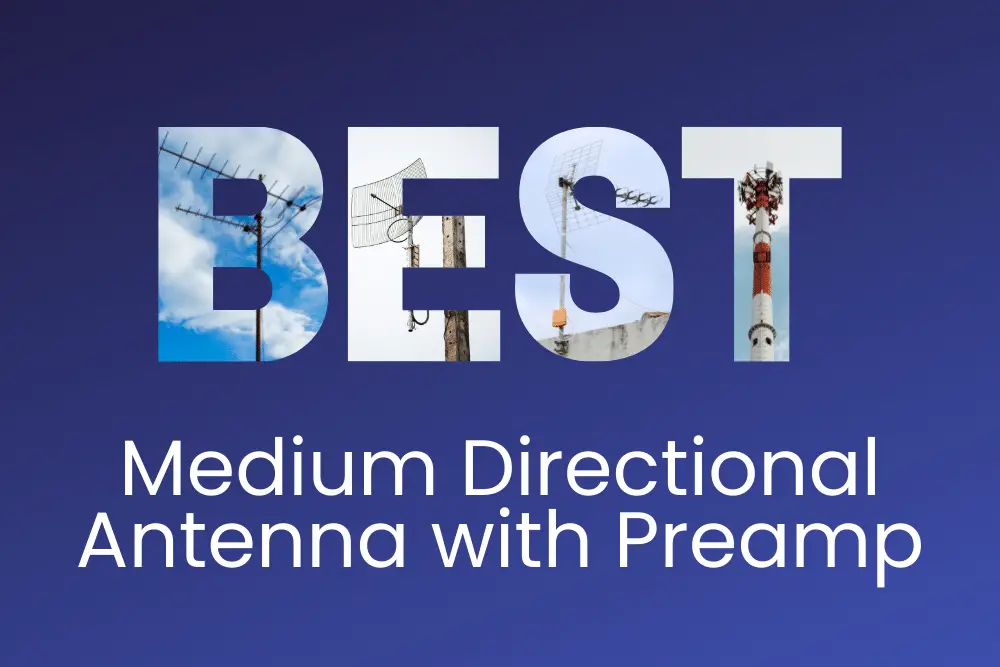 *As an Amazon Associate we may earn from qualifying purchases when you buy through links on our site.
If you only watch the news and a few other primetime shows, you don't need to be paying a cable provider on the scale of hundreds of dollars every year. 
You can cut the cord once and for all and do away with your cable bill just by setting up an antenna. 
While it takes more effort to orient a directional antenna, they have a lot better reception than omnidirectional antennas. 
It makes them the perfect devices to install for those that live in fringe areas and those surrounded by buildings.
The stronger reception of these antennas already equipped with a preamp, or preamplifier, also makes them less prone to interference by electronics in your home.
There are several seemingly perfect options available in the market, and if you don't know what you should be looking for, you may end up wasting hard-earned money.
Here's a shortlist of some of the best medium directional antenna with preamp on the market, followed by a helpful guide so you can make the right purchase.
Best Medium Directional Antenna with Preamp
If you don't mind spending a little extra for quality, you can't go wrong with the Five Star Outdoor Antenna.
While it's one of the more expensive options on this list, the features it offers make it worth every penny. It has a long range and can drive a 4K signal to your TV. It also picks up FM radio.
The installation kit enables you to connect the antenna to up to five TVs. The built-in gain control chip can boost the amplifier gain from 15db to 35db as needed. 
The antenna also comes with a built-in motor, allowing you to orient the antenna with greater ease. The 40-foot coaxial cable that's included makes connecting the antenna to your TV that much easier.
A J-Pole also comes with the unit, allowing you to install it outside your home with ease.
Pros
Can drive a 4K signal
Installation kit enables connecting to five TVs
Built-in rotator
Comes with auto-gain control chip for preamp
If you're concerned about the distance from the broadcasting tower but don't want to spend too much on an antenna, the Before HDTV antenna may be a good candidate for purchase.
It offers a long range, and is a medium directional antenna with good reception.
The Before antenna is also "dual output," that is, it can transmit signals to two TVs at the same time.
It also has a built-in rotator. You can control its orientation using the wireless remote that's included in the box.
The included 33-foot coax cable makes it easy for you to connect your TVs to the antenna, and the superior construction with grounding ensures that the antenna will serve you for years.
Considering the relatively low price, it's one of the most feature-loaded medium directional antennas around.
Pros
Dual output
Built-in rotator
33-foot coax cable included
Durable design with grounding
Cons
Slightly difficult to assemble
The McDuory Outdoor Antenna is one of the more popular medium directional antennas with preamp, and for good reason.
It's relatively cheap, offers a decent range of features, and the manufacturer backs the product with a one-year warranty and a 45-day money-back policy.
The McDuory Outdoor antenna is weather resistant. Its durable design enables it to withstand heavy rains and a lot of snow. It's also lightning protected, giving you a lot of peace of mind.
The built-in 360-degree rotor makes orienting the antenna easy, and the high-gain, low-noise amplifier ensures that all the signals are picked up.
A 40-foot coax cable is included with the antenna, and the included J-pole mast makes it easy to mount. Perhaps the best thing about the antenna is that it has snap-on elements and doesn't require tools to be assembled.
The dual output and its 1080p reception make it an all-around excellent antenna.
Pros
Durable and lightening protected
One-year warranty
45-day return policy
Comes with a rotator for easy orientation
The BoostWaves antenna is slightly expensive; however, the features it offers make it one of the best value for money antennas on this list.
It supports full HDTV resolution and has dual TV outputs, making it possible for you to connect it to two televisions in your home without a splitter.
Installing it outside of the house should be relatively pain and stress free, and the low-noise amplifier makes the quality of the input to your TV that much more stable.
The built-in motor rotor can turn 360 degrees and is controlled via a wireless remote controller, making it that much easier to set up the antenna.
Couple all of these features with its weather-resistant body that can be installed on the roof, and you have one of the best medium directional antennas with preamp in the market.
Pros
Dual TV outputs
Low noise amplifier
360-degree motor rotor
Weather resistant
If you're looking to stream 4K content and live in a fringe area, the PBD antenna is among the best you can get.
It has a long range and can output signals to two TVs simultaneously. The strong motor rotor makes for easy orientation, and the snap-on assembly makes it easy to put together.
The low price, weather-resistant build, and the low-noise amplifier make it one of the best medium directional antennas you can get your hands on.
Pros
Snap-on installation
Weather resistant
Strong motor rotor
Dual output
Cons
No control over direction of rotation
Best Medium Directional Antenna With Preamp Buying Guide
Other than price, there are some other factors you need to consider when buying a medium directional antenna with preamp to ensure you're making the right purchase.
Frequency Coverage
There are two kinds of radio frequency signals for television—UHF and VHF. Most TV stations across the US transmit as UHF, but if you want to watch local channels, it's best if you get your hands on a UHF/VHF antenna.
Gain
Gain describes the strength of a signal that an antenna receives from a given direction. Ensuring that the gain of an antenna is high or that it at least has a built-in preamp is the best way to ensure that it picks up on weak signals.
Reception
Learning where the TV stations are in your area is the best way to figure out how powerful the reception of your antenna should be.
In general, though, the stronger the reception, the more reliable and higher quality it is.
Final Thoughts
Our pick for the best medium directional antenna with preamp would have to be the Five Star HDTV antenna. Its long range, ability to drive 4K picture, excellent installation kit and preamplifier are only some of the many features that make it hard not to recommend.