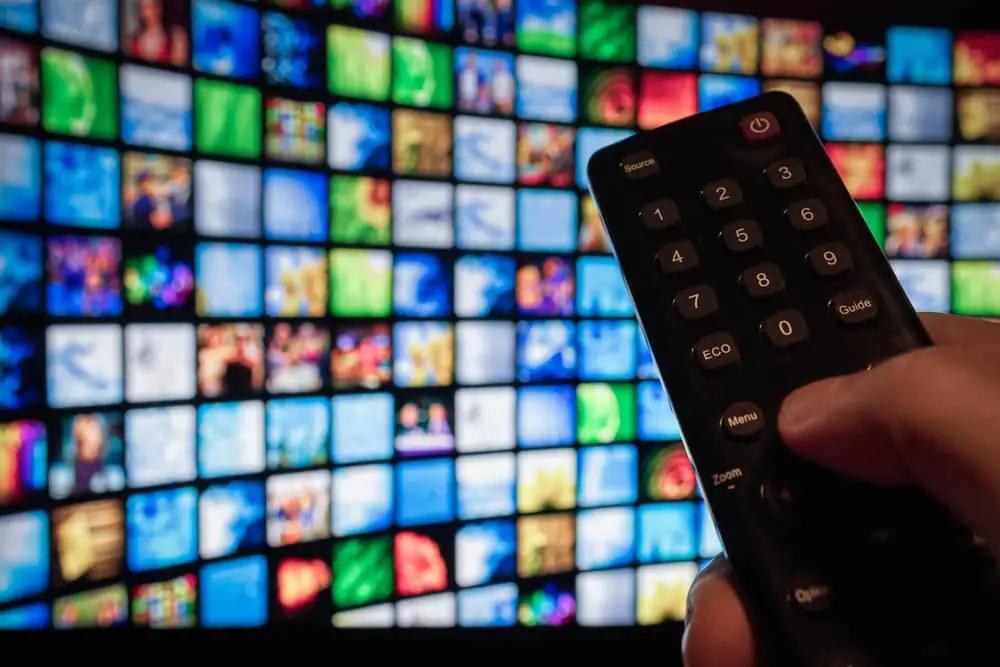 *As an Amazon Associate we may earn from qualifying purchases when you buy through links on our site.
Do you subscribe to a streaming service for TV shows? If you do, you're not alone. According to a survey conducted by Statista, about 62 % of American adults report that they or someone in their household subscribes to a steaming service to access TV or movies online.
The same research found that one of the most popular video streaming services is YouTube, which reports 163 million monthly active users.
Netflix follows in second place with 46 million monthly active users, followed by Hulu with just under 26 million. Amazon Prime Video rounds up fourth place, with about 16 million monthly active users.
While many of these streaming video customers are using mobile devices such as tablets or smartphones to access programming, a large portion are streaming to their TV sets with the use of ancillary devices such as video game consoles or some kind of TV stick like the Amazon Fire TV Stick.
What Is the Amazon Fire Stick?
A Fire TV Stick is a streaming device offering technology that's similar to a TV stick like Roku for home entertainment streaming. It differs from products like Chromecast from Google in that it uses its own hardware. It also works with Amazon Fire TV.
Setting Up a Fire TV Stick
The Fire TV Stick is popular because it's affordable and the setup process is simple: after ordering it on the Amazon.com website, you plug the device—which is about the size of a luggage tag—into the HDMI port of your TV.
You then connect it to a power source (via the USB port of the TV), and it streams shows from your home Wi Fi network. When you turn your TV on and choose the input for the Fire TV Stick, you'll be greeted with a customized navigation of your favorite apps and shows like Crackle or HBO.
If you stopped watching a program or movie midway through, it'll allow you to pick up where you left off.
Features on Fire Stick
The Fire TV Stick (or Fire TV Stick 4K) is officially branded as the "Amazon Fire TV Stick," but it's more popularly known as simply a Fire Stick.
Using a Fire Stick, you can stream movies, shows, live TV, news, sports, and just about any media you can think of. And though it's sold by Amazon, it doesn't limit you to watching only its content.
You can download hundreds of related apps from the Amazon Store, including popular content providers such as Netflix, YouTube, Tubi, Amazon, Hulu, ESPN, Disney+, and others.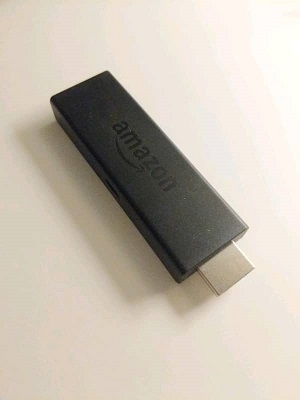 What Do You Get with An Amazon Fire Stick?
Have you ever wanted to take your TV with you when you go on vacation or to a friend's home? In a way, the Fire TV Stick allows you to do just that.
Convenience and Choice
Simply remove your Fire TV Stick from the TV or set-top box and take it with you when you travel. Plug it into the HDMI interface of any compatible television to gain instant access to your favorites through your Amazon account.
If you're an Amazon Prime member, your Fire TV Stick will arrive preregistered to your account. You have immediate access to all your Amazon Prime shows as soon as you plug your Fire TV Stick into an HDMI port and specify your settings.
Being a Prime member also lets you choose from a collection of Amazon Originals that aren't accessible to the average viewer.
The Fire TV Stick will "learn" your choices: it uses your favorite options to determine your preferences and will make predictions and recommendations about what you might like. (It's a great way to find new binge-worthy shows.)
Cord Cutting
For customers who wish to eliminate their cable package, the Fire Stick or Fire TV Stick 4K is a great way to customize and view the content you want while cutting the cord. (You will, of course, need to have a broadband internet connection to use it.) 
If you've ever wondered why you pay a high cable TV bill for channels you don't watch, streaming devices such as the Fire Stick are a good alternatives.
While content providers offer free streaming apps—TubiTV is one of the most popular right now—others require you to pay a subscription fee.
These fee-based apps include Netflix, Hulu, and Disney+. Many viewers find that even with subscription fees, they can get more shows they're interested in and save money over a traditional cable TV subscription.
App Purchases and Media Storage
Be careful about how many apps you purchase though, as these can add up quickly in my experience. It's helpful to set a monthly budget for streaming apps or make a rule in the household that one app must be dropped before a new one can be added.
As most apps are billed on a monthly basis, this is easy to do. Many paid streaming apps allow you to watch during a free trial period, so this gives the opportunity to customize your ideal lineup with no extra costs.
A Fire Stick isn't limited to streaming video. Many people use their Fire TV Stick to access photos, games, and music subscription services such as Spotify, Apple Music (iTunes), or Amazon Music.
A Fire Stick is designed to act as a central repository for all your content, including any you have purchased through your Amazon account, such as MP3 music files. In addition, you can use the Fire Stick to view any photos or videos you have uploaded to your Amazon Cloud service.
How Does the Amazon Fire Stick Work?
The Amazon Fire Stick works with the WiFi in your home, office, or any other place you need it, such as a hotel room or vacation home.
Once you plug the device into the TV's HDMI port, a set of simple instructions will walk you through the setup process and prompt you to sign into your Amazon account.
You can then start downloading apps to watch your favorite shows and movies.
What's Included
When you order a Fire Stick from Amazon, you'll receive several items, including:
The Fire TV Stick itself
HDMI extender
A power adapter and USB cable
Batteries
Guide to help get you started
In addition, every Fire Stick comes with a Bluetooth remote that lets you control the TV using voice commands through Alexa, Amazon's voice-based artificial intelligence.
The remote has a microphone button for voice control functionality, with the voice-activated ability to rewind, fast-forward, pause or search for new content. (You can say, for example, "Alexa, fast-forward 30 seconds" or "Alexa, play the next episode.")
If you lose your remote (and who hasn't?) you can download an app onto your smartphone that will allow you to control the Fire Stick with your phone. Look in your app store for the Amazon Fire TV Stick Remote app.
Does an Amazon Fire TV Stick Work on All TVs?
There are ways to check whether you can use a Fire Stick on a certain model of an old TV from years ago, or if you'll need a special adapter for the missing HDMI port.
To determine if your TV has such ports, check with the manufacturer documentation, or examine the back of the TV.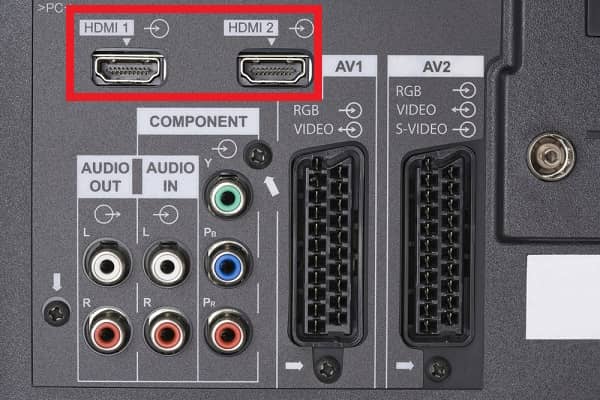 Look for a small horizontal slot labeled HDMI, or "High-Definition Media Input."
If your TV doesn't have a HDMI port, you can use an HDMI-to-composite converter (shown below) to connect your Fire Stick to your older TV.
This product will "convert" or reformat the digital signal from the HDMI plug of the Amazon Fire Stick to analog.
Can You Use an Amazon Fire TV Stick on More Than One TV?
You can certainly use an Amazon Fire Stick on more than one TV, though you'll need to manually relocate it to each TV you wish to use it on.
You'll need to unplug and physically move the Fire Stick from room to room, which can be an inconvenient prospect: most TV HDMI connections are not particularly easy to access on a regular basis, as they're generally at the back of the TV (!)
If you do choose to make your Fire Stick a roaming nomad, I want to tell you there's a relatively inexpensive HDMI extender cable that can make it easier to access the HDMI port of your TV.
In fact, Amazon recommends using an HDMI extender for optimal WiFi performance, as positioning the Fire Stick in a place that's unreachable may also mean it's not optimally positioned for the best WiFi signal.
If everyone in your home wants to watch different programs on different TVs, you'll need to think about purchasing more than one Fire TV Stick so you can install them on all the TVs in regular use. (Trust me, it'll also help keep the peace among family members who insist on shouting out spoilers!)
If you purchase more than one Fire Stick, they can all be listed under a single Amazon account. There's no separate monthly pricing for using an additional Fire TV Stick, only the initial cost of purchasing the devices.
How Many Amazon Fire Sticks Can You Have Per Account?
While there are no limits on how many can be connected to one account, you are limited to how many can be used for TV viewing at the same time.
The Fire Stick allows you to stream content using up to three devices at once without having to create separate profiles for each user, as long as those users are watching three different titles. You can't watch the same title on more than two devices at the same time.
Unlike many of its competitors, Amazon Prime doesn't require separate accounts for family members since entire households can be included under one account—Amazon even offers a parental control option to ensure that kids aren't watching content they shouldn't or downloading anything you don't want them to.
Family members and anyone else in the home are free to watch the same show or movie on different devices, but you'll be greeted with a message if there are too many people streaming content on the account at the same time.
(To fix the problem, you'll simply need to turn off another TV, or discontinue one from streaming.)
For comparison, Hulu allows up to two users at a time to stream content for its regular service, although subscribers to its most expensive Live TV package can watch on an unlimited number of screens.
Netflix allows for anywhere between one to four viewers, depending on the type of plan you have.
Final Thoughts
In the long run, the number of devices you'll need will depend on your viewing habits, the type of content you're watching, and your willingness to relocate the device as needed.
As a Fire TV Stick is relatively inexpensive (and is sometimes subject to Amazon's flash sales), it may make sense to invest in more than one.