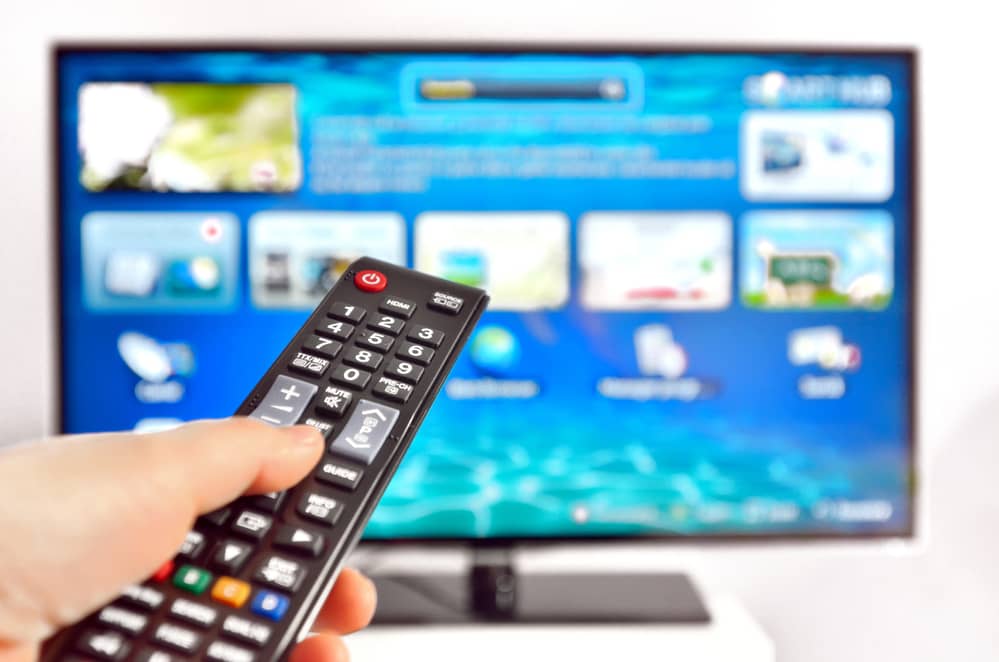 *As an Amazon Associate we may earn from qualifying purchases when you buy through links on our site.
Getting the right smart device is the first step to becoming a cord cutter. You'll no longer need to worry about paying hard-earned money for overpriced cable TV channels every month!
Roku is the streaming device of choice of many cord cutters. However, if you have multiple TVs in your home, cord cutting can get a little complicated.
What exactly is a Roku, and how does it work?
Will I need to buy a Roku for each TV? 
And most importantly, will switching from cable to Roku end up being more expensive in the long run?
It's natural to ask these questions if you've decided it's time to transition into cord cutting 
I'll answer all of these questions in this post to make things easy for you.
What Exactly Is Roku? How Does It Work?
Roku is a company that manufactures streaming devices that you can connect to your TV. With it, you'll be able to watch both free and paid content using just your internet connection.
Now, the company makes many different devices meant for cord-cutters on different budgets with different needs.
It's easy to find a device that's right for you—I'll help you pick one later in this post.
You can connect a Roku device to any TV with an HDMI or an RCA cable. You navigate through the interface using the remote that comes with it, and after you connect it to your home's WiFi network, you can consume content from platforms like:
YouTube
Amazon Prime Video
Hulu 
Sling TV
Netflix
Every major streaming service is compatible with Roku, so if I haven't mentioned the one you use in the list above, no need to worry.
Why Is Roku The Streaming Device Of Choice?
The first Roku devices hit the market back in 2008, and back then, no other company was making streaming devices.
The company got the early adoption advantage, and due to the quality of both their product and content, it didn't take long for the company to capture a large chunk of the niche market's share.
The Different Roku Devices
Before I give you brief overviews of the different Roku devices you can buy, it's important to know that the OS that comes loaded on the devices is the same—Roku OS.
Some other features that are common across all Roku devices include:
Access to 3000+ channels.
Connection via HDMI cable.
1080p output (4K in some devices).
WiFi connectivity over 802.11 b/g/n. Some models support 802.11 ac.
The Roku remote control.
Access to Roku mobile app—you can control your device with your phone instead of the remote.
You'll have the same user experience regardless of which device you get. However, some features vary from device to device.
There are four different Roku devices available:
Roku Express
Roku Premiere
Roku Streaming Stick Plus
Roku Ultra
The company has a device for all budgets, and no compromises are made on quality or features, even on the most affordable offerings.
Roku Express
The Roku Express is the perfect no-frills streaming solution that costs a little more than a hearty lunch does.
It comes with the same Roku OS and remote as the other devices, and allows you to stream 1080p Full HD content on your TV. 
You can connect to your WiFi network with it, and make use of the Dolby Audio DTS pass-through feature to immerse yourself in whichever show you're watching.
While there's no ethernet port, the Roku Express comes with an HDMI cable included in the box. You can start watching content with it on your TV right after you unbox it.
If you have an older TV, you can get the Roku Express+. It doesn't have an HDMI port and supports the 480i standard. The Roku Express+ is slightly more expensive than the Express.
It's important to note that while these are the company's latest offerings, older models are available on Amazon. If you find one with the features you want going for cheap, there's no harm in buying an older model.
Roku Premiere
The Roku Premiere is super popular since it's cheap and allows you to stream 4K, HDR content with ease.
While the Premiere is more powerful than the Express, it doesn't come with a USB port or an ethernet port, which is a little disappointing.
But nevertheless, you won't get better value for your money buying any other device.
Roku Streaming Stick Plus+
The Streaming Stick Plus+ may not look like much, but it's one of Roku's most powerful offerings.
The stick enables you to stream 4K content in HDR at 60fps, which is super impressive in and of itself. The device also supports Dolby Atmos audio output and also 802.11ac.
One of the best things about it is that you just plug it into your TV – you don't need to fuss with an HDMI cable.
The voice-search-enabled remote makes navigating the interface a lot easier, and the remote also includes power, volume, and mute buttons for your TV.
But what I like the most about it is that it comes with a headphone jack, enabling you to plug in a headset and watch content without disturbing others in the room.
While you pay a certain amount if you buy online, check your local electronics store to see if you can get it cheaper there.
Roku Ultra
The Ultra is Roku's flagship device, and it gives you a ton of options that the other models don't.
This device gives you 4K HDR streaming support. However, in addition to that, it also comes with a USB 3.0 port, over which you can play 4K video using an external hard drive. 
The Ultra supports almost every hard drive format, including NTFS, which means you don't have to worry about reformatting your hard drive just to make it work with the Ultra.
The enhanced remote has customizable buttons that you can assign your favorite apps to and launch them in one press.
It also has voice support, which makes searching for content a breeze.
But the feature I like the most is the remote finder feature. If you can't find the remote, you press a button on top of the Ultra, and the remote will beep so you can find it.
The included pair of JBL headphones can be used with the remote, which is excellent. You can also connect your phone or tablet to the Roku via Bluetooth and listen to music and podcasts with ease.
Do You Need A Roku For Each TV? 
If you have several TVs at your home, but don't use more than one at a time, there's no need for you to get more than one Roku.
When you're going to use the TV, simply connect the Roku to it and watch whatever you want.
I recommend getting the Roku Streaming Stick Plus+ for this since you won't need to fuss with an HDMI cable every time you want to move it. 
However, if all the TVs in your home happen to be in use simultaneously, you'll need to get a Roku for each individual TV.
Thankfully, the company offers some very affordable options, and the devices won't burn a big hole in your wallet.
Additionally, there are no running costs for a Roku—you just buy it once and can use it forever.
You may need to get subscriptions to streaming services depending on what you want to watch. But these tend to be a lot cheaper than cable, so you'll save a lot of money cord-cutting.  
Best Free Channels On Roku
Sifting through every one of the 3000+ channels is not a productive way of finding content that you like.
To make things easier for you, I've made a list of some of the best free channels on Roku.
Crackle
Sony Pictures own Crackle, and it gives you access to some of the best movies and shows for free. 
However, the video quality maxes out at 480p, which disappoints a lot of people. 
Pluto TV
Pluto TV gives you access to different channels, enabling you to stream a selection of TV shows and movies.
You get free access to NBC News, MSNBC, Sky News, and other recognized networks. Channels like IGN and Funny AF are also free to access, and since Pluto TV offers over 250 different channels, you won't have any trouble finding the content you enjoy.
The CW App
The CW App allows you to stream some of the best TV shows out there free of cost on demand. You can watch Supergirl, The Flash, Arrow, Supernatural, and dozens of other top-rated shows for free on this channel.
If you're a DC fan, you have to check it out.
The Roku Channel
The company decided to include its own channel on its streaming box, which is a nice touch. 
It aggregates free content from several sources across the web and makes it easy for you to find the right show or movie by providing an on-screen guide.
Plex
If you aren't familiar with Plex, all you need to know about it is that it's a media player that enables you to pick from thousands of movies and shows and watch them for free.
It also gives you access to a host of media organizing features, a lot of which you have to pay for. However, there's still a massive volume of free content available on Plex.
Final Thoughts
And with that, you know everything you need to know about Roku devices.
Unfortunately, you would need a Roku for each TV if these are used simultaneously in your home.
But if they aren't, getting your hands on the Roku Streaming Stick Plus+ and connecting it to TVs around the house is a great way to save some money.