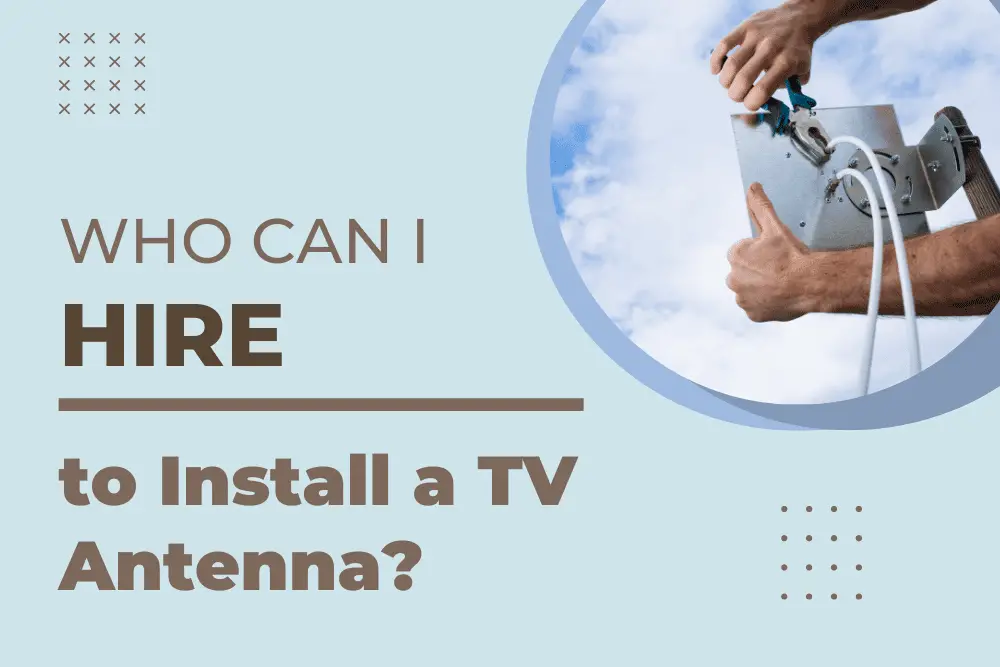 *As an Amazon Associate we may earn from qualifying purchases when you buy through links on our site.
By now you may have realized that installing a large TV antenna on the exterior of your home takes some planning and effort — in contrast to placing a little sleek flat-panel next to your TV and plugging it in for free channels.
Maybe you're not a DIY doyen who enjoys home improvement projects, or you simply don't have time to drill extra holes and run cables through walls. Or, maybe you want a competent professional who will just set the whole thing up and get you optimal TV reception.
There are many possibilities for hiring a local, professional antenna installer. The only questions are where to find one, and how much it'll cost.
Read on for tips on how to hire a professional antenna installer and what to expect.
What Does a TV Antenna Installer Do?
A professional TV antenna installer is a contractor who sets up a TV antenna at your home for reception of over-the-air (OTA) TV signals, and connects the antenna with audio visual equipment such as your television. 
An installer should know the locations of TV stations around you, as well as how strong signals are at your locale and their broadcast frequencies. This gives them an accurate notion of where to place the antenna and how to orient it.
They also work with an array of tools, from signal strength testers to amplifiers and coaxial cable equipment to ensure a proper installation job.
Some professionals may specialize in setting up home entertainment systems (such as mounting television or projector to the wall) and offer antenna installations as a part of their service.
Why Hire a Professional Antenna Installer?
There are good reasons to hire a professional, from avoiding the hassle and time required to install an outdoor TV antenna in the correct way, to ensuring the installation is professionally done.
You'll Get Great Reception at Your Location
An experienced and competent professional is likelier to do a neater job with the installation, and get you maximal TV reception.
Doing things right the first time can pay off, since even minor mistakes with your DIY installation may lead to problems, including damage to your property through a leaky roof, loose mounting, or improper grounding.
With a contractor you can be confident that:
The antenna will be installed in an optimal position and orientation for good reception of over-the-air (OTA) TV channels
The antenna and mast will be secured correctly so as to minimize reception problems during storms
The installation itself will be clean with minimal changes to your house structure, as an experienced installer will know the best way to mount brackets, drill into walls, cut into roof tiles, etc.
In the event of property damage due to an electrical storm or other cause, your insurance claim is likelier to be accepted if the antenna was professionally installed and grounded
It's Easier and Less Effort for You
If it's your first outdoor antenna installation then you'll need to do the research via sites like this one, look up local grounding and HOA regulations, and source the correct tools. 
That's all well and good if you've got the time. But if you've got other priorities it might be better to take a pass on this project and call a professional.
It's Also Safer
Any work on the exterior façade and roof of your house will involve safety issues.
Working in high places and on structures that may not be entirely stable introduces risk, along with having to deal with cabling and the presence of low-hanging tree branches. 
Professionals with experience working on home exteriors are aware of the risks and know how to mitigate these.
Finding TV Antenna Installers Near You
There are generally no formal qualifications for hiring antenna installers. Some states regulate licensing for servicing and installing radio and television equipment, but not all states.
This means you might need to look around a little before finding a contractor. Also keep in mind that antenna installations are considered low-voltage electrical work, so hiring a licensed electrician would be feasible but not necessary.
A good TV antenna installer will know which model of outdoor TV antenna will get the best reception at your location, so you may consider asking them for a recommendation.
Locating a Contractor
Although hiring on your own means you won't have to pay a service fee to a third party, it does mean you should do some due diligence to get the best possible service at a good price.
Besides requesting a price estimate, be sure to ask them for their prior experience and references.
Here are a few good places to start:
Classifieds: You can start with old-school classifieds. For these, you can check out your local newspapers, the Yellow Pages, or even online sites like Craigslist.
Antenna suppliers and manufacturers: You can contact the store or website from which you bought the antenna to request recommended installation specialists in your area.
Recommendations from other contractors: Contractors for one specialty often have a network of professionals in other areas.
Neighborhood Facebook forums: You can ask in these free groups for contractor referrals
Yelp: This is generally a good source of reviews for TV antenna installers
Search engines such as Google or Bing, adding in your location in the search query
Hiring From a Platform
Third-party platforms match you with contractors, based on the work you need done and on your location. They vet contractors to some extent and aggregate reviews in one place. 
The most popular platforms for TV antenna installers include:
Angi and HomeAdvisor: Both of these sites have merged but are still operated as two different websites. The way in which each site allows contractors to market their services differs, and so you may find different contractors for your area listed on each site. Both platforms match you with available contractors based on questionnaires for the job you need done. Homeowners pay no monthly fee for HomeAdvisor while Angi offers a pricing plan for extra features
Airtasker: You post a job on this app for free, and wait for offers from applicants. The platform fee is embedded in the service fee you will pay when the task is completed
Houzz: Although Houzz is primarily a home remodeling and design app, you can sometimes find TV antenna installers in the pro directory for your area
How Much Does it Cost to Install TV Antenna?
According to Improvenet, a site for getting estimates for a range of home renovation jobs, the average price to have your TV antenna installed is $308 (with a typical range being $255 – $338).
The following factors will generally affect price:
Professional's level of experience
Where you live
The complexity of the project
It's also worth keeping your eyes open for any package deals or seasonal promotions run by retailers in your area, where the installation is included or partially subsidized by the store when you purchase home entertainment equipment.
Conclusion
Installing an outdoor TV antenna yourself comes with some hassle and risk (if you have to go up on the roof for example), so unless you have DIY experience and enjoy such projects, you may consider sitting this one out.
Whichever route you take in hiring a pro — whether it's searching for one yourself or using a platform like Angi — don't rush the selection process and be sure to go beyond glowing reviews to check references.
Look for a good balance between price and experience, because if you're hiring someone to set up your antenna, you should expect the best OTA TV reception you can get at your location.