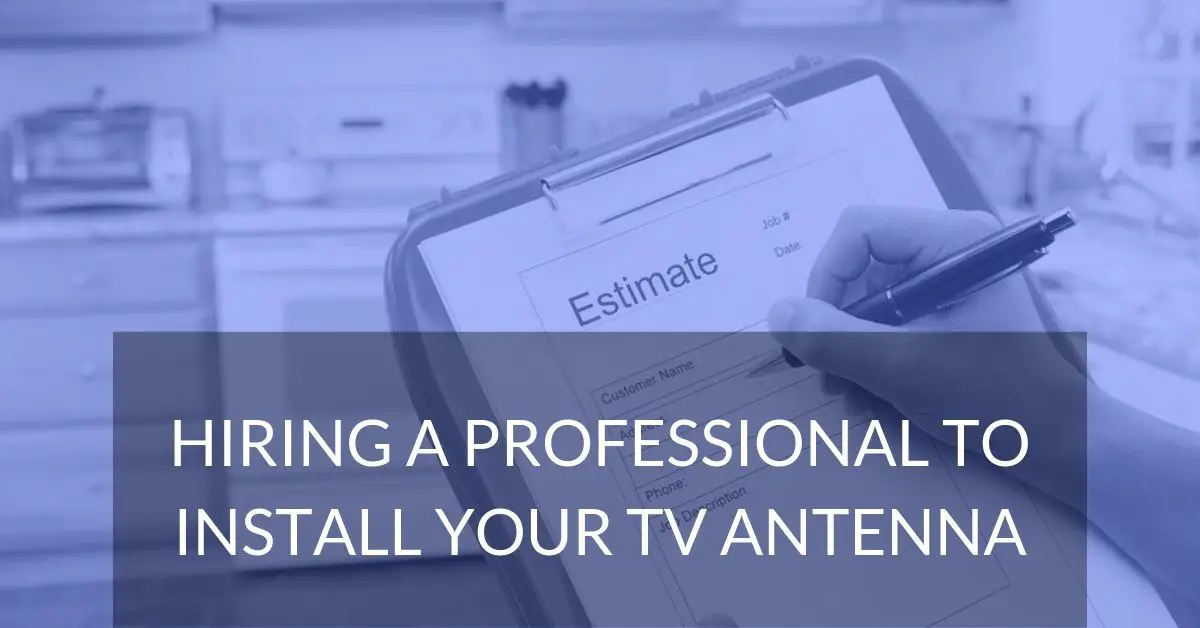 There are definitely pros and cons to installing an outdoor TV antenna on your own. For one thing, it's a great DIY project that can teach a few things about how OTA television reception works. After mounting your antenna, you'll feel more confident about your television setup and how to make changes when necessary.
As well, if you set up an antenna on your own, you won't have to pay the labor charges of hiring a contractor since you'll be putting in your own time.
But hiring a professional to install your antenna and optimize your channel reception also has benefits. For example, the contractor will probably know the best position for your antenna and how to aim it to get the most programming.
And let's face it: we're not all DIY doyens with a taste for running cables through the house. Why not spend the extra money to get it installed properly once and for all?
In this article I'll lay out the advantages and disadvantages of having a professional set up your antenna, including potential costs and how to find a good contractor.
Why Use a Professional
Regardless of how experienced you are in home renovation and maintenance, you should weigh the benefits of hiring a pro. Having a contractor do it can be safer and more convenient than doing it yourself and may result in a better installation.
Below I've listed some criteria to help you come to a better decision on whether to hire a professional or not.
Safety
Any work outdoors on the façade and especially on your rooftop has safety issues. Below are a few factors that contribute significantly to risk:
Video: 5 Reasons to Hire a Professional to Install Your TV Antenna
Convenience
Installing a TV antenna is a time-consuming project, and regardless of how much planning you put in, it can take longer than anticipated – especially if a few unforeseen complications pop up along the way.
Contractors know exactly what they're getting into and this can save you some hours of preinstallation tasks such as:
A Professional TV Antenna Installation
An experienced and competent professional is likelier to do a neater job with the installation.
Even minor mistakes can lead to a host of problems, including damage to your property through leaking roofs, loose mounting, or improper grounding.
With a contractor you can be confident that:
Another perk associated with hiring the right person is that they'll usually guarantee the quality of the job and materials used, meaning you won't have the extra cost and hassle of trying to repair a shoddy job.
Finding a TV Antenna Installation Service Near Me
Installing an outdoor antenna requires working with building materials and coaxial cables. It's even considered low-voltage electrical work, so hiring a licensed electrician would be feasible but not necessary. There are many organizations specializing in antenna installations.
Hiring On Your Own or Via a Third Party
There are generally no formal qualifications for hiring antenna installers. Some states regulate licensing for servicing and installing radio and television equipment, but not all states.
This means you might need to look around a little before finding a contractor.
Locating a contractor
Doing the hiring on your own means you won't have to pay a service fee to a third party, but it does mean you'll need to do some due diligence to get the best possible service at a good price.
Here are a few good places to start:
Hiring Via a Third Party
Third-party platforms will vet contractors for you:
How Much Does it Cost to Install TV Antenna?
According to Improvenet, a site for getting estimates for a range of home renovation jobs, the average price to have your TV antenna installed is $308 (with a typical range being $255 – $338).
More specifically, the following factors will affect the price:
It's also worth keeping your eyes open for any package deals or seasonal promotions run by retailers in your area, where the installation is included or partially subsidized by the store where you purchased certain antennas and equipment.
Lastly, remember to get a quote before hiring – this will ensure that you get the most competitive price with no surprises.
Conclusion
Installing your own TV antenna comes with significant safety risks and more than a little hassle, so unless you have a fair amount of experience in antenna installations, you might consider getting a more experienced person to do it.
If you've already decided to bring in the pros, don't rush the selection process. Look for a good balance between value and experience, because a botched installation job could mean a leaky roof, or the difference between receiving all your favorite TV channels or just a few of them.