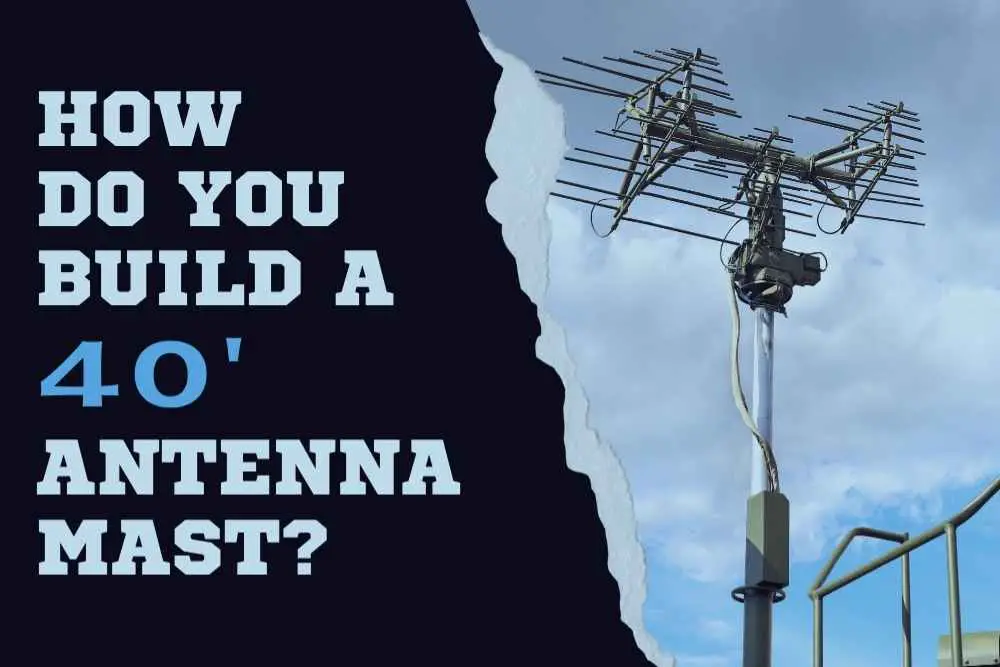 *As an Amazon Associate we may earn from qualifying purchases when you buy through links on our site.
If you live in a hilly area or one that's surrounded by a lot of trees, your antenna may not be picking up TV signals well. 
Luckily, there's a workaround that can help with this issue—an antenna mast. And unlike a regular tower, a mast can be taken down with ease when it's no longer in use.
A TV antenna is practical to put up and, if high enough, will pick up radio frequency waves unimpeded by interference from geographical features surrounding your home (like surrounding buildings and hills).
But the best thing about them is how easy they are to set up. Below is my guide on how to build a 40-foot antenna mast.
Advantages and Drawbacks of a 40′ Antenna Mast
Installing a TV antenna 40 feet off the ground in your backyard is an endeavor that you'll probably need assistance to accomplish.
But I'll go even further: unless you're very experienced in similar DIY projects, I'd get the assistance of a professional contractor who's worked with guyed masts.
OK, that out of the way, let's consider some pros and cons before getting started:
Pros
Apart from the potentially better television reception that a mast enables, here are some additional benefits:
It can be installed and detached as necessary.
When installed correctly, masts last several years.
You can use the mast for other purposes, like for a HAM radio (just make sure to space the two antennas apart so they don't interfere with each other on the mast). Masts also allow you to stack TV antennas if you want to increase your TV channel reception.
Cons
While masts undoubtedly offer some benefits, there are some disadvantages as well:
Masts can take up a significant chunk of your property, and the taller the mast, the more surrounding area you'll need for the attached guy wires.
Installation isn't easy and takes time and effort.
The costs of putting up a mast can add up if not planned correctly.
What You'll Need to Build an Antenna Mast
Let's start with parts and tools first. Below is a generic checklist of what you'll need to construct a mast for your TV antenna.
Telescoping Mast
For you DIY doyens out there, you can definitely make your own mast out of various materials like wood or fiberglass. As for me, I'll go with a prefabricated metal one as it's easier and safer.
Regarding prefabricated masts, a telescoping one will be easier to set up because it comes with parts like rings for guy wires and can be safely expanded out to full height.
But that's not the only option: you could also go with a mast using a tilt base—which I describe below.
How to Set Up a Telescoping Mast
This video by Channel Master gives you a general idea of how to get started with a telescoping mast:
Easy Up EZ TM-50 44′ Telescoping Mast
My recommendation for a 44-foot mast is from Easy Up. It comes with five sections of heavy-duty tubing along with five guy rings. The thumbscrew/collar system makes setting the height easy.
Guy Wires
Because of the height of the mast (40′) you should attach guy wires to guy rings at both the top and middle sections to maximize stability, at 45-degree angles. Guy wires made from galvanized steel are strong and won't rust.
Base and Ground Mount
As for your mast's base, having the proper parts will make the mounting process easier.
Universal Tilt Base Mount
As an option for your base mount, the Hy-Gain Universal Tilt Vert allows you to install an antenna without clambering up and down a ladder since you can raise and lower the mast, optionally with the help of a winch.
Ground Mount
At the very base of the mast you'll want a solid mast plate that'll keep the mast stable in all weather conditions, like the EZ 32A Heavy Duty Ground Mount.
In truth you should use a base that's appropriate for the mast you'll be installing. For instance, you could simply use a solid metal pipe for the ground mount, whose diameter is slightly larger than the base segment of the mast's, and fit the two together.
Winch and Pulley System
Winch
A dependable winch will make raising and lowering the mast easier. The Reese Towpower Winch is a sturdy device that's easy to attach and use.
Stainless Steel Pulley
For the winch's pully system you'll also want to use compact pulleys made from stainless steel.
Other Items You May Need
Below are some additional items to consider for your project:
If you're considering making a homemade mast, you'll need various tubes of appropriate length and diameter made from aluminum or fiberglass, joined together by tube connectors and clamps. Ensure the top of the mast pole is sealed and capped to prevent moisture from entering and corroding the structure.
Lubricant for easing the assembly of the mast segments in case you're not setting up a telescoping mast; here I can recommend Jet Lube SS30
Stainless steel hose clamps for tightening joined tube segments
Cement (one bag)—cement provides additional stability for the mast base
Shovel
At least two grounding rods and grounding wire
General Steps for Building a 40′ Mast
1. Preparation
Make sure to choose a spot that's far away from any overhead power lines.
Once you've chosen an appropriate location, dig a hole in the ground that's at least 4 feet deep and 2-3 feet wide to prepare the area for the antenna base.
If you don't plan on using cement for the antenna base, you should dig the hole an additional 2′ or 3′ deep for extra stability.
NOTE: If you're using a prefabricated mast, contact the manufacturer for recommendations on hole depth and size.
2. Set the Ground Mount
After you dig out the hole, you'll either pour the concrete right away followed by inserting the ground mount in order to "float" the mast, or you'll place the ground mount in the hole first, followed by pouring cement around it.
As you place the mast in the still-wet concrete, be sure that the mast is perfectly vertically level since a structure that's slightly tilted (or even that isn't well seated in the hole and sways excessively) may adversely affect television reception.
Of course you can also choose to not use concrete in the hole, but to tightly pack gravel and dirt around the mast's submerged section.
3. Build the Base of the Mast
Once the concrete is dry, proceed to attach the bottom of the mast to the ground mount. For instance, if you're setting up a tilt base mount, you'll want to attach it (possibly with a winch and pulley system) here.
4. Assemble the Mast
If the mast isn't attached to the side of a building, I recommend using guy wires and and here you should be planning and attaching the wires to the mast before the next step.
If you're using a prefabricated mast, be sure to read the manufacturer's instructions on how to properly guy it. For a 40′ mast, a stable arrangement is to use guy wires at both the top and middle sections.
If you're assembling a mast from several sections, attach these together with lube and steel hose clamps.
Once the mast is assembled, mount the TV antenna on the top of the mast. Refer to the manufacturer's instructions for specific advice on how to securely mount the antenna.
5. Erect the Mast
This is my favorite part: attach the mast to the base and erect it to the fully vertical position. Some use a winch and pulley system to raise the mast if using a tilt system.
If you're using a prefabricated mast, make sure to read the manufacturer's instructions on how to safely place it on the base.
If you're using guy wires, ensure these are reasonably stable and hold the antenna firmly in place with minimal swaying.
I'd recommend burying the coaxial cable when you run it from the mast to your house, possibly encasing it in PVC pipe to better preserve it from the elements.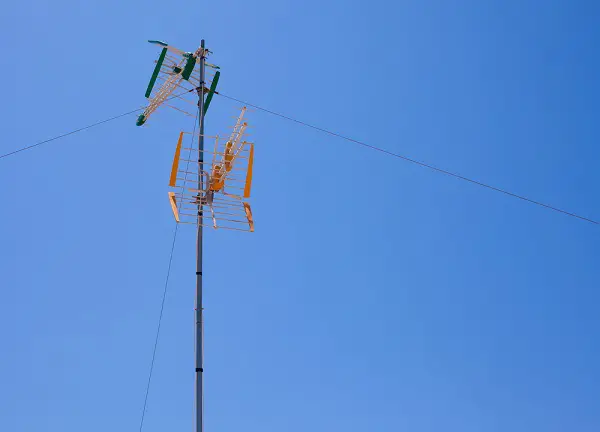 6. Ground the Antenna
To properly shunt off excess static charge during thunderstorms, submerge a metal rod near the mast and run the grounding wire to this rod.
Run the wire further from this grounding rod to the house ground wire. You may optionally use one or more additional grounding rods between the mast and the house ground wire, depending on the distance of the mast from your home.
To avoid damaging the top of the submerged grounding rod, you might consider placing a plastic cap or some other protection on top of the rod to avoid damaging it inadvertently when doing lawn work.
Conclusion
Setting up a large mast for your TV antenna isn't a simple undertaking and in an article like this one it's not possible to cover every potential scenario for installing one. But I hope this guide was useful for your planning.
If you come up with more scenarios feel free to leave a remark in the comments below.