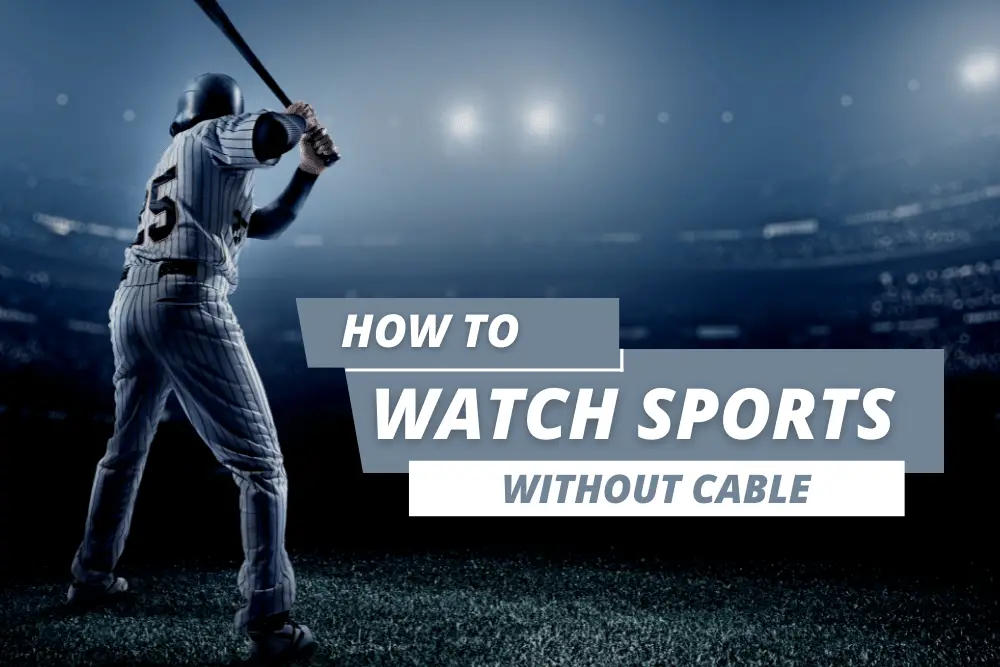 *As an Amazon Associate we may earn from qualifying purchases when you buy through links on our site.
Technology is constantly changing how we can consume content. Many people are looking for alternatives to cable TV to save on costs. Some are worried about the availability of content,
especially when it comes to sports and news.
Sports have a huge viewership worldwide. If you're a sports fan, you might be concerned about
maintaining access to your favorite teams when you cut the cord. The good news is that you can still enjoy various sporting events through a combination of over-the-air (OTA) antennas and streaming services.
Switch to Streaming Services
The shift to streaming has accelerated in recent years, and we have witnessed the growing
popularity of Netflix, Hulu, Amazon Prime, and other platforms, particularly during the
pandemic period. While they do include monthly payments, streaming services are still more
affordable than cable TV and far more flexible. You can choose a service that works best for
your needs and switch to a different one at any time.
Streaming is a convenient way to watch a wide range of sports worldwide. After all, many teams have local, national, and international fans. The sports streaming trends vary by country and time of the year and often spike during major events.
Some popular sports streaming services with live coverage are Hulu, Peacock, Amazon Prime
Video, FuboTV, ESPN+, and YouTube TV.
Achieve the Best Streaming Experience
Although convenient, streaming is not always without issues. Below is some advice on improving your sports viewing experience.
Test your Internet Speed
Video streaming requires a certain level of bandwidth or the amount of data that can be
transferred between two points at a given time and speed. Before doing anything else, run a
speed test to see whether your internet connection supports streaming. Low bandwidth can result in not only poor quality but prevent streaming altogether. To find out the necessary speed, you can check the recommendations by the streaming providers. Netflix, for example, recommends your internet download speeds be at least 1 Mbps for standard definition, 3-5 Mbps for HD, and 15 Mbps for ultra HD quality.
Reboot and Restart
The solution might be straightforward. Try rebooting your home network and restarting the
streaming service and see if it helps.
Upgrade your Internet Plan
It might be good to ask for more bandwidth if you're constantly hitting your data cap. Check the plans offered by your internet service provider (ISP). If you're still unsatisfied with the
performance, consider switching to a different provider.
Optimize your Hardware
You might need to change the location of your router. It might not be the prettiest ornament in
your living room, but keeping it behind a bookshelf could hurt its performance. Place it so that
its effective range can easily reach your viewing devices. You can also install a range extender or invest in a powerful long-range router.
Try to Limit the Number of Users
Most of us have multiple devices sharing the home network, which can cause some issues. Most internet plans can handle multiple devices being connected simultaneously. Still, if your
household members are downloading large files or streaming at the same time as you are, it
might interfere with your streaming.
Use an Ethernet Cable
While cables are not that sleek, using an ethernet cable instead of wi-fi can make a big
difference. It establishes a direct connection between your router and device. All computers have an ethernet port, but you'll have to check if your smart TV has one. A wired connection will give you the best possible stream quality your internet can handle.
Access Local Channels with a TV Antenna
A good way for cord-cutters to retain several local channels without a cable subscription is by
installing a TV antenna. This way, you can follow your local sports and other content. Depending on your location and the reception capabilities, an antenna can let you access major networks like ABC, CBS, Fox, NBC, and several other channels. To get the right TV antenna, the main factors you need to consider are cost, quality, and range.
Both streaming services and a TV antenna are good options if you want to cut the cord. You can choose one or combine the two approaches based on your needs and interests. A good TV antenna can give you access to plenty of local content, and if you have the budget for it, there is something for everyone in the growing streaming service market.