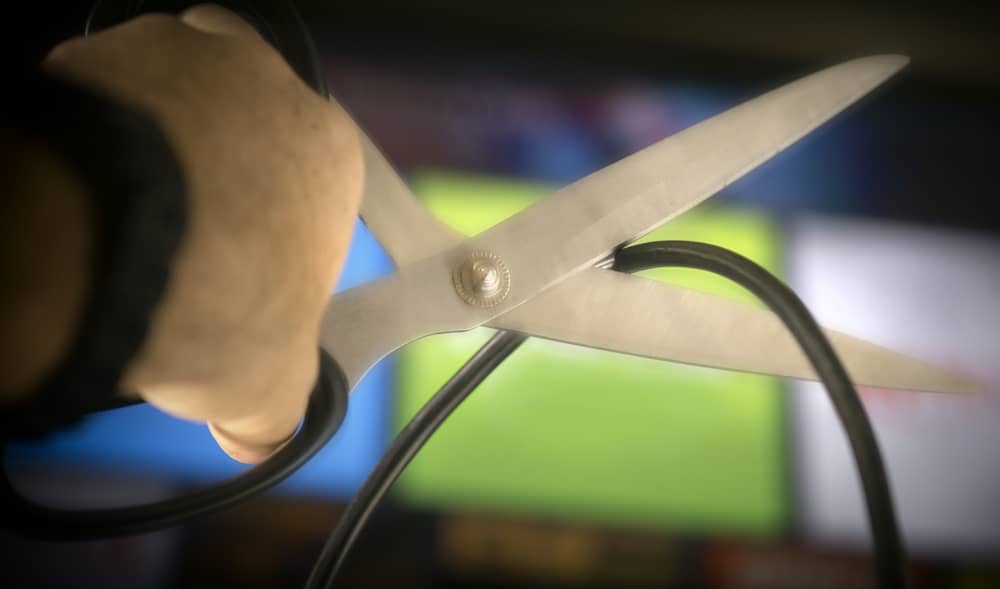 *As an Amazon Associate we may earn from qualifying purchases when you buy through links on our site.
Cable TV is expensive—you have to pay it every month to access a basic set of channels.
Getting an HDTV antenna is an excellent way to sidestep paying hefty fees to cable TV providers and enjoy FTA channels at zero cost.
But finding the right antenna can be a chore, with hundreds of seemingly perfect options available in the market.
In this post, I'll reveal how you can access free Cable TV with an antenna and list the best antennas available to make picking easier.
What Channels Can You Watch with An Antenna?
The term "Cable TV" represents something you get from a sizeable proprietary network.
While using a TV antenna instead of a cable provider works out a lot cheaper, it also means you won't get access to all of the channels.
However, if you use an antenna, you'll get access to a selection of cable TV type channels, including major networks like FOX, ABC, CBS, and CTV in HD. You'll also get access to local news channels.
All of this with nothing but a cheap TV antenna you bought off of Amazon.
Cable TV providers pick up the free signal using their large antennas and transmit it to your set-top box, and they charge you a hefty fee for access.
Getting an antenna enables you to cut out the middleman, which will save you hundreds of dollars a month.
One of the best things about using a TV antenna is that no compromise is made to picture quality. Most channels transmit at 1080p quality, with many now also transmitting at 4K! 
While a TV antenna may reduce the total number of channels you can access, the signal isn't compressed. You can enjoy HDTV for free with a suitable antenna.
Picking The Right Antenna
To watch HDTV channels for free, the most important thing you'll need to get is of course the antenna. Antennas work with almost every TV, so compatibility is something you don't need to worry about.
However, there are some other factors you do need to consider, which are cost, quality, and range of the TV antenna.
Sifting through hundreds of products and finding the antennas that strike the right balance between these three can be challenging.
But here are a few that fit the bill in terms of performance and value:
Best Outdoor HDTV Antennas 
1. ClearStream 4 HDTV Antenna with Mount
If you don't want to spend too much but still need an antenna that has an excellent range, the ClearStream 4 is perfect for you.
It comes with four looped dipole antennas and a 20-inch mount, and the all-weather mounting hardware ensures a long product life.
It doesn't come with a coaxial cable, which means you'll need to buy it separately if you don't have one.
However, ClearStream offers a lifetime warranty on the parts, making it the best value-for-money option on the market.
If you don't need a 70-mile range, you can get the 35-mile-range version of this unit for a lot cheaper and enjoy the same channels. 
2. Antennas Direct 8-Element Bowtie TV Antenna
If you don't mind spending a little extra for quality, the 8-Element Bowtie antenna from Antennas Direct is right for you.
It has a 70-mile range and can pick up between UHF 470 MHz to 698 MHz and RF channels 14 – 36.
It'll have no trouble picking up channels like ABC, CBS, CW, and more in most areas. Getting this HDTV antenna virtually guarantees that the quality won't drop under 1080p Full HD.
It's easy to install and provides a lot of installation flexibility if you live in a location where stations are in different directions.
The company offers a lifetime warranty on parts, and the unit comes with DB8e all-weather mounting hardware.
3. Channel Master EXTREMEtenna
The Channel Master EXTREMEtenna is the most expensive antenna on this list. However, it offers some benefits that other TV antennas don't.
It has an 80+ mile range and a 180-degree reception span, making it superior to all other antennas on this list.
It also drives an uncompressed 1080i HDTV broadcast to your TV, which is better than what cable and satellite TV provide you with.
But what I like the most is the compact size of this unit. You can mount it on a balcony, roof, chimney, or wall with ease.
It comes preassembled—all you have to do is screw it in place using the included mounting hardware. 
I'd have liked it a little better if there were a coaxial cable included in the box, but most other companies also don't supply it in-box, so I can't complain.
Overall, it is one of the best TV antennas money can buy.
Best Indoor Antennas
You can get any of the antennas mentioned above that best fits your budget. Those products won't disappoint!
But not everybody has the flexibility to install an antenna on their rooftop. You may live in a condominium complex where installing antennas is not allowed. 
There are several other reasons you may not be able to take advantage of inexpensive long-range outdoor antennas.
But don't fret; there are some excellent indoor TV antennas you can buy to get access to uncompressed HDTV channels for free.
1. DrillTop TV Antenna [no longer available]
The DrillTop TV Antenna is perhaps the most impressive option on this list. It costs less than a good lunch does and has a range as far as some of the outdoor antennas on this list.
But that's not even the best part. 
Its paper-thin design enables you to hide it behind the TV if you like, giving your TV setup a clean, wire-free look. But since it looks excellent, you can also place it on the TV unit without fear of ruining the look.
The antenna can drive a 4K picture to your TV without pixelation and save you on a scale of thousands of dollars a year. 
It's undoubtedly one of the best indoor TV antennas in the market.
2. Antennas Direct ClearStream Eclipse
If you want an antenna that just plugs in and gives you access to TV channels, the ClearStream Eclipse is the right antenna to go for.
It has a 50-mile range, and the Sure-Grip technology used guarantees the most effortless installation of any indoor antenna. All you have to do is grip it to a wall or a window of your choice.
It picks up signals from both sides, so you don't need to worry about the antenna's positioning too much.
The included 12-foot coaxial cable makes connection easy and coupled with the 20db in-line amplifier system, you can ensure that you're getting access to all of the channels in your area.
But what I like most about it is that the surface of the TV antenna is paintable. You can paint it to match your walls or give your room an accent.
3. Mohu Curve 50
The Curve 50 has the most attractive design of all the antennas on this list. The curved panel looks super modern and will give any room a modish lift.
It performs just as well as it looks—it has a 50-mile range and can drive a 1080p image to your TV.
You can lay the antenna flat or stand it upright. Mounting it on a wall is also an option. The included 16-foot coaxial cable allows you to connect it to your TV even if you place the TV antenna away from the TV.
It comes with a one-year warranty, and if you don't like it, return shipping is free.
Installation
Installing the antenna correctly is just as critical as getting the right antenna. Don't overlook this step since it can make a big difference in picture quality.
Some antenna manufacturers don't include a coaxial cable in the box. 
You mustn't dismiss the cabling as unimportant. Get the best quality cable you can afford since it will reduce signal, splitter, and insertion loss.
Basically, a good cable won't diminish the signal the TV antenna picks up, ensuring that you view the picture in the highest quality possible.
Grounding
Getting an antenna to replace your cable TV will save you a lot of money, but it also comes with its risks. If there's a thunderstorm, the TV antenna may attract surges and excess static electricity.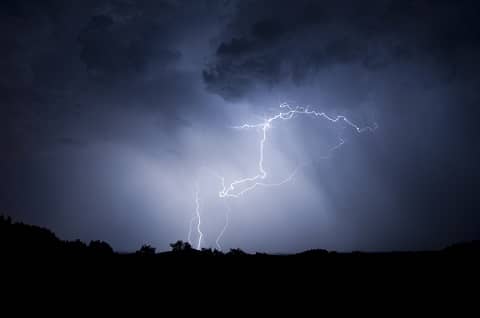 In the worst-case scenario, these surges may damage your equipment. DO NOT SKIP THIS STEP. 
The risk can be dealt with by implementing proper grounding. Here's how you do that:
Step 1: Mount Your Antenna
The first step to ensuring proper grounding is proper mounting. 
Before you even open the box, figure out where you will mount the antenna. While the positions of surrounding broadcast towers are an important consideration, finding a spot that will give the HDTV antenna maximum structural support outside or inside your home is of prime importance.
Use any included mounting hardware to install the antenna, as illustrated in the instruction manual. Make sure you follow the steps to a T.
If you're mounting your TV antenna on your rooftop, make sure you use roof sealant and fill in gaps between screws. It's a great way to ensure that water doesn't get into your home through the tiny gaps when it rains.
Step 2: Find the Grounding Plate
The easiest way to locate the service grounding wire is to head to your basement and find your electrical panel.
You'll see a solid copper wire connected to your electrical panel. The wire goes through the wall to a nearby spot outdoors. 
The other end of the wire is connected to a grounding electrode, which is sometimes called the grounding plate.
Next, you'll need to connect a ground clamp to the plate and use an AWG #6 wire to connect the clamp to your antenna.
Run the other end of the wire to your TV antenna, and use another clamp to secure the wire to it tightly. You may need to get a bigger or smaller clamp depending on the antenna mast's size.
Make sure you don't skimp out on the grounding wire. I recommend getting AWG #6 wire because it's solid. Stranded wires tend to become brittle over time as they interact with the elements. 
Step 3: Ground Your Coax Cable
Many folks ignore this step, but they fail to realize that the coax cable can also build up static charge and shock you.
Grounding the cable is the best way to ensure that the current is safely dissipated. You can also use a discharge unit to deal with the build-up of static electricity, but you'll need to ensure that doing it is allowed in your area.
It's easy to find discharge units/coax ground blocks online, and these come cheap, so you can pick one up and it'll serve you for life.
I also recommend picking up a coax surge protector to ensure that the cable doesn't fry any electronics. Ensure that the protector is rated to at least 1500MHz for maximum protection.
Things to Remember When Grounding An Antenna
If your TV antenna mast is rusted or painted, or has some other kind of coating on it, you must scrape the layer off where the metal parts meet. This ensures good bonding, and good bonding ensures that any storm surges go straight to ground and doesn't take a detour to your home. After you're sure that the mount and hardware are properly connected, you can paint over them safely.

Ensure that you fasten the grounding cable to the side of your house, so it doesn't get disconnected during a heavy thunderstorm. You can use staples or wire clamps to do this.

Don't make 90-degree bends with your grounding wire since it increases the chances of the lightning bolt discharging into your house. Electricity doesn't like to take turns, so you must ensure that any bends you make are gradual and smooth.
Conclusion
And with that, you now know the basics of finding and setting up antennas the right way. 
With my list of recommendations, you'll find the right antenna in no time. Setting up an antenna to maximize both safety and picture quality should also be a breeze.
You're now one step closer to saving money on TV each month.