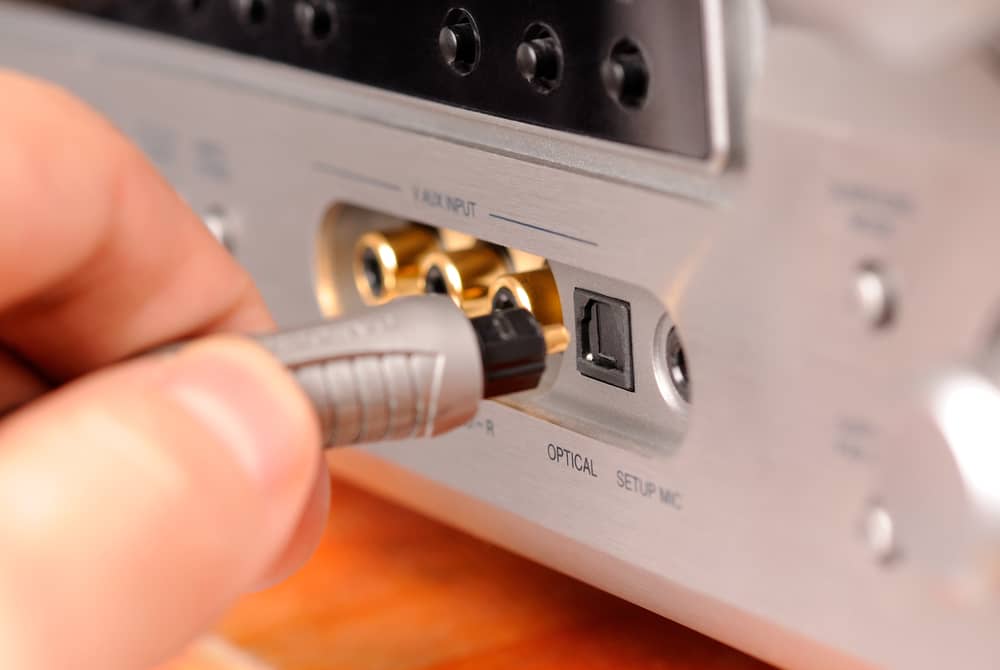 *As an Amazon Associate we may earn from qualifying purchases when you buy through links on our site.
Who can claim we're currently not living in the digital age, where we use our cellphones, TVs, and computers to communicate on a daily basis?
These gadgets are convenient precisely because they process data in one form or another. But due to our technological evolution, most of the data floating around is still analog.
In fact, you may still have an old gadget that uses analog data, and that you're not yet ready to toss out.
But in order for modern devices to "talk" to it, you'll need a digital-to-analog converter.
An optical cable adapter enables this conversion. Below, we look at what it is and what it can do.
What is an Optical Cable Adapter?
To tell the truth, most of the gadgets we have, such as our laptops, already have digital-to-analog (DACs) converters built in.
However, that doesn't necessarily mean there aren't any stand-alone DACs in the world.
An optical cable adapter such as the Belkin adapter above can convert digital signals to analog, allowing you, for instance, to listen to audio from your smart TV on your home speakers, which may have analog inputs.
The Nyquist-Shannon sampling theory describes the mechanism for how sampled data can be reconstructed almost perfectly (given the perfect bandwidth).
Where Would You Need an Optical Cable Adapter?
An optical cable adapter (coupled with a digital-to -analog converter) converts binary values of 0s and 1s to a continuous sets of analog voltages.
At their heart, computers are binary machines operating in a largely analog world. Digital-to-analog converters produce an output that can be understood by all other devices intended to communicate with the computer.
Here's an everyday example of a digital-to-analog converter in action. Your laptop that stores your music playlist does so in binary values that represent a sound wave.
To listen to these songs, the sound wave needs to be played back to you via speakers or headphones.
In order for your laptop to communicate with your speakers and translate the binary values of the sound waves stored in your playlist, these binary values need to be converted into analog signals that will interact with the diaphragm of your speakers to produce music.
This wouldn't be possible without such a converter.
The Best Optical Cable Adapter
There are many different types of DACs on the market today, with each one performing a specific function.
Below is one of the best optical cable adapters you can acquire for different purposes.
Belkin Digital Optical Cable and Adapter
Why You Should Consider this Adapter
Superior audio through multiple devices
Supports 5.1 and even 7.1 digital surround sound
Durable
The Belkin Digital Optical Cable and Adapter is a 6-foot digital optical cable with a Toslink Adapter designed to transfer high-quality sound from your preferred media device to a home A/V receiver of your choice.
Because it's made of optical fibers, this adapter has the welcome capability of eliminating distortions, providing you with excellent sound.
Key benefits:
It offers superior audio from multiple devices: The cable is equipped with a Toslink adapter, making it suitable for use with a host of media devices such as Apple TVs, MacBook Pros, gaming consoles, CD/DVD players, and even Blu-ray players. All you have to do is connect the line-out jack of your optical digital converter to the A/V receiving device.
Watch movies in full surround sound: Because this adapter can support both 5.1 and 7.1 digital surround sound, it offers you an incredible degree of audio quality. This, in turn, means you can enjoy enhanced viewing of your preferred movies and TV shows. Furthermore, the cable is 6-feet long, making it easy to use anywhere around your home as it can conveniently connect to devices within the same room (and thus suitable for surround sound setup). Since it's made of optical fiber, it's shielded from distortions and outside interference, allowing delivery of high-quality sound.
The design features make it durable: Even though this adapter is quite affordable, there's a good chance that you don't want to be buying one every few weeks. That's why the following design features are very important: it features raised grips that allow for easy identification of the right-side-up. Additionally, that grip feature allows for convenient and easy insertion of the jack as well as the audio line-out. It features a soft, pliable cord that's perfectly ideal for those who want to avoid clutter and cords tangling in their homes.
Final Thoughts
In a world where we want all our devices connected or synced to one another, it's a welcome relief to have optical cable adapters that allow them to seamlessly interact with one another to bring us the best audio.
At last there are no more worries about whether your new Blu-ray device will pair well with those old-school surround-sound speakers that you love.