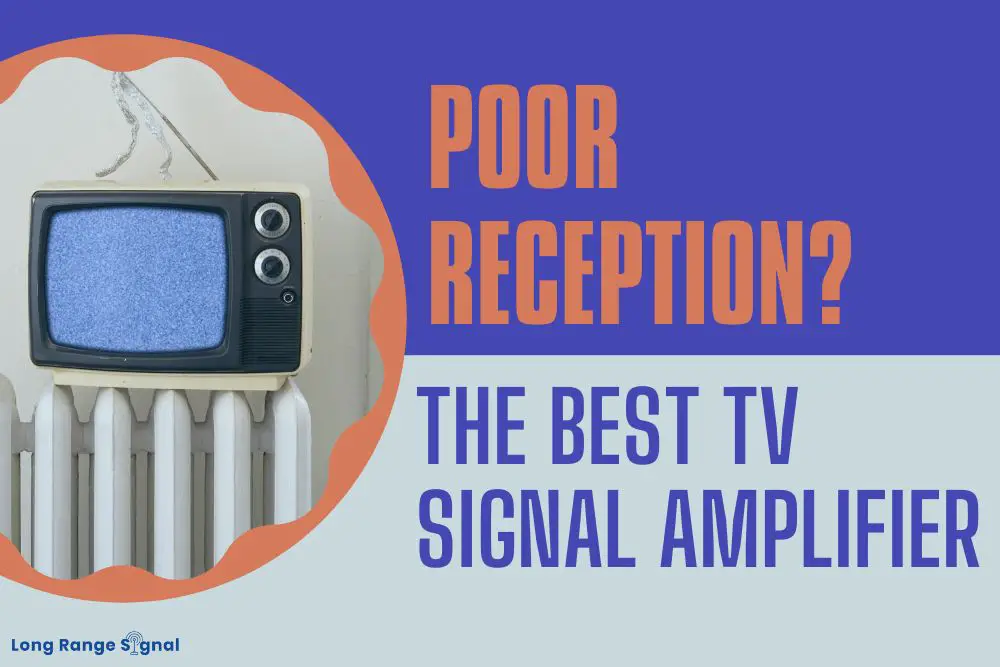 *As an Amazon Associate we may earn from qualifying purchases when you buy through links on our site.
Poor signal doesn't necessarily mean your antenna is broken.
More often than not, all you need is a TV signal amplifier that'll turn what is a weak signal into good reception.
While TV signal amplifiers are a dime a dozen, finding one that suits your specific needs isn't quite as easy.
This is because these amplifiers tend to have the same specifications with one very subtle yet crucial difference: power.
This goes a long way in determining how effective the amplifier you buy will be in terms of picture quality.
That being said, let's take a look at some outstanding TV antenna amplifiers below.
1. Antennas Direct 4-Port TV Distribution Amplifier—The Best 4K Ready Amplifier
Why You Should Consider This Amplifier
Works with up to 4 TVs
Weatherproof
Durable
Easy to set up and use
7.5dB amplification per port
The Antennas Direct 4-Port TV Distribution Amplifier is one of the best on the market. It's small and sturdy, but it's also designed to be weatherproof, which makes it versatile enough to be used both indoors and outdoors.
Having four outgoing ports that allow for up to four TV connections, this is the kind of amplifier designed to serve a huge family home.
One of the biggest issues with most electronics is the noise levels they emit. Although not the quietest on the market, this amplifier emits very minimal noise (2 dB), making it ideal for people looking to reduce the amount of "machine humming" in their homes.
It offers you 7.5 dB amplification per port, making it perfect for people who demand excellent service from their electronics.
Couple all this with a 90-day warranty on parts and the fact that the deal comes with a power supply as well as a 3ft coaxial cable, makes this device worth checking out.
2. Lindsay Broadband 4-Port Digital Signal Amplifier – The Best Amplifier with an Equalizer
Why You Should Consider This Amplifier
Works with up to 4 TVs
Includes integrated equalizer
Up to 7.5 dB amplification per port
Works with both antenna and cable TVs
Prevents image pixelation when paired with a digital cable
This Lindsay Broadband 4-Port Digital Signal Amplifier offers you a wide variety of connectivity options, including one input, with outputs that can connect up to 4 TVs.
It's also ideal for TV boxes and a wide array of cable systems without necessarily losing signal quality.
One key feature that stands out with this TV signal amplifier is that it has a built-in equalizer that allows you to vary the amplifier gains. This means that you get more amplification even for high-frequency signals that tend to get weaker with long cable runs.
Furthermore, the amplifier offers incredible gains with each port delivering anything from +0dB at 54MHz up to +7.5dB gain at 1000MHz.
Designed with quality in mind, the amplifier meets all SCTE Standards, is compatible with all digital cable and standard TV Services, and delivers over-the-air (OTA) antenna reception.
3. Antronix Four Output Amplifier – The Best 2-Input, 4-Output, and 8dB Gain Amplifier
Why You Should Consider This Amplifier
Prevents image pixelation
Works with up to 4 TVs
6 kV surge protection
Compatible with all digital cable and standard TV services
This Antronix Four Output Amplifier provides you with optimum service thanks to its two input ports and the four outputs that can connect to four different TVs in your home.
Offering up to 8 dB amplification per port, this amplifier can prevent image pixelation when paired with digital cable.
It's also compatible with all standard as well as digital cable TV services and TV antenna reception. It is, however, not compatible with systems that are already hooked up to an existing amplifier.
Sturdy enough to be used outdoors, this amplifier comes with a 6 kV surge protector that keeps it safe from indirect lightning strikes.
It also features nickel-plated housing which guarantees corrosion-resistant protection against rust. Additionally, it provides clean amplification of any weak signals thanks to its 3 dB Noise Figure feature.
4. Winegard LNA-200 HDTV Preamplifier and TV Antenna Amplifier – The Best Value for Money
Why You Should Consider This Amplifier
Feature-rich filtering and interference elimination
Affordable
Compact
It's difficult to talk about TV antenna amplifiers without mentioning a Winegard product. The Winegard LNA-200 HDTV Preamplifier and TV Antenna Amplifier is designed to be used with any non-amplified antenna.
It delivers clearer signals at longer ranges and provides you with available channels.
One of the greatest selling points for this TV antenna amplifier is that it comes with a host of features, including TwinAmp Technology that does a good job of amplifying UHF and VHF signals separately, giving you amazing performance at the lowest noise level possible.
Another excellent feature that reduces the amount of noise is "Clear Circuit Technology," which minimizes noise to about 1 dB while delivering more range and reducing pixelation and signal dropout.
The package comes with the sturdy antenna amplifier that can be used outdoors, a 110v adapter, hose clamps, a power inserter as well as printed documentation giving you clear instructions on how to use it.
5. Antop Smartpass Amplifier TV Signal Booster—The Best 4G LTE Filter Amplifier
Why You Should Consider This Amplifier
Affordable
Smartpass amplifier for easy reception adjustment
Clear circuit technology
4G LTE Filter that shields against interference
Easy installation
This Antop Smartpass Amplifier TV Signal Booster is one of the most effective TV antenna amplifiers as a 4G filter that I've found. That's thanks mostly to the special Smartpass amplifier feature, which provides better filtering ability.
You can easily adjust the balance between both short- and long-range reception. Whenever you're dealing with weak signals, you simply switch it on to boost reception.
You can also switch it off to avoid noise overload. This means you no longer have to decide whether you need to buy a long-range or short-range antenna. You can have both!
What's even better is that this antenna features "Clear Circuit Technology," which delivers more range and clearer picture while reducing signal pixelation and dropout.
You need to remember that this particular amplifier, much like the rest, can enhance signals you already get (however weak and unviewable these may be), but won't give you channels you're not getting anyway.
Another key feature is that it has a 4G LTE Filter for removing 3G/4G signals.
These may cause interference, ensuring smoother picture and more stable channel reception, which means you can now enjoy a no-flash and no-noise TV viewing experience.
TV Antenna Amplifier Buyer's Guide
As you can see, most of these amplifiers have pretty much the same kind of features, but that doesn't mean that they all deliver the same quality of reception.
The truth is that deciding which amplifier to buy will be a subjective affair hinging on what it is you value the most.
Some people are more willing to sacrifice a bit of reception quality if they can get an amplifier at a lower price.
In contrast, others would rather suffer the price and get an amplifier that offers crystal clear pictures on their TVs.
You could also decide to split the difference and get one that offers you both, if you're willing to compromise. Either way, it's all a bit subjective.
That being said, here are some of the most important factors to consider when choosing a TV antenna amplifier:
Noise Levels
Amplifiers that offer lower noise level values are more sensitive and will provide you with better signal amplification.
What you want is something that falls around the 2-3 dB range. Anything above the 4 dB range is a bit too high.
Gains
This is somewhat more important than noise levels. What you want is something that's almost equal or even higher than the loss in decibels a signal takes as it travels down the coaxial to your TV.
In short, if your antenna suffers an 8 dB signal loss due to cabling, the amplifier should offer you gains of at least 8 dB or higher.
Typically, the gain values for amplifiers tend to lie somewhere between 12 and 30 dB.
However, it should be noted that in this case, just because an amplifier offers a gain of about 30 dB doesn't necessarily make it better than one with 16 dB or so.
Here, higher isn't always better since amplifiers can amplify the signal too much, causing a whole new set of problems.
For that reason, if your signal loss lies around 10 dB, then the best amplifier to get would have a gain of about 12 dB as opposed to 30 dB.
Supported Frequencies
This is pretty straightforward. If you have a TV antenna that supports both VHF and UHF, you'll want an amplifier that can amplify both, or you'll have a few channels working very well while others won't work.
Conclusion
For better signal reception, you need a reliable and effective TV antenna amplifier. Now you have a list of some of the best on the market. All you have to do is choose one and enjoy your viewing.