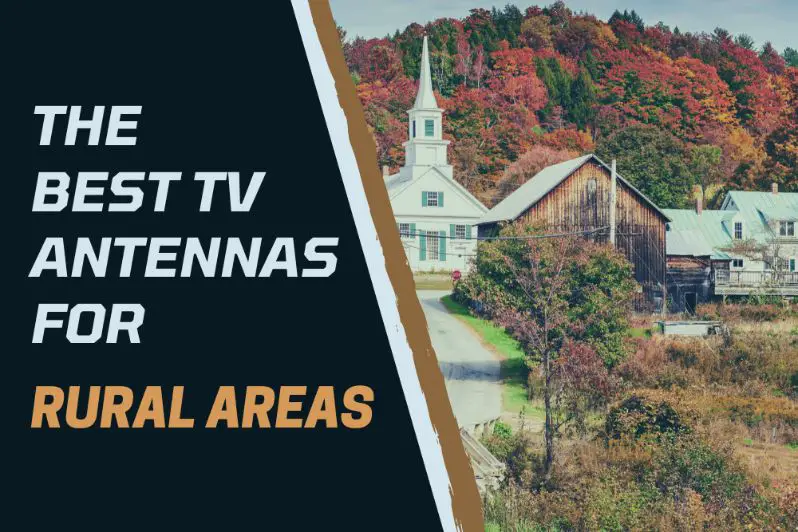 *As an Amazon Associate we may earn from qualifying purchases when you buy through links on our site.
It's no surprise that the cord-cutting movement is fast gaining momentum—paying on the scale of hundreds for a cable package just doesn't make sense now that consuming media online costs next to nothing.
By the end of 2020, an estimated 31.2 million US households will have cut the cord.
However, if you live in a rural area and mostly watch the news and only watch a limited number of shows, you don't even need a Netflix or Amazon Prime Video subscription.
You can watch all the TV you want for free using a TV antenna. No internet or satellite TV required!
And the best part about it is there's an abundance of excellent antennas available in the market.
But the high availability of excellent options is also a disadvantage—shortlisting the best TV antennas for rural areas and finding that one perfect device can take hours.
Luckily, though, you found this post. Below is a detailed TV antenna buying guide in which we outline the best TV antennas for rural areas. So let's get to it.
Features to Consider When Buying A TV Antenna for Rural Areas
When buying a TV antenna, there are some important factors to consider.
While there's no such thing as the "ultimate" TV antenna, there's undoubtedly an antenna out there that'll meet most if not all of your needs. Of course, price is an important consideration, but here's everything else you need to factor into the decision:
Reception
The antenna's reception is a critical feature you must consider before buying a TV antenna, especially if you live in a rural area. 
The best TV antennas to go for in rural areas are rooftop and attic antennas. However, if you install the antenna in the attic, you'll need to make sure that the antenna can easily penetrate through the roof's materials.
If your roof is made from aluminum, you'll need to set up the antenna outside.
Antenna Gain
You must consider the gain of the antenna before buying it since it has a significant impact on channel reception. You can think of "gain" in a receiving antenna as its ability to convert radio waves arriving from a certain direction into electrical signals.
Usually you can find specs on antenna gain in its user manual and sometimes even on product pages where you purchase them online.
Frequency
TV channels are broadcast over UHF and VHF frequencies. If you want access to a larger variety of channels, you can get an antenna capable of capturing both frequencies, though generally speaking the further out you go in the countryside, the less UHF signals you'll find and the more VHF you'll encounter.
Antenna Type (Unidirectional or Multidirectional)
One of the biggest decisions you must make before sifting through the best TV antennas for rural areas is whether you want a unidirectional or a multidirectional antenna.
A unidirectional antenna captures a signal from a particular direction only. On the other hand, a multidirectional antenna can capture signals from multiple directions at the same time.
Unidirectional antennas are more suitable for long-range reception in areas where there are less TV broadcasting towers scattered about the compass, as they offer higher gain in specific directions generally.
Accessible Channels
The number of TV channels you can access in a rural area is generally less than the number accessible in metro areas. Finding out which channels you can access in your area before you get your hands on an antenna is key to staying satisfied with your purchase. 
Channel availability also changes according to distance from the tower, and also depends on how high you install the antenna.
Finding out that a certain channel you wanted isn't available in your area can make you think twice about getting a TV antenna. Make sure you do your due diligence to understand what channels are available. There are several online tools like rabbitears.info that can help you with this.
Antenna Height
The higher up the antenna, the less interference you'll have to deal with (generally). While electromagnetic interference from outside the home may be less of a problem in rural areas, trees, hills, and other geographical features can affect the antenna's reception.
It's also important to understand potential sources of interference. Placing the antenna outdoors can help avoid certain kinds of electronic interference within the home and boost reception.
10 Best TV Antennas for Rural Areas
Below you'll find our picks for the 10 best TV antennas for areas outside the city:
If you don't want to spend much on a TV antenna but want one with excellent reception, this antenna from Five Star TV may be the right one.
The antenna's Yagi design gives it a better range than a lot of other antennas available at the same price point. But what makes it even more impressive is the fact that it has an amplifier built in.
It can pick up both UHF and VHF signals and has a decent range.
The antenna's extended length gives it a strong reception, and the outdoor antenna can receive 4K, 1080p, 1080i, and 720p channels. Other than local news, it will pick up ABC, CBS, NBC, Fox, and even sports and kids channels, among others.
A 40-feet coax cable is included, and the box also includes a 20-inch mounting pole, allowing you to mount the antenna outside the house freely. The antenna is lightning protected and durable, meaning it can withstand heavy rains and strong winds.
It's undoubtedly one of the best TV antennas for rural areas.
Pros
Excellent range
Reasonable pricing
Durable construction
Comes with coax cable and mounting pole
Cons
Slightly difficult to assemble
If there are several broadcast towers around your home, and you require an antenna that gives you strong reception with every one of them, you can't go wrong with the Antennas Direct Clearstream 4.
The antenna boasts a patented design, allowing it access to a greater range of frequencies than other antennas in the same price range. 
Since the antenna comes with a wide-angle beam, there's less need for rotation, and it can pick up signals from many towers with ease.
Perhaps what's more impressive is that the antenna's reception can be extended to VHF frequencies with the use of a reflector.
Setting up the antenna is easy—you place it indoors or outdoors per your convenience and connect the coaxial cable to the antenna. The other end of the cable connects to your TV, and all that's left for you to do is scan the area for channels on your TV.
The antenna can drive a FullHD 1080p picture and receive free TV signals from almost every TV network.
The lifetime warranty is an excellent plus.
Pros
Multidirectional antenna
All-weather mounting hardware
Easy to mount indoors or outdoors
Lifetime warranty
Cons
Not the longest range on the list
Finding a powerful antenna can be challenging when on a tight budget. But the Will Brands TV antenna strikes the perfect balance between power and price.
What makes the offering more impressive is that the antenna can be rotated without an attachment. A wireless remote comes included in the box, allowing you to control the rotation with ease.
The antenna supports 4K signals, which is a huge plus, and it also has a two-TV function, allowing you to connect the antenna with two TVs without needing a splitter.
A lightning protection system is incorporated into the antenna, allowing it to withstand all kinds of weather. Installation is easy, and if you want to mount it on a wall, you can use the mounting pole to do it.
The one-year warranty and 30-day refund guarantee make the antenna an excellent value for money option.
Pros
Extended range
Excellent pricing
Works with two TVs
Rotatable (360-degree reception) with lightning protection
One-year warranty
Cons
Advertised as range of 150 miles but will receive less than half of that
The Lava outdoor TV antenna is one of the more expensive options on this list. However, its excellent feature set makes it worth every penny.
But perhaps what's more impressive about the antenna is that it's omnidirectional. The installation is easy, and you'll never need to point or rotate it—you can set it and forget it. 
It supports 4K pictures, and its range allows you to watch 95% of the top shows on TV for free.
One of the best things about it is that its compactness makes it easy to install in the attic, removing the need for you to set it up outdoors. But if you don't mind the height, you can use the installation kit included in the box to quickly install the antenna. The detailed manual makes things that much easier.
The antenna comes with a two-year warranty, which, coupled with the reasonable price, excellent range, and the 4K reception, makes it one of the best TV antennas for rural areas.
Pros
Reasonable price
4K picture reception
No rotation required
Two-year warranty
Cons
Advertised as range of 150 miles but will receive less than half of that
The ViewTV Outdoor TV antenna proves that not all high-quality antennas are expensive.
It supports 4K pictures and comes with a wireless remote controller that enables you to control the antenna's direction. The remote makes using the antenna super convenient.
One of the best things about the antenna is that it can output signals to two televisions simultaneously. Using a splitter isn't required.
While the antenna is affordable, it's surprisingly sturdy. The durable plastic makes it virtually indestructible, and the anodized aluminium makes it ultra-weather resistant. You don't have to worry about it breaking if you live in an area where it rains a lot. 
The antenna comes with a 40-foot coax cable, which is a big plus. An indoor antenna is also included in the box, making setting it up indoors that much easier.
But one thing to keep in mind during set up is that every time you move the antenna, you'll need to do another scan to find if it's picking up the channels you want. 
However, considering the low price and excellent range, it's too a small trade-off to be considered a dealbreaker.
Pros
Affordable
40-foot coax cable included
Durable build
Rotatable (360 degrees)
Cons
Advertised as range of 150 miles but will receive less than half of that
A lot of antennas on the market can offer you more than you need and cost you more than you're comfortable spending. 
If you have a 1080p TV and want to watch the news, shows, movies, and sports on it with an antenna that costs next to nothing, the McDuory antenna will be perfect for you.
It costs a little over what a nice lunch does, and it can connect to two TVs without a splitter. A special adapter isn't needed to make it work, either.
The installation is very simple—you don't need to screw in any bolts. Every component snaps on, and the manual is also easy to follow.
It comes with a 360-degree motor, which you can control using the remote. The low-noise, high-gain amplifier allows it to drive a crisp picture, and the 40-feet coax cable makes connecting the outdoor antenna to your TV that much easier.
The McDuory is lightning protected, and its superior construction enables it to withstand tough outdoor conditions. 
For something that costs a little more than the average lunch, it's a super impressive device that will keep you cable-free for decades.
Pros
Super affordable
Stable motor with remote
Snap-on build
Lightning protected design
If you don't mind spending a little extra on a quality device, the Lava HD2605 is the right antenna to buy.
It can drive a crystal-clear 4K picture to your TV with ease. But that's not even the best part. The HD2605 comes with four splitters, allowing the antenna to connect to up to eight TVs. One of these antennas is all you need to make the entire home cable-free.
Although the HD2605 does not come with a motorized antenna, the company sells motors separately that you can connect to the antenna. 
You can watch shows from NBC, FOX, CBS, ABS, and several other major networks free of cost. At certain locations, the antenna can give you access to 45+ channels for free.
Pros
Crystal-clear 4K picture
Comes with four splitters
Will likely pick up 45+ channels
The Five Star Outdoor antenna is the perfect buy if you're concerned about the distance between your home and the broadcasting tower. 
It can drive a 4K image to your TV and supports up to five TVs. 
One of these antennas will keep your entire family entertained for years. The antenna also picks up FM radio broadcasting, which can be both entertaining and helpful in times of emergency.
Its smaller reflector elements help improve image quality. The larger elements also help stabilize the signal. The reflectors are durably built, preventing wind obstruction.
The auto-gain control chip regulates the gain per the need, and the premium copper cable inside the motor is shielded, making for stable signal transmission.
The antenna offers a lot more to like. It comes with a built-in motor, allowing you to rotate it at the press of a button. This feature gives access to a broader array of programs.
Pros
Built-in motor
Can drive a 4K image
Also picks up FM radio signals
Ease of installation can be a big requirement for some. And one of the best things about the CeKay Digital antenna is that it is easy to put together.
It has snap-on elements, and tools aren't required to put it together. The manual is super easy to follow, but a mounting pole isn't included. However, the company does sell a mounting pole separately if you need it. 
The strong built-in motor rotor makes picking up the best channels that much easier. The included 40-foot cable removes the need for you to spend extra for wiring, and the high-gain, low-noise amplifier goes a long way in keeping the signal strong.
All of its excellent features, coupled with the 45-day money-back guarantee and the one-year warranty, make it an outstanding all-around purchase.
Pros
Built-in motor
40-foot cable included
Extremely easy to install
Outstanding value for money
45-day money-back guarantee
Cons
Mounting pole not included
The GE Pro outdoor Yagi antenna picks up both VHF and UHF signals and can capture an uncompressed 1080p signal with ease. Considering the budget-friendly pricing, the antenna is super impressive.
But the GE Pro has a lot to offer other than the full HD picture and excellent sound quality. It has a reasonably long 80-mile range, and installing it outdoors can get it better TV signal reception.
The weather-resistant mounting bracket leaves you nothing to worry about in terms of durability, and the wide array of mounting options allow you to mount it as you please.
The company's excellent technical support team and the ease of mounting it offers make it worth every penny you spend on it.
Pros
Affordable
80-mile range
Several mounting options
Weather-resistant mounting bracket
Cons
Doesn't work well in hilly areas
Best TV Antennas for Rural Areas FAQs
Are All TV Antennas Weatherproof?
Outdoor antennas tend to be waterproof, but not indoor antennas. You must also gauge the durability of the antenna if you live in an area prone to heavy rains by reading reviews from other buyers, looking at the antenna's features, etc.
Are Directional Antennas Better than Omnidirectional Antennas?
Using a directional antenna generally offers better TV reception than an omnidirectional antenna due to the higher gain, but the former must generally be oriented in specific directions (toward broadcast towers) for optimal reception.
You don't need to point an omnidirectional antenna in a specific direction, as theoretically it gets signal from all directions.
Is There a Way to Boost My Antenna's Signal Strength?
Using an amplifier is a good way to boost signal strength, and it can be particularly effective in hilly areas or places where signal is weaker due to various reasons.
If you live in an area with hills or forests, you may consider getting an antenna with a built-in amplifier (i.e., a preamplifier). The alternative is to purchase an antenna without an amp first, test its reception, and attach an amp to it later if you're not satisfied.
Conclusion
The Five Star Yagi HD Antenna strikes the perfect balance between range, pricing, and power, making it our overall pick in the TV antenna market.
If in doubt, go with the Five Star TV Antenna: its features and benefits make it hard not to recommend.