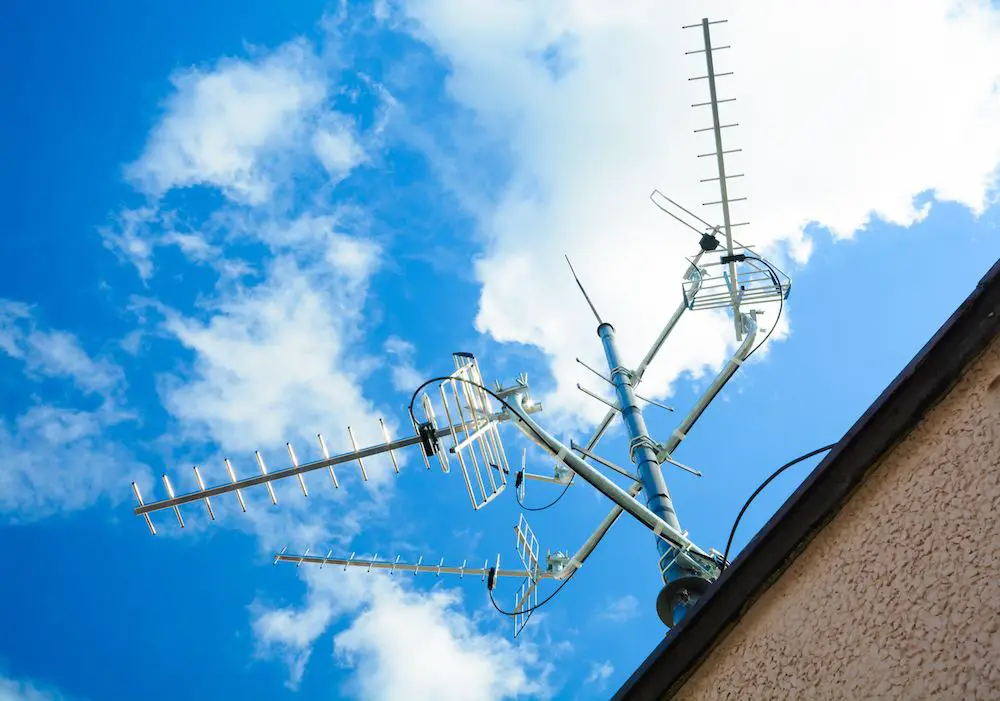 The Antennas Direct DB8e HDTV Antenna is an 8-element bowtie antenna that's listed for both indoors and outdoors use. The antenna is comprised of two 4-element panels that can be individual adjusted and separately oriented to different transmission towers, making the antenna multidirectional.
In terms of size, the antenna is one of the largest that I've reviewed, and offers a gain of 17.4 dBi (decibels relative to an isotropic antenna), which is among the highest offered on the consumer market. The antenna's size makes it appropriate for installation in attics or on rooftops.
The DB8e has a stated range of 70 miles and its bowtie design means it receives television signals on UHF frequencies only. For receiving high and low VHF frequencies, Antennas Direct offers the C2 VHF Reflector Kit. The kit is actually easy to attach to the antenna and I recommend it for making the antenna dual band.
What's Included?
The main strength of the Antennas Direct DB8e is its high antenna gain and UHF broadband reception, which is optimized for receiving weak signals. Although multidirectional, it's essential to correctly aim the antenna during installation. It comes with neither a mast nor a preamplifier, so you'll purchase these separately as needed.
Its large dimensions make it somewhat unwieldy for mounting on tall poles with motorized rotators. In situations where you want to receive from towers separated by more than 180 degrees, you might buy a second antenna.
Another strength of the DB8e is its weatherproof frame, sturdiness, and low wind profile. The plastic components are UV resistant, and its two external coaxial cable connectors are protected by rubber weather boots.
Both large reflector panels — basically the aluminium mesh comprising the antenna's surface area — focus the antenna's reception power for added range while minimizing multipath interference. The panels are attached to a central cross bar that features brackets allowing for individual tilting of both panels.
Frequency and Channel Types
The antenna provides broad-spectrum reception of UHF channels. It's also compatible with many HDTV and converter box types, and supports full HD 1080p picture quality.
If a television station near you broadcasts on a high or low VHF frequency (47-68 MHz, 174-216 MHz), you may consider purchasing Antenna Direct's VHF Retrofit Kit, which you can attach directly on the antenna.
Installing the Antennas Direct DB8e HDTV Antenna
Assembly is rather involved and requires tools, but isn't onerous for the average user.
The antenna uses three coaxial cables. Two of these (for attaching each of the two panels to the central signal combiner on the cross bar mount) are supplied with the antenna.
You must purchase the third cable (which runs from the antenna to your TV) separately. Alternatively, if your home is already wired for satellite TV, you can use this existing coaxial.
As previously mentioned, antenna assembly requires some tools, namely a screwdriver and an adjustable wrench for assembling the elements and attaching them to the central cross bar mount. For the average user, I'd estimate assembly time for the antenna to be around 20 minutes.
The antenna also comes with a heavy-duty U clamp, which allows you to attach the antenna to a mast of up to two inches in diameter. Due to the antenna's size, you should secure both it and the mast firmly to prevent swaying (which can affect reception) during wind gusts. The antenna itself is sturdily built and doesn't break or bend easily.
Antennas Direct recommends its own 30-inch universal J mount as a mast (a 40-inch J mount is also available).
If mounting on a mast make sure the mast is perfectly vertical, using a carpenter's level tool, or the level feature of software like the iPhone Measure app.
The antenna is line of sight, meaning you must properly orient it towards transmission towers. On tvfool.com, you can use the magnetic azimuth heading of the towers to aim the antenna with a compass or compass smartphone app.
Don't forget it's the side of the antenna with the black plastic elements (such as the combiner) — its front — which must aimed towards the towers.
With permission from Channel Master
Signal Reception
Once correctly set up, run a channel scan to "import" received channels into your TV or set-top box's memory.
The channels received will depend on your local reception conditions and it may be necessary to reposition the antenna to increase reception. You can also check out my article on boosting your TV antenna's signal for more information.
The antenna doesn't come with a preamplifier but you may need to install one separately in case reception is poor due to:
Tower distance (greater than 20 miles)
A long coaxial cable (longer than 50 feet)
Usage of a splitter to hook up more than two televisions
If you're installing a preamplifier, you should place it as close to the antenna as possible, if not directly on its mast. Keep in mind though, that a preamplifier isn't a magical solution to receiving all channels. It just increases the gain of the signal along the coaxial cable and may increase the number of channels by 10-20%.
Summary
If you're looking for an outdoor antenna and suspect your location may not be optimal for OTA reception (whether due to distance from towers, local obstructions such as trees or hills, etc.), you may want to look at the Antennas Direct DB8e HDTV Antenna.
Although it possesses large physical dimensions, this design contributes to its relatively high gain and reception power. The fact you can swivel and aim each of the two panels separately is a big plus, and may increase your stations somewhat more than what you may otherwise get with a rigidly designed frame.
I definitely like the sturdy, weatherproof design that provides stable reception even during winds and rain. Antennas Direct is a reputable company and the support materials on their website are among the most thorough I've seen from a manufacturer.
Specs
Design
| | |
| --- | --- |
| | |
| Coaxial cable length (feet) | |
| Dimensions in inches (H x W x L) | |
| | |