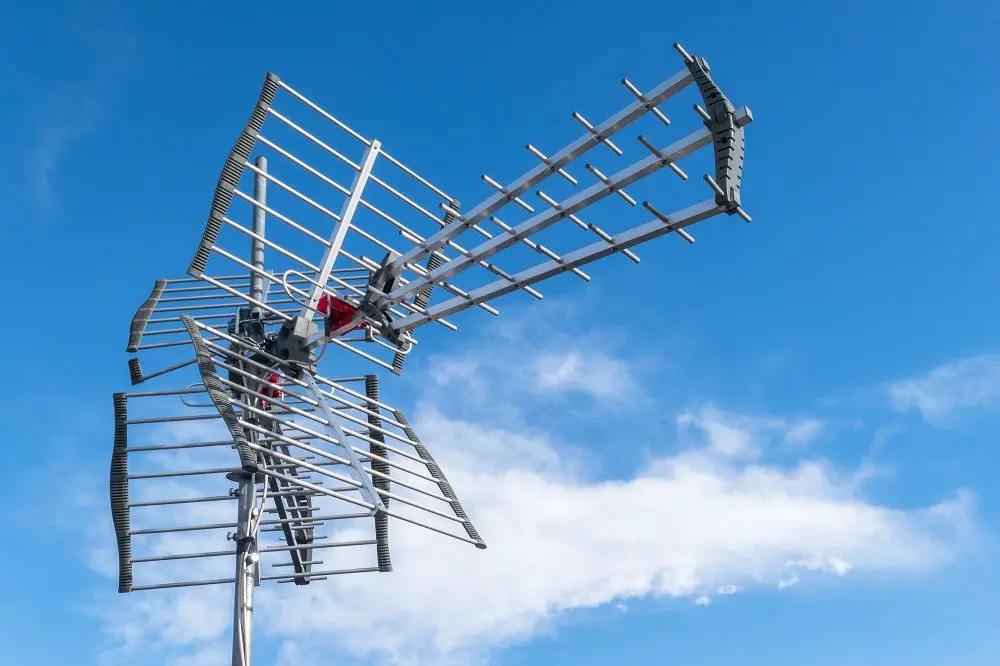 The 8DXB 8-Element Bowtie TV Antenna by Antennas Direct offers strong multidirectional reception over a broad range of UHF frequencies. It consists of four separate panels that you assemble and combine.
Each of these panels is like a separate antenna that you are in fact stacking together on the same mast, increasing the gain and reach of your over-the-air reception.
The antenna offers a maximum gain of 15.8 dB and is UHF only (some claim they get VHF but this is due more to circumstance than design).
The antenna's reflector panels decrease wind resistance and keep the antenna relatively lightweight. It has a maximum nominal range of 60 miles and comes with hardware for mounting on a mast.
Features
The 8DXB antenna features a wide, sturdy frame with waterproofed coaxial connections. As previously mentioned, it's basically several antennas combined together. In fact, if you look closely at the middle axis you'll see a signal combiner, which blends incoming signals and sends them along the coaxial.
The wide reflectors act to strengthen received signals and minimize multipath interference. Its characteristics make it suitable for getting over-the-air TV in areas of fringe reception.
A multidirectional antenna, the 8DXB should pick up surrounding towers within an arc of up to 180 degrees.
Because of the antenna's high gain it doesn't come with a preamplifier, as in many situations it won't be needed. You must purchase the antenna mast as well as the coaxial cable to connect to your TV or converter box.
Frequency and Channel Types
Supporting reception in full HD (1080p), the 8DXB antenna receives the entire broadcast spectrum of UHF frequencies (RF channels 14 to 51).
Before purchasing any antenna, you should consult TVFool.com to get the list of stations in your area and their RF channels (also known as broadcast, or real channels). Keep in mind this antenna gets UHF, but if there are any VHF stations in your area you can additionally get the VHF-1 Dipole Kit, which you can install directly on the antenna.
Installing the 8DXB Antenna
Overall you'll need some DIY skills to assemble and install the antenna, along with the mast and coaxial. However the skills needed are definitely not beyond the reach of the weekend hobbyist.
Assembly
You assemble the separate parts of the 8DXB using a Phillips screwdriver and adjustable wrench. The kit also comes with clamps for attaching the antenna to the mast that you purchase or acquire separately.
For the mast, you can buy a J-mast or use a fence pole available at any hardware store nearby.
Installation
The best place to install an antenna like this one is as high as possible, in order to surmount obstacles in the antenna's line of sight to surrounding stations.
Depending on where you set it up around the house, you may need to get the appropriate mount (for the wall, tripod, or chimney).
For orienting the antenna, you can use the magnetic azimuth values found on your signal report from TVFool.com. A compass can come in handy when aiming the antenna towards stations.
Some customers install a rotator to use with the 8DXB antenna but keep in mind it's multidirectional, meaning that although you need to point it in the general direction of towers, it has a wider reception angle then say, a Yagi-style antenna.
You should set up the antenna first and test its reception before making a decision to buy a rotator.
For the coaxial cable, I recommend RG6 like MediaBridge Ultra Series tri-shielded cable along with F-type connectors.
Some people also decide to install this antenna in their attic, with decent results. You should keep in mind though that attics (as all indoor installations generally) may introduce interference due to building materials, radiant barriers, etc.
Grounding the Antenna
After installing any antenna outdoors, you should ground both the antenna mast as well as the coaxial cable, connecting these both to your house ground via copper wires.
Signal Reception
This type of long-range outdoor antenna normally shouldn't need a preamplifier, but you may find one is required if for any reason you're not receiving the full list of channels you expect.
A preamplifier may be warranted in situations where:
The distance to the nearest towers is greater than 20 or 30 miles
The length of the coaxial cable you're using is longer than 50 feet
You're using a splitter to hook up more than two televisions to the antenna
Your installing the antenna in the attic
If amplification is needed, I recommend the Winegard LNA-200 Boost XT HDTV Preamplifier to go with this antenna.
The Verdict
This is a reliable, sturdy, and wind-resistant outdoor antenna that you should consider if you live outside of an urban environment, where signals tend to be somewhat weaker due to the distance to stations.
The 8DXB antenna is relatively simple to assemble and install, and its reception characteristics are ideal for picking up signals from towers that are relatively wide apart from each other on the horizon. This is a directional antenna however that must be aimed.
Lastly, Antennas Direct has reputation for quality antennas and offers an outstanding lifetime warranty on parts.
Specs
Design
| | |
| --- | --- |
| | |
| Coaxial cable length (feet) | |
| Dimensions in inches (H x W x L) | |
| | |