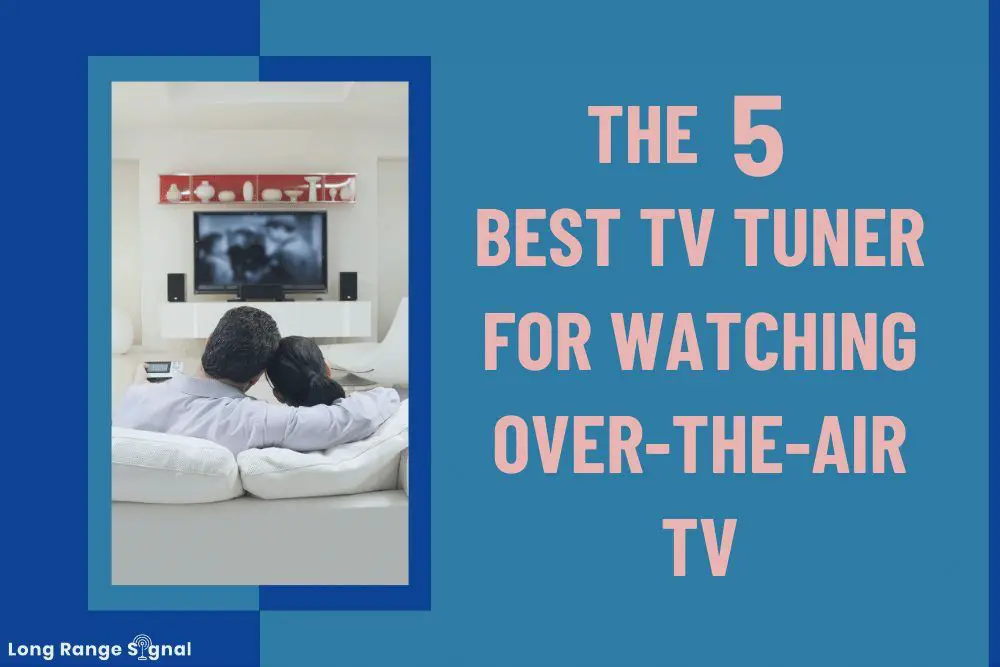 *As an Amazon Associate we may earn from qualifying purchases when you buy through links on our site.
Getting home from work and flipping through TV channels to relax—those were simpler times, no?
But now, cable TV is ridiculously expensive: $40 only gets you access to a small set of channels.
Not only do you have to pay a lot more for cable, if you want to catch the most popular shows, you also need a subscription to services like Amazon Prime Video.
However, if you only use your TV to unwind and catch up on news, getting a TV tuner is the right way to go.
You only pay for it once, and you can use it with any TV. No need to pay ridiculous fees every month for channels that you barely get to watch.
But the market is flooded with tons of seemingly perfect options, making finding the right product very challenging.
So, here's a shortlist of the best TV tuners I made to make things easier for you.
The Best TV Tuner: Our Top Picks
#1 AVerMedia AVerTV Volar Hybrid Q
Reliable, flexible, and affordable TV tuners are hard to find. However, AVerMedia's AVerTV Volar Hybrid Q tuner strikes a good balance between the three characteristics.
You can pick it up for cheap and start watching over-the-air (OTA) channels via ATSC, ClearQAM, and Analog TV from your laptop or PC.
Additionally, you can also listen to OTA FM radio stations using the tuner. 
It comes with an omnidirectional antenna that enables you to watch your favorite shows anywhere in your home comfortably. You won't have to worry about positioning the antenna just right to get a signal.
It works on computers that run Windows 10, 8.1, and 7. While it doesn't require much processing power and will run on virtually any computer, using a computer with 4GB of RAM is recommended.
You can also plug it into your Smart TV or Android box, and install the "Live Channels" application from the Google Play store and watch live TV channels for free.
However, you must ensure that your TV or Android box is updated to Android 7.0 or above, else the tuner will not work.
One of the best things about it is that it comes with DVR support, which means you can access recordings of your favorite shows at any time.
Features like the Picture-In-Picture mode, smart channel grouping, time shift, scheduled recording, closed captions, and electronic program guide make usage a lot more convenient.
Pros
Feature rich
Will work with virtually any PC
Also works on Android boxes/TVs
Excellent value for money
Cons
User interface could be more "aesthetically pleasing"
#2 Hauppauge 1657 WinTV-dualHD
The Hauppauge 1657 is probably the most flexible TV tuner you'll find these days. You can connect it to your Windows laptop or PC and enjoy your favorite TV shows via the well-designed user interface.
It comes with a portable antenna that enables the tuner to pick up signals from TV transmitters 10 miles away.
While the antenna it comes with isn't the most powerful, it's range is adequate for many households located in municipalities.
You can install the WinTV v8 application by the company on your computer free of charge if you buy the tuner. The box includes a credit-card-sized remote control, which enables you to navigate through channels with ease.
But what I like about it most is that it comes with not one, but two TV tuners built-in.
The second tuner enables you to record a show on one channel while watching a different show on another channel.
You can also watch two shows simultaneously on your PC on two separate windows. The picture-in-picture mode enables you to set the less important show on the sidelines.
It's also compatible with Plex, enabling you to bring free OTA channels to your Plex Media Server. 
It also supports Linux, so if you use Linux and not Windows, this is the right tuner to go for. 
Furthermore, the tuner is compatible with Android TVs, too. You can plug it right into your Smart TV and enjoy the free OTA channels.
Pros
Compatible with Windows, Plex, Linux, and Android
Reasonable price
WinTV v8 is free to install
Cons
You'll need to buy a more powerful antenna if TV transmitters are sparse in your area
#3 Hauppauge Digital TV Tuner for Xbox One
If you have an Xbox One connected to your TV already, picking up this Hauppauge tuner is the easiest way to watch live TV channels.
This Hauppauge tuner offers some advantages that a lot of other tuners don't. 
You can pause live TV and continue watching it after a few minutes or later on in the day. For example, you can pause a channel and get back to it after your popcorn is ready for the movie.
Additionally, you can stream live TV channels to other devices around your home using the Xbox SmartGlass app.
The One Guide integration enables you to browse through local TV listings effortlessly. You'll be able to find when your favorite show is going to air with ease.
But there's more.
You can also use the USB TV tuner on your Windows computer. It works on Windows 10, 8.1, and 7, but it will also work on PCs running Vista and XP.
You can install the WinTV v8 application on your computer free of charge and enjoy TV channels via the slick interface.
Overall, its one of the best TV tuners money can buy. It's not the most flexible option in the market, but it does make watching TV a lot more convenient.
Pros
Allows you to pause live TV 
One Guide integration
Works with rabbit ear antennas
Enables you to rewind up to 30 minutes of live TV
Cons
Slightly expensive for what's offered
#4 Mediasonic HW130STB
If you're looking for a pocket-friendly option that you can plug into your TV and save money on cable every month, the Mediasonic HW130STB won't disappoint.
The HW130STB is also the right tuner if you have a projector or are looking for a tuner to plug into your monitor.
The interface is intuitive and gives you options like for example setting favorite channels for easy access, parental controls, and more.
Features like closed caption, auto-tuning, and timing start up and shut down make its usage more convenient.
You can use the set-top tuner to record movies and shows in real-time. There's also an option to set times to begin recording automatically, which enables you to enjoy your shows when you have the time.
It comes with a USB port, and if you plug in an external hard disk to the tuner, you'll be able to watch videos, listen to music, and look at the images that are on it.
The remote that the tuner comes with fits in your hand perfectly and makes navigating through the different channels a breeze.
For something that's priced a little more than a hearty meal, it offers excellent value.
If you're on a low budget and don't need a flexible tuner that works with computers and laptops, you can't go wrong with the Mediasonic HW130STB.
Pros
Affordable
Intuitive interface
Comes with USB interface
Easy to record shows
Dolby Audio output
#5 iView-3500STBII
The iView-3500SSTBII is among the cheapest tuners on this list, but it offers a lot of value for a super affordable tuner.
The robust and handy remote makes navigating through the electronic program guide and finding the most interesting shows to watch super easy.
The auto-tuning feature saves you from a lot of hassle—you won't need to tune the device manually just to find what channels are available to you.
Additionally, it comes with a signal quality indicator, so there will be no guesswork if you need to figure out if there are better spots you could place your antenna.
The iView tuner also doesn't come with an antenna. However, most set-top tuners don't come with an antenna, so I can't complain. 
If you have kids, the parental control feature will come in super handy. It also comes with the close captioning feature, which is always useful.
Like the Mediasonic tuner, the iView tuner also has a USB port, enabling you to record movies and TV shows for later viewing.
If you don't mind missing out on the Dolby Audio feature that the Mediasonic tuner has, you can save a few dollars and get this iView tuner instead.
Pros
Cheapest tuner on the list
Comes with Electronic Program Guide
QAM compatible
Easy to record shows
Cons
No Dolby Audio output like Mediasonic HW130STB
Final Thoughts
And with that, you're well acquainted with some of the best TV tuners on the market.
But my top pick is definitely the Hauppauge 1657 WinTV-dualHD tuner—I can unreservedly recommend it.
It has an excellent set of features, comes in at a reasonable price, and the box includes a portable antenna.
You'll likely have a Smart TV already—you can just plug it in and enjoy free live TV channels. It also works with computers, and since it's small, you can carry it around with you with ease.