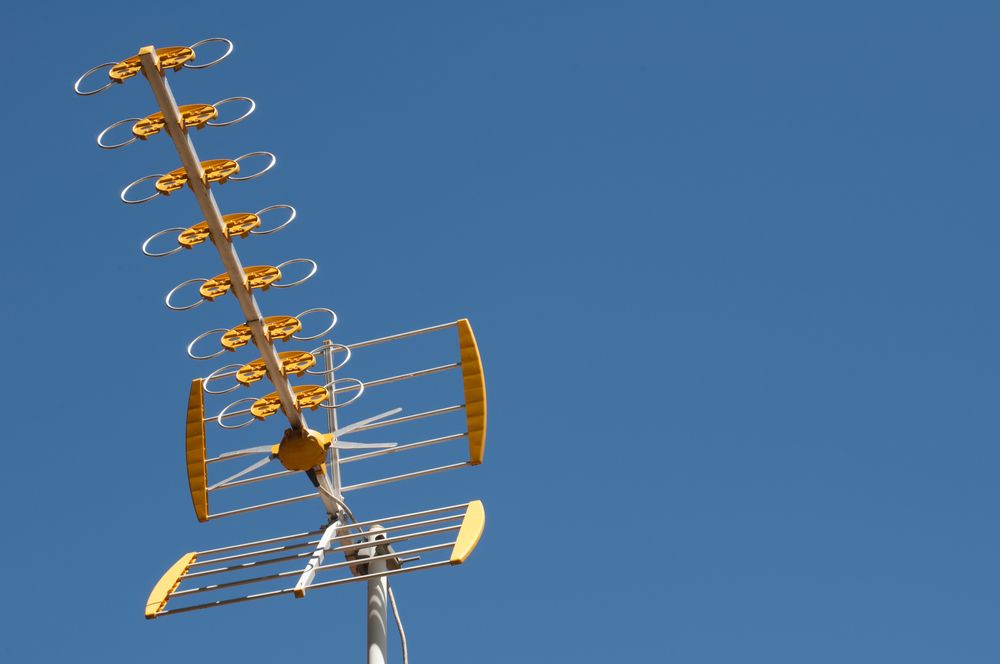 *As an Amazon Associate we may earn from qualifying purchases when you buy through links on our site.
Even though there's an abundance of streaming services like Netflix, Hulu, Crackle, and others, many cord cutters still enjoy having access to over-the-air TV channels.
For that, however, they need to install the right TV antenna in their homes.
You might be wondering why OTA TV is still popular because the other online options offer you so much freedom as far as content choices go.
One of the main reasons for this popularity is the fact that users can watch their favorite news and sports channels for free.
And the picture quality is generally better than with cable TV due to the uncompressed picture and sound you get with an antenna.
Statistics show that about 78% of all millennials still maintain some access to traditional TV channels for this very reason.
You can also get access to OTA TV programming by installing a traditional TV antenna. One of the first things to consider during installation is the antenna mount.
What is a TV Antenna Mount?
No, a TV antenna mount is not a fancy type of TV antenna. Rather, it's a tool that allows you to securely and effectively mount your TV antenna on a variety of surfaces, including walls, your roof, and even on your chimney.
It's the thing that the TV antenna pole or even the antenna itself attaches to in this process (as shown by the excellent Winegard DS-2000 mount below).
There are very many different types of antenna mounts, but they all serve the same purpose—keeping your TV antenna fixed and stable for optimal reception of signal.
How to Safely Install Your Antenna Mount
The first thing you need to know is that every TV antenna installation project is different for obvious reasons.
For starters, the location of the installation project will differ from homeowner to homeowner. Some will want to have the antenna installed on their roof, while others will want it on the side of the wall.
Secondly, the type of TV antenna mount purchased will differ from user to user. Although, when it comes to TV antenna mounts, the installation process is often quite straightforward and easy.
That being said, the steps reviewed here are more or less the universally common steps you'll need to install most antenna mounts.
However, these steps are specifically outlined for the installation of the Vansky Adjustable Attic Antenna Mount below (the type is known as a J-pole mount and is the most common type).
That being said, here are simple installation instructions that go with this particular antenna mount:
Find the right mounting location: Once you have bought the mount and all the other components of the antenna that you need, you should scout your entire house to find the best mounting location. The good thing about this particular mount is that it can be installed almost on any flat surface.
Push the mast through the mounting base: Take the mast that comes with the mount and place it through the mounting base of this J-pole.
Mark the pilot holes: Remember how we said this antenna is best mounted on a flat surface? Here is why. Level up the mounting base and use a pencil or a marker to mark the pilot holes. This will show you exactly where to drill.
Drill the holes: You need to drill holes in these marked places. Your drill bit needs to be about half the diameter of the mount's bolts.
Line up the base to the holes: Once you are done drilling all the necessary holes, simply line up the mounting base of your J-pole with each of the drilled holes.
Drill the lag bolts: Holding the mounting base in place, drill the lag bolts, and then secure them into the pilot holes.
It's that simple. You have essentially installed an antenna mount on your property. The beauty of this particular mount is that it allows you to easily adjust the direction of your mast.
All you have to do is loosen the two lateral nuts that can be found on the base of the J-pole.
Safety Matters to Consider when Installing a TV Antenna Mount
Now that you have an idea of how to install a TV antenna mount, it's time to take a look at the hazards that come with this exercise.
As mentioned, every installation process is different, but the hazards tend to be the same.
That being said, here are a few safety precautions you should take to safely install a TV antenna mount:
Mind the Weather
This has to be the very first thing you consider. When installing TV antennas, most homeowners go for the high ground. This is mostly thanks to the idea that the higher your antenna, the stronger your signal (all things being equal).
As such, you'll find that your best installation surface will be somewhere on your roof.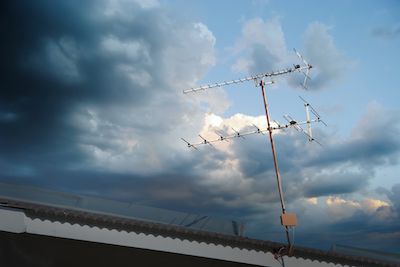 The weather plays a very crucial role in safety while installing your antenna. Avoid undertaking this project when it's raining because your roof will be too slick to be safe.
You should also avoid doing this when it's too windy out because that will destabilize everything, including your footing.
Be Wary of Overhanging Power Lines
Whenever you're on the roof, you might run into overhanging power lines. There are two very good reasons why you should avoid these or any other overhanging cables.
Power lines are inherently dangerous and present an electrocution hazard. Secondly, these overhanging power lines might also cause interference with your signal reception.
Survey the Work Area Beforehand
If you're going to be working on the roof or even on your chimney, you should ensure the exact location is sturdy enough to take your weight.
Also, the fact that you'll be drilling into the roof means that you have to ensure not to hit anything structurally vital or electrical with your drill bit.
You should take extra care to ensure you don't go walking on damaged or loose shingles that could cause a fall or further damage to the roof.
Plan the Job Properly
Part of the planning has to do with checking the weather forecast beforehand. Other than that, try to gather all the necessary tools within reach.
After all, there's nothing like suddenly discovering you need to run down to the hardware store for a different tool, in the middle of an installation.
Be sure to also reacquaint yourself with the power tools you'll be using, such as your drill, to avoid any surprises while you're up there.
Other Hazards to Avoid
Apart from more common hazards, there are other potentially harmful situations and conditions that could present you with a dangerous working environment. These include:
Overhanging tree branches: If you have to prune your trees for this reason, then do so before you try installing the antenna mount. Don't try to break overhanging branches while you're up there. You don't know how strong they are or the whiplash effect that the breakage will create.
Hornets and wasp nests: The best cause of action here is to call an exterminator. Trying to get rid of these yourself might result in stings that could lead to medical complications.
Other than this, if you're ready to install the TV antenna mount, you can do so safely when you consider all this. You should also be sure to have a fully stocked first aid kit just in case.
Advantages of Installing an Antenna Mount
So, why should you go through all this trouble to learn how to safely install a TV antenna mount? Because the right mount does have a few notable advantages:
Easy installation: A mount is normally straightforward to install, and comes with all the parts (plastic anchors and screws) needed to install it.
Reversible design: Both ends of some mounts (like a J-pole) are usable, thus giving you more options for attaching your antenna.
Adjustable direction: This is one of the best reasons why you need to install an antenna mount—adjustable direction. Many types of mounts can be rotated at a certain angle to help you search for the best position for reliable signal reception.
These are some of the steps you should to take to safely install an antenna mount.
If you've been looking to enjoy free, over-the-air TV, then the place to start before installing a TV antenna is to consider which mount to use.