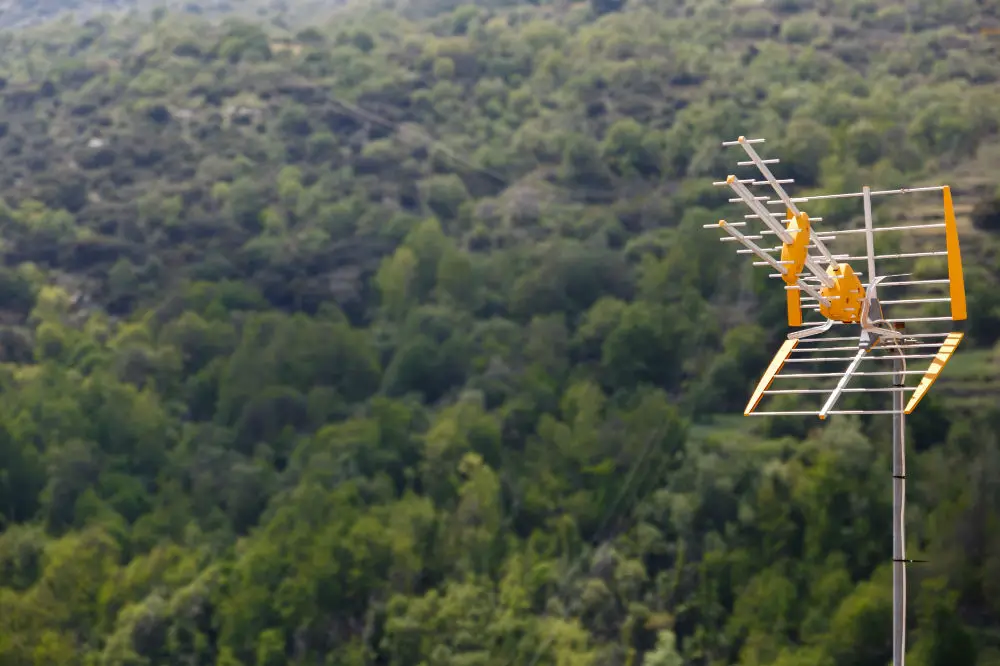 Some antennas come packed with literally everything you need to set up and receive your favorite channels.
The Vansky Outdoor Amplified HD Antenna is one of those products. It includes a preamplifier, a 32.8 foot coaxial cable, and a motorized rotator that lets you rotate the antenna 360 degrees, via remote control.
It also includes a mounting clamp for mounting the antenna in different contexts (e.g., on the side of your house or fixed on top of a pole), as well as a built-in splitter for connecting two television sets.
Features

This is a long-range antenna with a range of up to 150 miles.
This means, given ideal environmental and local conditions (e.g., nothing standing between the antenna's line of sight to broadcast transmitters, like hills or a tall building) the antenna should receive signals from towers up to 150 miles away.
As already mentioned, it has a built-in rotor that allows you to change channels on your TV by changing the antenna's orientation.
While this doesn't make the antenna "omnidirectional," it does allow you to effortlessly adjust the antenna's direction from the comfort of your couch.
This is especially useful when your local transmission towers are wide apart (i.e., greater than 90 degrees), and saves you the trouble of, say, buying and installing a second unidirectional antenna to point towards the other towers.
The rotator doesn't require any extra cables as it's powered by the antenna's coaxial cable, which is connected with a control box (this cable carries both the television signal and electric current).
Channel and Frequency Types
The Vansky Outdoor Amplified HD Antenna receives both UHF and high and low VHF television signals.
If you're experiencing poor reception and you're at a close distance to transmission towers (e.g., less than 20 miles away) you may consider unplugging the control box (which powers the preamplifier) and verify channel reception. Sometimes amplification can disrupt strong signals from nearby towers.
The antenna can receive pictures up to full HD (1080p); to get this you'll need an HD television or an external ATSC tuner or converter box (if your TV isn't HD ready).
Installation
The Vansky Outdoor Amplified HD Antenna is relatively simple to set up; you'll just need a screwdriver for the assembly. The manufacturer recommends you mount the antenna at least 30 feet off the ground for optimal reception.
Although it's primarily for outdoors, some customers have reportedly installed it in the attic with little or no reception issues.
For assembly, you'll separately insert the UHF, VHF, and reflector elements by hand (tightening them into place with a screwdriver), as well as attach the motorized rotor and coaxial cable.
The antenna comes with an AC-powered control box with outputs for connecting two separate televisions (the built-in splitter mentioned earlier). Some customers have reportedly connected more than two televisions by attaching a separately purchased splitter to one of the TV outputs on the control box.
The control box also powers both the built-in preamplifier and rotor.
You run the supplied coaxial cable from the box to your television or set-top box. Some customers have reportedly found the provided coaxial to be of somewhat low quality, and have bought their own RG6 coaxial cable.
The antenna also comes with a mounting bracket allowing you to place it on top of a pole and secure it with hand-tightened screws. The pole isn't included but Vansky recommends a J mount if needed.
Whenever you mount an antenna outdoors, you should (in principle) ground the antenna. Vansky claims however that no grounding is necessary for this antenna, as the coaxial cable's woven shielding provides adequate protection.
Conclusion
What I like about the 150-mile range Vansky Outdoor Amplified HD Antenna is the fact it comes with just about everything you need, including a motorized rotator that allows you to adjust the antenna's orientation via remote control.
The coax cable between the antenna and control box is also lightning protected, as the coaxial is shielded against power surges.
All this amounts to an easy assembly and installation, with minimal time spent on experimenting and ordering new parts. Customers have reportedly installed this in many places in their homes, including on roofs and in attics.
 Vansky stands by its products, offering a 45-day money-back guarantee, and one-year warranty.
Specs
Design
| | |
| --- | --- |
| | |
| Coaxial cable length (feet) | |
| Dimensions in inches (H x W x L) | |
| | |