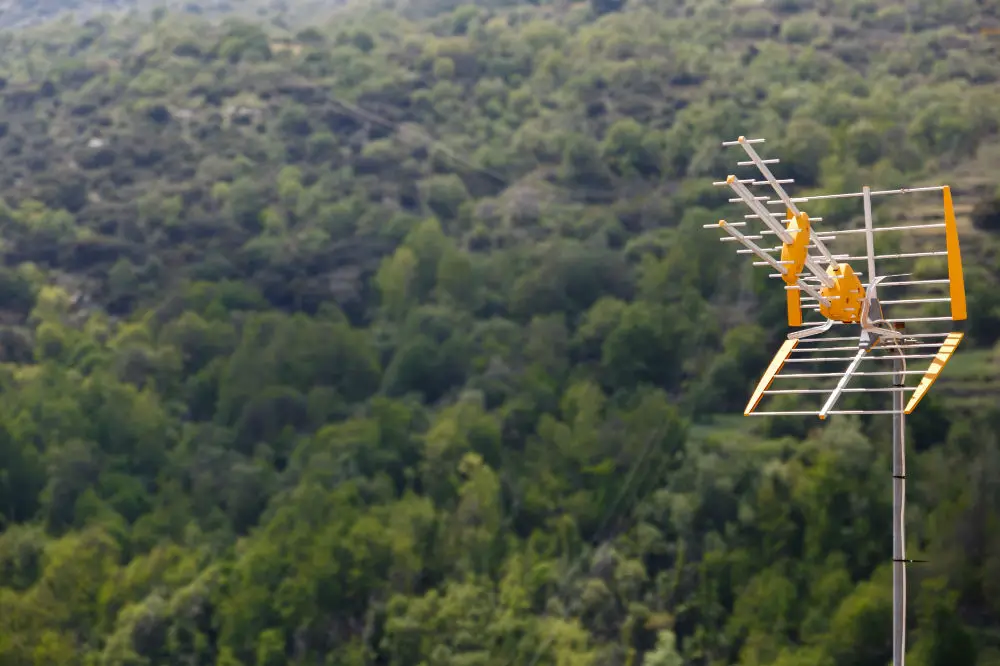 *As an Amazon Associate we may earn from qualifying purchases when you buy through links on our site.
The Vansky Outdoor HDTV Antenna is a popular outdoor antenna that offers advantages for those who just want to get TV without spending too much time with setup.
With this antenna you're getting a preamplifier, a 30-foot coaxial cable, and a motorized rotator with which you can swivel the antenna around full circle via remote control.
It also includes a mounting clamp for setting it up in different contexts (e.g., on the side of your house or fixed atop a pole). You're also getting a splitter for connecting two television sets, built into the control box.
If you're looking to get your OTA television set up as quickly as possible and with the least amount of hassle, then I'd take a look at this antenna.
NOTE: This is a longer-range antenna, and as it comes amplified, don't purchase it if you live less than 10-15 miles from broadcast towers.
Features
Nominal Range
First let's talk first about something called "nominal range." You're always going to see this on the side of the box. Some antenna manufacturers are honest about these ranges; meaning, they've actually tested the antenna under certain (albeit ideal, as in few obstructions or interference) conditions.
For other antennas, you'll see much longer ranges and if you have any knowledge of antennas you might be scratching your head.
It doesn't mean these antennas are bad in any way, or that you shouldn't use them. It just means the ranges have been inflated somewhat in relation to your average household antenna installation.
For example, the stated range of this antenna is 150 miles but I doubt most households will get this. Perhaps the company tested this on top of a very tall pole that maximized reception, but most people don't do this.
I talk more about this issue in an article about choosing the right HDTV antenna, but suffice it to say that when I see such figures, I usually halve them to get a max range (so you might expect a max range of 75 miles for this antenna).
And here I really mean "maximum range": in the end, your local conditions will determine both signal strength and your own reception. Unfortunately the laws of physics are working here and no magic antenna exists to really get more than around 80 miles.
Rotator
I already mentioned the Vansky Amplified HD antenna comes with a built-in rotor, which allows you to change channels on your TV by changing the antenna's orientation.
While this doesn't make the antenna fully "omnidirectional," it does allow you to adjust the antenna's direction from the comfort of your couch.
This feature is especially useful when the transmission towers you're trying to get are effectively wide apart from each other, perhaps on opposite sides of your home.
You can see where stations are in relation to you by checking out the radar plot on your RabbitEars.info signal report.
The rotator doesn't require extra cables as it's powered by the antenna's coaxial cable, which attaches to a control box (this cable carries both TV signals and electric current).
Channel and Frequency Types
The Vansky receives both UHF and high and low VHF television signals.
To explain RF channels, these radio frequency channels are not the normal channels we think of, but are allocations of frequency used by stations for broadcast.
Each RF channel contains one or more virtual channels (the ones you see on your TV screen).
Installation
Assembling the Antenna
The antenna is relatively simple to set up; you'll just need a screwdriver for the assembly.
I'd recommend you mount the antenna at least 10-20 feet off the ground for best reception — to get the most channels with the least line-of-site obstructions (in your situation).
Although it's primarily for outdoors, some customers have reportedly installed it in their attics with little or no reception issues.
For assembly, you'll separately insert the UHF, VHF, and reflector elements by hand (tightening them into place with a screwdriver), as well as attach the motorized rotor and coaxial cable.
Control Box
The antenna comes with an AC-powered control box with outputs for connecting two separate televisions (the built-in splitter mentioned earlier).
You can connect more than two televisions by attaching a separately purchased splitter to one of the TV outputs on the control box.
The control box also powers both the built-in preamplifier and rotor.
If you're experiencing poor reception and you're at a close distance to transmission towers (e.g., less than 10 miles away) unplug the control box (which powers the preamplifier in the antenna, but also the rotor unfortunately) and check how many channels you get.
Sometimes amplification can introduce additional noise to already-strong signals from nearby towers.
Coaxial Cable and Mounting
You run the supplied coaxial cable from the control box (the box with the big red button) to your television or set-top box.
The antenna also comes with a mounting bracket allowing you to place it on top of a pole and secure it with hand-tightened screws.
The pole isn't included but Vansky recommends a J mount if needed.
Pros
Weather resistant with waterproof parts
Includes preamplifier, coaxial cable, and built-in splitter for two TVs
Can rotate antenna 360 degrees with remote control
Cons
Must purchase extra coaxial cable if length of supplied cable isn't sufficient
Conclusion
What I like about the Vansky antenna is the fact it comes with just about everything you need, including a motorized rotator that allows you to adjust the antenna's orientation via remote control.
The coax cable between the antenna and control box is also lightning protected, as the coaxial is shielded against power surges.
All this amounts to an easy assembly and installation, with minimal time spent on experimenting and ordering new parts. Customers have reportedly installed this in many places in their homes, including on roofs and in attics.
 Vansky stands by its products, offering a 45-day money-back guarantee, and one-year warranty.
NOTE: For a comparable antenna design that also comes with a rotator and preamplifier, you might want to check out the Pingbingding HDTV Amplified Digital Outdoor antenna.
Vansky 150-Mile Outdoor Antenna Manual
You can find additional technical details about the Vansky antenna in the installation manual
Specs
Design
| | |
| --- | --- |
| Direction | Unidirectional |
| Coaxial cable length (feet) | 32.8 |
| Dimensions in inches (H x W x L) | 10 x 6 x 1.6 |
| Preamplifier |   |
| Our rating | 4.5 / 5 |
Reception
| | |
| --- | --- |
| Antenna range (miles) | 150 (likelier 75 miles tops) |
| Channels | Full HD (1080p) |
| Frequencies | UHF/VHF |
Help & Support
| | |
| --- | --- |
| Warranty | 1 year |
| Email support |   |
| Phone support |   |