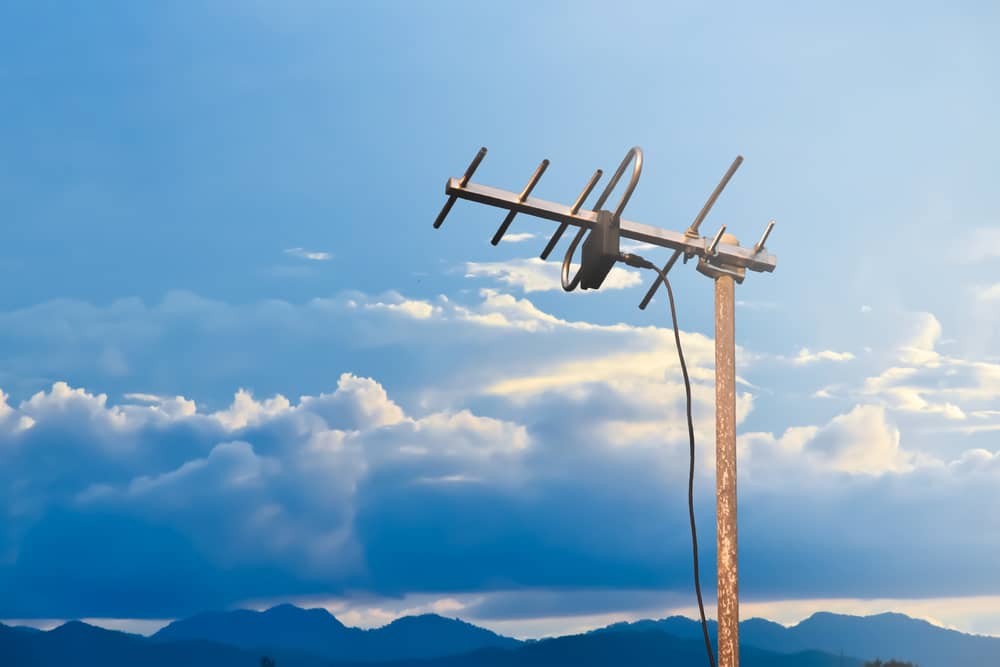 *As an Amazon Associate we may earn from qualifying purchases when you buy through links on our site.
If you're looking for a signal receiver with all-around qualities, then I recommend you have a look at the RCA ANT751R.
A sturdy outdoor antenna offering easy assembly and setup, this long-range receptor of Yagi design combines UHF and VHF dipoles with a signal reflector to boost antenna gain.
Yagi antennas are unidirectional and offer strong reception but need to be oriented towards signal sources.
This antenna will receive signals of low strength and filters nearly all noise coming from the opposite direction, providing extra focus and antenna gain.
Features and Benefits
This antenna is made of aluminum and stainless steel parts that are weatherproof and offer durability.
In fact, this antenna offers ease of setup and "just works" after installation.
Although intended as an outdoor antenna, many people successfully install and use it in their attic.
As with many long-range Yagi antennas, this antenna doesn't include a built-in preamplifier. I recommend the Winegard LNA-200 if:
You're located farther than 20 miles away from transmission towers
You're using a long coaxial cable (greater than 50 feet)
You intend to purchase a splitter to run multiple TVs from the antenna
You've set up the antenna in an indoor space such as the attic
If you install a preamp, make sure to install it as close as possible to the antenna (and even on the mast if you can) in order to enhance the signal along the length of your coaxial cable.
You should also ground the antenna, either via a coaxial grounding block or a lightning arrester.
Grounding doesn't only concern safety and the health of your equipment; it might also be mandated by local building codes in your area.
Channel and Frequency Types
The RCA ANT751R receives both UHF and high and low VHF.
Why is this important? TV stations are allocated VHF and UHF spectrum in the form of RF or real broadcast channels.
Within an RF channel is one or more virtual channels that contain television programming.
Before getting any antenna, I highly recommend having a look at your signal report from TVFool.com.
This will tell you on which RF channels local stations are broadcasting so that you can make sure the antenna you're buying can actually receive on those frequencies.
This RCA antenna supports a picture quality of up to full HD (1080i).
Assembly and Installation
Antenna Assembly
Here's what I mean about "ease of installation."
The antenna comes with preassembled parts; after unpacking it from the shipment box, you unfold the various elements until they lock into place.
You attach the transformer (300 to 75 Ohm) to the antenna using hex nuts and washers and set up the mast and clamp.
You'll need to purchase RG6 coaxial cable for the ANT 751R antenna separately, however, in order to connect it with your TV or to any other device such as a preamplifier or set-top box.
For this, I recommend MediaBridge Ultra Series tri-shielded cable.
Mounting in Place
The package includes a J-mount with U-clamps for attaching the antenna to a pole. The manufacturer's website offers FAQ and troubleshooting information for setting up the antenna.
During installation, make sure to point the antenna in the direction of towers — using a compass and the magnetic azimuth heading of your signal report from a site like RabbitEars.info.
You should also use a level (either a carpenter's level tool or the level feature of a smartphone app like Measure on iPhone) on the vertical portion of the J mount to ensure it's truly perpendicular with the ground.
If the signal report indicates that surrounding towers are separated by an angle greater than 90 degrees, then to receive these stations you might consider either:
Using a different type of antenna than this one (e.g., multi- or omnidirectional), or
Purchasing an additional ANT 751R antenna and mounting both on the same pole. If you do this, I'd recommend having 2-4 feet of vertical separation between the antennas to minimize mutual interference
Signal Reception
The antenna has an advertised range of 70 miles. As with most Yagi antennas, a transformer is necessary for reducing the impedance between the antenna's elements and the coaxial cable.
The supplied transformer doesn't use a power outlet (in other words, it's passive); you just attach it in the correct place.
Pros
Sturdy and weather-resistant design
Ease of installation with preassembled parts
Detailed troubleshooting information on the manufacturer's website
Cons
Unidirectional antenna with focused reception, but if aiming for multiple towers then these should be less than 90 degrees apart
Conclusion
What I especially like about this best-selling antenna is that it offers strong reception and is easy to set up and get working.
Its reception characteristics are also known to overcome typical signal distortion and interference in attic spaces, so you can very well mount this one indoors.
It's relatively compact, and at only 2 pounds' weight, it can be feasibly installed on a wall or on the side of the house (using the supplied J-mount), or on another type of pole on the roof.
The metal frame of the antenna is actually pretty durable and can withstand a wide range of climates and weather.
RCA ANT751R Manual
In case you're interested in more technical specs about this antenna, you can have a look at the installation manual.
Specs
Design
| | |
| --- | --- |
| Direction | Unidirectional |
| Coaxial cable length (feet) | |
| Dimensions in inches (H x W x L) | 34.5 x 33.1 x 24.2 |
| Preamplifier | |
| Our rating | 4.5 / 5 |
Reception
| | |
| --- | --- |
| Antenna range (miles) | 70 |
| Channels | Full HD (1080i) |
| Frequencies | UHF/VHF |
Help & Support
| | |
| --- | --- |
| Warranty | 1 year |
| Email support | |
| Phone support | |