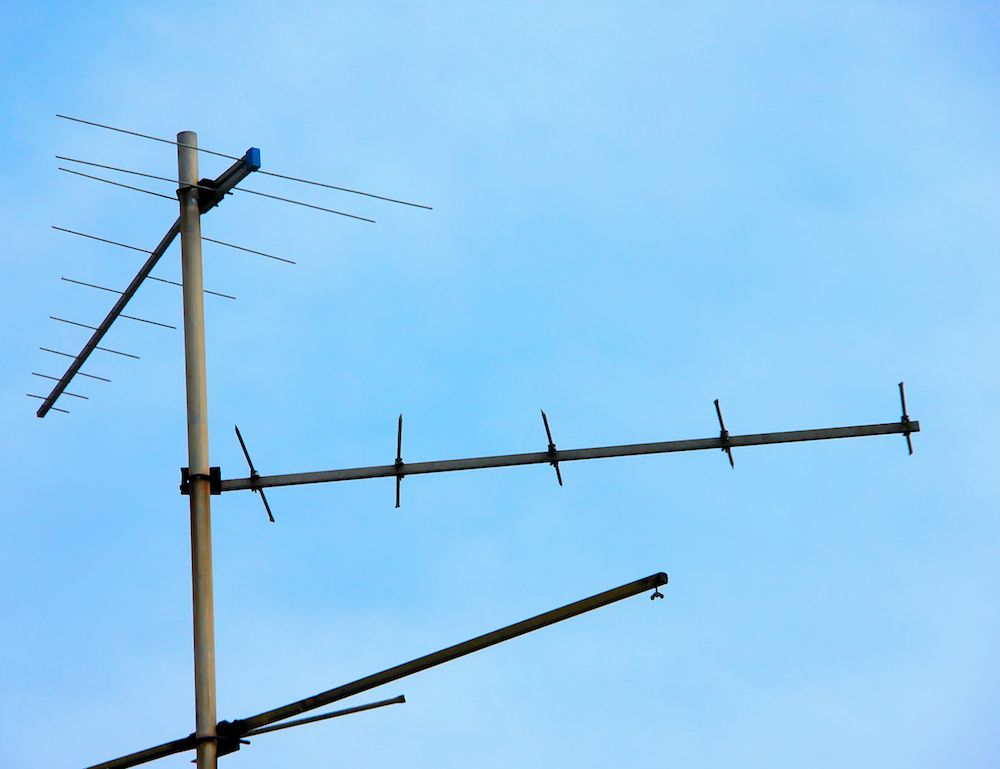 The popular Channel Master CM-4228HD Antenna, otherwise known as the Channel Master EXTREMEtenna, is an 8-bay, multidirectional antenna with an 80-mile reception range. It has a reputation for being one of the best UHF receivers you can find.
The product's been on the market for many years, and has retained its popularity among cord cutters for its durability, high gain, and (for many customers at least) good reception of high VHF frequencies.
It sports a lightweight, aluminium design that's easy to set up, and is recommended for fringe reception areas with line-of-sight obstacles such as trees and hills.
Channel Master is known for the overall quality of its products, and I find its website offers very good supporting documentation and training videos, especially in comparison with other manufacturers.
Features
The CM-4228HD is a bowtie antenna, which typically offers outstanding reception of UHF frequencies. This antenna features eight bays and offers a stated gain of 5-12 dB, the highest for this antenna type by Channel Master.
As a multidirectional antenna, it can theoretically receive signals from broadcast towers that are up to 180 degrees apart. I say "theoretically," since your reception characteristics may vary due to local conditions.
If for any reason you can't pick up multiple towers at less than 180 degrees apart, or want to receive from stations in a 360 degree radius, you may consider purchasing an additional CM-4228HD to stack them.
When combining UHF antennas on the same mast, don't forget to leave 2-4 feet of separation between them, and use a signal combiner like the Channel Plus 2532 Two-Way Splitter Combiner on the coaxials of both antennas.
As is typical of long-range, directional antennas, the CM-4228HD isn't amplified, so you may consider purchasing a preamplifier separately if you're not setting it up on the roof, or if your coaxial cable is longer than 50 feet. I recommend the Channel Master CM-7777 Titan 2 preamplifier for the job.
The antenna comes with a built-in 75-Ohm PC balun for reducing impedance between the antenna's elements and the coaxial cable. Some customers have commented on the balun box's fragile design.
You'll need to purchase an RG6 coaxial cable for use with this antenna, as the box packaging doesn't include one.
Frequency and Channel Types
As previously mentioned, the antenna is optimized for UHF (radio frequency channels 14-69) reception. But it's also advertised for high VHF (radio frequency channels 7-15). Some customers have been able to pick up VHF channels with this antenna (due to their local reception characteristics), while others haven't.
The CM-4228HD supports full HD 1080p picture quality.
Assembly and Installation
The antenna comes preassembled, meaning that you simply fold the various elements out and tighten them into place with the supplied wing nuts.
It's rather large (a few feet long in height and width) but is lightweight for its size (10 pounds) and is optimal for mounting on the roof or on the side of the house. Its size apparently doesn't prevent people from installing it in the attic, where adequate reception is generally reported.
It comes with two U clamps allowing you to attach it to a mast of up to two inches diameter. You should ensure the antenna is firmly fixed in place in case winds shake it, though many customers have reported a low wind profile generally. If using a pole, you should consider attaching it with guy wires if the pole is longer than 12 feet.
Despite being a multidirectional antenna covering up to 180 degrees of separation between towers, it's nevertheless line of sight and you should carefully aim its front (the side with the X-shaped elements) towards transmission towers. If trying to pick up from two towers, you should try aiming it in between the towers.
Armed with a local signal report from tvfool.com, you can use the magnetic azimuth heading of the towers to aim the antenna with a compass or compass smartphone app.
Lastly, if installing the antenna outdoors, you should ground it using either a coaxial grounding block or lightning arrester. See our guide on grounding antennas for more information.
With permission from Antennas Direct
Weatherproof Features
The antenna's aluminium parts are rust free and its plastic elements are UV resistant. It comes with a rubber boot for the coaxial cable connector, which you should use if mounting outdoors.
Connecting Several Televisions
As with other antennas, you can use a splitter if connecting multiple television sets in your house. You attach the splitter to the antenna coaxial cable, and connect the television coaxials to each output port of the splitter.
Keep in mind that connecting several televisions causes signal loss along the coaxial, and you may therefore consider amplifying the antenna coaxial cable by installing either a preamplifier (outdoors, closer to the antenna) or a distribution amplifier — either before the splitter, or via an AC-powered combination amplifier/splitter.
Alternatively you can use a streaming device to send television signals to any device in your home with WiFi capability (such as an iPad or monitor). Examples of streaming devices include Xbox One and HDHomeRun, to which you can directly connect some types of TV antennas — in some cases via a digital tuner, which is necessary for converting OTA television signals to digital format.
Such streaming devices often provide a programming guide and allow pausing of live shows.
Verdict
The Channel Master CM-4228HD Antenna offers good UHF capabilities with a wide, 180-degree angle of reception. Customers generally praise its ease of assembly and reliable, long-range signal reception.
Although designed primarily for optimal UHF reception, keep in mind VHF channels may be challenging to pick up — the antenna's success with these latter frequencies is dependent on the user's location and any obstacles that might cause interference. While it's true that most DTV channels today are broadcast as UHF, some have remained on VHF, while others have migrated back to VHF as a result of a recent FCC spectrum auction.
Overall, the antenna's nominal range, capability to function in attics as well as on rooftops, and multidirectional characteristics make it a worthwhile consideration, as well as a worthy contender to the Winegard Platinum Series HD7694P Antenna.
Specs
Design
| | |
| --- | --- |
| | |
| Coaxial cable length (feet) | |
| Dimensions in inches (H x W x L) | |
| | |