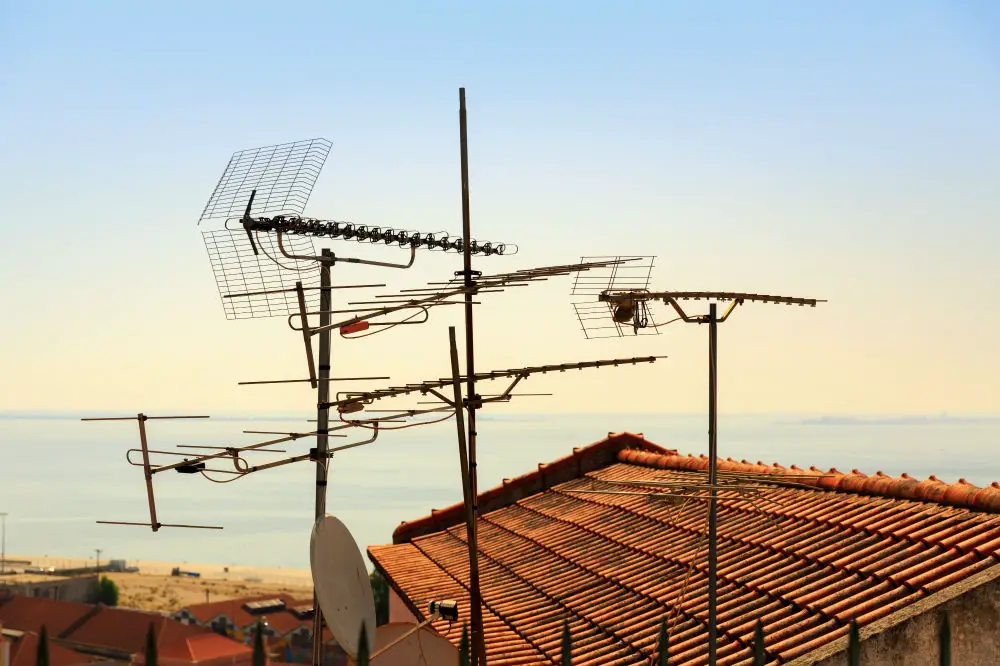 Despite what you hear about issues with placing antennas in attics, the GE 33692 Attic Mount HD Antenna is made just for that purpose.
It's manufactured to overcome a variety of interference factors typically found in attics: small metal surfaces that reflect signals, thick layers of insulation that dumb them down, and metal roofs that amplify pre-existing interference.
If for any reason you're hesitant (or cannot) install an outdoor TV antenna on your roof, then take a close look at the specs of the GE 33692. Understand that this antenna is strictly for indoor use, and doesn't offer the same sturdiness and weatherproof elements typically found in outdoor antennas.
Take a look also at my attic installation guide to get a better understanding of some of the technical issues with setting up an antenna in the attic.
What's Included?
What the GE 33692 lacks in ruggedness, it amply makes up for in reliable signal reception. Its curved frame features a number of signal enhancing reflectors that boost signal strength and minimize dropouts.
The package also includes both a mounting bracket and mast for setting up the antenna in a standing position in your attic. The unit is somewhat tall but extremely light, weighing only two pounds. This allows you to mount it as high as possible in the attic to achieve maximal reception.
The antenna comes with neither a preamplifier nor a coaxial cable, however. These must be purchased separately.
A preamplifier may be necessary if you find that reception is poor, possibly due to:
Tower distance (greater than 20 miles)
Interference due to materials in the attic's structure (e.g., brick walls, metallic surfaces such as radiant barrier, etc.)
A long coaxial cable (greater than 50 feet)
Usage of a splitter to hook up more than one television to the antenna
Regarding the coaxial cable, I highly recommend purchasing RG6 coaxial cable such as the MediaBridge Ultra Series, rather than the RG59 that's practically obsolete for cable requirements of modern homes.
Frequency and Channel Types
The antenna provides broad-spectrum reception of both UHF and high and low VHF channels. It's also compatible with all HDTV and converter box types, and supports full HD 1080p picture quality.
Assembly and Installation
You'll need tools to assemble the parts of the GE 33692 when building it up. Assembly requires a Phillips screwdriver to tighten the screws for parts such as the VHF and UHF dipoles. Installation of the mounting bracket at a particular spot in the attic requires a drill. Although the antenna isn't heavy, the skills and time to set up and install this antenna is rather involved but still reasonable for the average do-it-yourselfer.
Some users have mentioned the quality of the mounting screws supplied with the unit, saying that threads get stripped rather easily. You may need to purchase your own set of screws if you'll be dismounting the antenna to reposition it in another area of the attic. You may even consider using duct tape in place of the screws.
As the antenna is unidirectional, you'll need to point the antenna's front (i.e., the extruding part with the dipoles attached) in the direction of the towers whose signal you want to receive. After consulting tvfool.com or DTV/maps to get the direction and distance of the towers, you can use a compass or a compass app on your smartphone to orient the antenna.
On tvfool.com, you should use the magnetic azimuth heading of the towers to aim the antenna with a compass or compass smartphone app. You can also use the level feature of software like the iPhone Measure app to ensure the mast or antenna is truly level.
Signal Reception
It should be mentioned the GE 33692 is designed for a closed-space attic and a window isn't necessary.
You should keep in mind however that no antenna guarantees perfect reception in all contexts, even within the certified reception range. There are just too many environmental variables at play that can be a showstopper. Also, it may be that the equipment (e.g., cables, preamplifier, etc.) connecting the antenna to your TV isn't properly connected, or is simply malfunctioning in non-obvious ways.
To improve reception you may need to reposition the antenna in different places and at varying heights until you get the channels you want.
The nominal range of the GE 33692 is 60 miles. If you find that the antenna isn't picking up all your channels, you might consider purchasing a preamplifier such as the Winegard LNA-200 Boost XT HDTV Preamplifier and installing this as close to the antenna as possible.
Generally speaking, a preamplifier won't allow you to magically receive all channels possible; it just increases the gain of the signal along the coaxial cable and may increase the number of channels by 10-20%.
Verdict
If for any reason you prefer to mount an antenna in your attic rather than outside, then you should definitely have a look at the GE 33692 Attic Mount HD Antenna.
Its broad-spectrum reception technology receives both UHF and VHF channels within a 60-mile range. It's capable of receiving uncompressed 1080p signals, potentially giving you pictures in full HD quality. It's also ultra HD (4K) ready.
GE has a reputation for manufacturing quality antennas, and it stands by them. The product comes with a limited lifetime warranty.
Specs
Design
| | |
| --- | --- |
| | |
| Coaxial cable length (feet) | |
| Dimensions in inches (H x W x L) | |
| | |