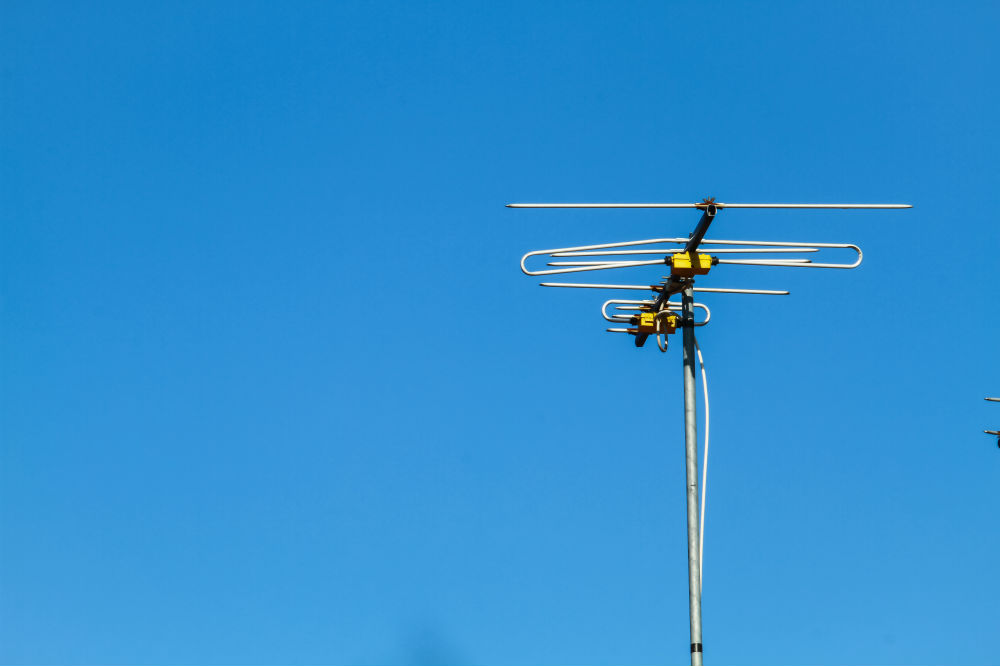 If you're looking for a compact and easy-to-setup antenna, the ViewTV DA-290 Indoor/Outdoor Compact Yagi HDTV Antenna might be for you.
This long-range receptor can be installed outdoors but is powerful enough to also go into the attic.
Its Yagi design enables focused, unidirectional reception of weak television signals up to 80 miles away.
Made of aluminium and plastic parts, and weighing in at a measly 1.75 pounds, it's sufficiently light to mount in a variety of places.
Some customers attach this antenna to the wooden rafters of their attic, or even suspend it from the attic ceiling.
Features and Benefits
As with most Yagi antennas, it's designed for passive reception of television signals and doesn't rely on amplification.
So a built-in preamplifier isn't included.
The DA-290 also doesn't come with a coaxial cable, nor a mounting pole.
ViewTV recommends its own weather-proof, adjustable J mount if you don't need a very high pole.
But in fact its flexible U clamp enables you to place the antenna on a variety of differing mast diameters.
You'll need to purchase an RG6 coaxial cable of the proper length to connect it with your television or set-top box.
For instance, you may want to connect your antenna to several TVs, in which case you'll run one coax from the antenna to a splitter device like the BAMF 2-Way Coax Cable Splitter Bi-Directional MoCA, and then run multiple coaxial cables from this splitter to your TVs.
With an antenna axis of not quite three feet long and a very short height, customers appreciate the compactness of this product and some have reportedly taken it camping with them.
Channel and Frequency Types
The ViewTV DA-290 Indoor/Outdoor Compact Yagi HDTV Antenna receives both UHF and high and low VHF television signals, in addition to FM radio.
To use this antenna, you need either an HD-compatible television set or an external ATSC tuner or converter box.
The received picture can be up to full HD (1080i and 1080p).
Assembly and Installation
Easy Assembly
The DA-290 boasts an easy and tools-free assembly. You remove the parts from the box and unfold the elements carefully before fixing them in place with the supplied screws and wingnuts.
Such an assembly typically takes an average do-it-yourselfer up to 10 minutes.
Installation
To attach the antenna to a mast, you use the U clamp with accompanying wingnuts.
The fact the wingnuts are hand-tightened makes installation from the top of a ladder easier than when using tools.
The antenna's elongated shape unfortunately makes it vulnerable to high wind gusts, and if it's not securely attached to a fixed mast, there's the risk of the antenna swaying during storms, interfering with reception.
Aiming the Antenna
As with any unidirectional antenna, you should aim the extruding axis (the long part) towards the transmission tower you're targeting.
Once you know where the nearest towers are located (from tvfool.com for instance), you can use a real compass or compass app on your smartphone to determine the direction.
On TV Fool, you can use the magnetic azimuth heading of the towers to aim the antenna with a compass or compass smartphone app.
You can also use the level feature of software like the iPhone Measure app to ensure the mast is truly level (both vertically and horizontally).
If the towers in your area are greater than 90 degrees apart, you may consider either buying and setting up a second unidirectional antenna (perhaps another DA-290), or using an antenna rotator with remote control.
Signal Reception
The DA-290 is designed for either outdoor or indoor use, meaning you can also install it in your attic with minimal distortion due to interference.
If you're installing the antenna outdoors however, you should ground it using either a coaxial grounding block or lightning arrester.
As already mentioned, the antenna doesn't come with a preamplifier.
The Yagi design provides optimal reception, especially of weaker signals, and many customers have expressed satisfaction with the reception overall.
However there some situations when you may need an amplifier in order to boost your signal along the coaxial cable.
This may be due to the coax's length (if greater than 50 feet), or if you're using a splitter to provide signal to several TVs.
In the latter case, a splitter weakens TV signals so you may consider buying and setting up either a preamplifier (close to the antenna), or a distribution amplifier (placed before the splitter, or replacing it via a dual splitter/amplifier device).
Conclusion
I like the lightweight, compact features of the ViewTV DA-290, and especially the tools-free assembly that makes it easy to mount.
Its long-range and reliable reception are also a big plus. If I lived in an area where nearby transmission towers were more or less grouped closely together but far away, this antenna would be a great choice.
If you're installing it outside, the antenna's aluminum frame is quite sturdy and weather resistant, but make sure to fasten it down in case of high winds.
Specs
Design
| | |
| --- | --- |
| | |
| Coaxial cable length (feet) | |
| Dimensions in inches (H x W x L) | |
| | |
Reception
| | |
| --- | --- |
| | |
| | Full HD (1080pi and 1080p) |
| | |